'HTGAWM' Season 5 Is Gonna Shake Things Up For Two Beloved Characters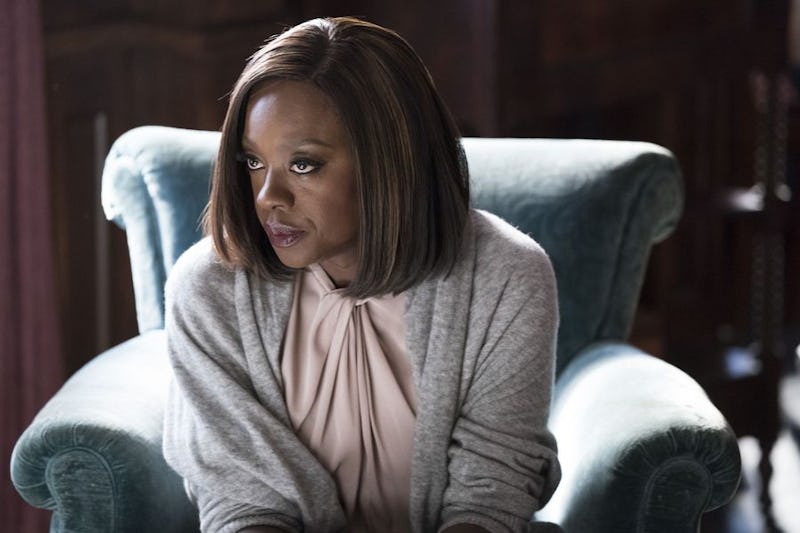 Mitch Haaseth/ABC
Fans of Shondaland are rarely ever disappointed by ABC's Thursday night lineup — except when beloved shows come to an end, like Scandal soon will. Naturally, everyone wants to make sure that the How to Get Away with Murder Season 5 premiere date gets announced soon. Sadly, that hasn't officially happened yet, but multiple sources including Deadline suggest that HTGAWM will come back for more episodes. With the final hour of the current season airing on March 15, the next season's premiere date will need to come out soon so fans have something to look forward to in these long coming months.
UPDATE: According to The Hollywood Reporter, How To Get Away With Murder Season 5 will premiere on Thursday, Sept. 27.
EARLIER: As Romper points out, HTGAWM Season 5 will likely premiere sometime in September 2018, as each of the previous seasons arrived around that time. That should give you plenty of time to decompress after the wild ride that Season 4 was. In an interview with Entertainment Weekly, HTGAWM executive producer Pete Nowalk revealed that the team behind the Viola Davis-led show already has plans for next season. After Season 4 saw the group somewhat fall apart before reuniting towards the end, it sounds like Season 5 might include a completely different way of exploring each characters' ties.
"I think they are more accepting of the fact that they are bound by blood," Nowalk told EW. That doesn't mean that Season 5 won't have its own share of drama, though. "There's going to be new friendships and new conflicts that arise, in terms of romantic relationships and in terms of friendships," the producer added.
But before then, everyone has to get through the Season 4 finale, which might confirm that (spoiler alert) Bonnie (Liza Weil) died in the season's penultimate episode. Viewers already know that a fatal car accident occurred, leaving a person in a body bag next to the wreckage, but was it Bonnie? Since the major character had expressed her fears that Jorge might mess with her car to kill her, it seems like the obvious answer, but you also never know with HTGAWM. The possibility that someone else, like Tegen or Denver, died in the car accident still looms.
What fans do know is that the show's writers aren't afraid of killing off a main character, as tragic as it'd be. After all, Season 3 ended with Wes' murder, which came as a huge shock to fans. Bonnie's death, though not as unpredictable, would also cause a stir among viewers. The only way to find out is to watch the HTGAWM finale, and then hope that you get even more juicy drama with Season 5.
Aside from the mysterious car crash, HTGAWM has a lot of other loose ends to tie up — and hopefully not in body bags. Annalise's Supreme Court case, or instance, is a major event to look forward to, as is the wedding of Connor Walsh (Jack Falahee) and Oliver Hampton (Conrad Ricamora). In fact, it seems like the show might be heading in a positive, not tragic direction overall, even if there's bound to be a few dark twists and turns along the way.
Nowalk told Deadline that viewers can count on a twist of some kind. "I will say I personally kind of hate weddings," the producer said. "And I hate the trope of it, so we're going to do it in our own fun way." Knowing the writers of HTGAWM, that "fun way" will include Connor or Oliver getting blackmailed or whatnot just seconds before walking down the aisle.
And even though fans won't be able to expect another crossover with Scandal, Season 5 of HTGAWM could still include a character from the soon-ending show. The connection made between Scandal's Marcus (Cornelius Smith Jr.) and HTGAWM's Michaela (Aja Naomi King) gave Shondaland fans a whole new couple to 'ship, and Nowalk told Deadline that Marcus and Michaela's "story isn't over." How to Get Away with Murder's story isn't over, either, and the sooner Season 5's premiere gets confirmed, the better everyone will feel.