Here's Where You Can Watch 'It's The Great Pumpkin, Charlie Brown' This Halloween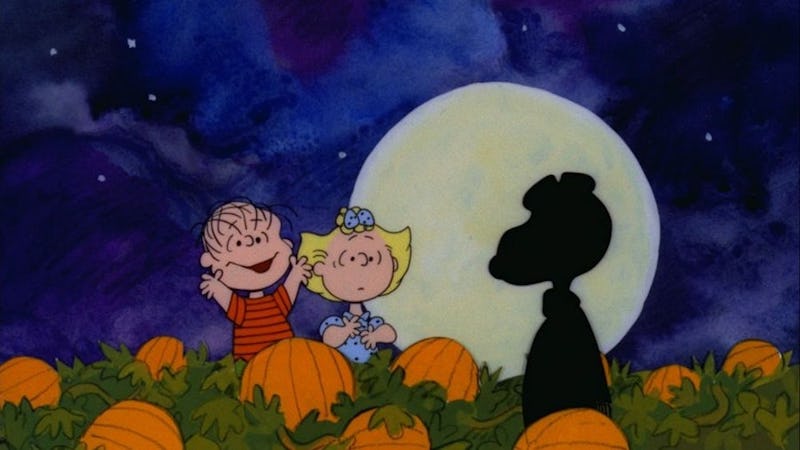 ABC
It's that special time of the year again where the leaves are changing color, pumpkins are getting carved, and it's perfectly acceptable to eat candy every chance you can get. But it wouldn't officially be Halloween without watching some of your favorite films guaranteed to get you in the trick-or-treating spirit, and no movie does that better than the Peanuts classic It's The Great Pumpkin, Charlie Brown. But since it isn't available for viewing on television nearly as frequently as, say, Hocus Pocus, when does It's The Great Pumpkin, Charlie Brown air? This Halloween special is definitely one that should not be missed.
That being said, it could be very easy to miss, given the limited number of times it's set to air on TV this fall, so if you're unable to hunker down on your couch at the designated time, be sure to set your DVRs accordingly because a Halloween without the Great Pumpkin truly is no Halloween at all. The official Peanuts Twitter account announced in a tweet on Wednesday that the beloved animated special would be available for viewing on Thursday, Oct. 18 at 8 p.m. ET on ABC. As of now, that's the only viewing the account currently lists, though, if you go to the TVGuide.com listings, it also has It's The Great Pumpkin, Charlie Brown listed as airing on Friday, Oct. 26 at 8 p.m. ET on ABC. So if you miss the initial debut, it's possible to catch it just one week later, but honestly, why risk it?
The cartoon special airs every year and first premiered all the way back in 1966. Since then it's become a staple in the Halloween movie community that the whole family can enjoy each and every year. But just in case it's been a while since the last time you saw it — or, could it be, never seen it at all — here's a brief refresher of all the Peanuts fun that exists in your near future.
The 30-minute episode takes place on the night of Halloween and Linus is determined to remain in the pumpkin patch all night long in order to catch a glimpse of the "Great Pumpkin." Nobody else really believes that such a thing exists, but Linus is confident that the myth must be true. In fact, he believes it so much that he willingly passes on going trick or treating in order to spot the mystical figure. Charlie Brown's little sister, Sally, also offers to keep Linus company throughout his endeavor given that she has a not-so-secret crush on him.
Other notable moments take place throughout the special — like Charlie Brown finally getting invited to his very first Halloween party — but the spotlight truly falls on Linus for this episode. Well, and the Great Pumpkin, of course.
The official description reads as follows:
"Charlie Brown is finally invited to a Halloween party; Snoopy engages the Red Baron in a dogfight; and Linus waits patiently in the pumpkin patch for the Great Pumpkin."
So whether you've seen this classic once or a hundred times, make sure to carve out a little time this week and watch a timeless special that's guaranteed to hit you right in the feels. Good grief, indeed!