Why It's Actually Not Terrible News That 'Killjoys' Is Ending Next Season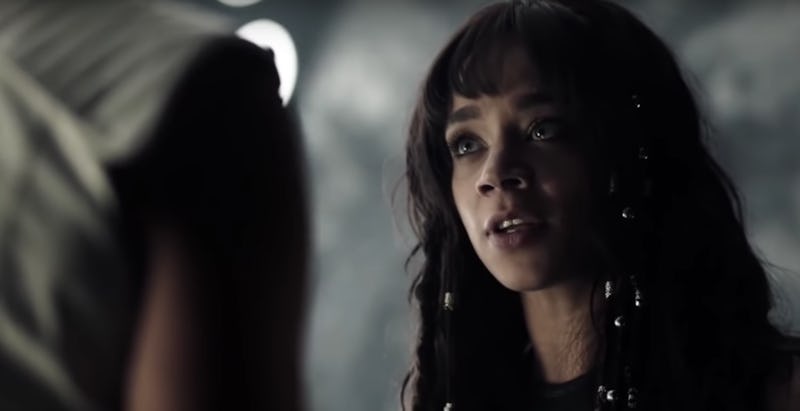 Syfy
Die-hard fans will already know the answer to this question, but yes, Killjoys will return to the Syfy network for a fifth and final season. The renewal of the show for two final seasons was actually announced last year, moments before the airing of the Season 3 finale, according to Entertainment Weekly. The Season 4 finale, airing Sept. 21, is the second to last one fans will have the privilege of experiencing with their beloved trio of space-dwelling bounty hunters. And while Syfy hasn't announced when Killjoys Season 5 will premiere, every other season has begun in either June or July. So it's safe to assume it'll always be a summer release.
Although it may have been kind of sad to hear of the news of the show's imminent ending so far in advance, it's actually quite an honor to receive such a notice. Rather than being a well loved TV show that was forced to end abruptly, in outrage (See: Brooklyn Nine Nine), the notice gives time for creators, writers, and producers to establish and construct a well-rounded storyline that will make fans beam with pride. And for their sake, hopefully it won't end in a giant cliffhanger.
"Helmed by [Michelle] Lovretta and driven by the superb storytelling, we are excited to bring Killjoys back for two final seasons," Bill McGoldrick, Executive Vice President Scripted Development for NBCUniversal Cable Entertainment said in a press release prior to the Season 3 finale. "Tonight's game-changing season finale sets the tone for the final chapters of our bounty hunters' space adventures and we cannot wait for our talented cast and crew to bring to life what is sure to be an epic journey that will leave our passionate fans on the edge of their seats."
Now that Season 4 is coming to a close, fans are surely on the edge of their seats with mixed emotions, knowing that they're facing the show's final 10 episodes. "A final two-season order is a huge vote of confidence for a show that keeps getting better and better," said David Fortier and Ivan Schneeberg, co-presidents of Boat Rocker Studios and executive producers of Killjoys. "We are so proud of the support Killjoys has received from critics and fans alike, and are thrilled to plan a deserving ending for Dutch and the Jaqobis brothers; it has been an incredible intergalactic journey and we could not have wished for better partners to share the ride."
You know what they say. Unfortunately, all good things must come to an end, and at least this is an end everyone can be prepared for. "This renewal is the kind of privilege every creator hopes for — a chance to plan the end of your story with the luxury of 20-episodes to do it," said creator and executive producer Michelle Lovretta. "I'm immensely grateful that both of our network partners – along with Temple Street and UCP — have given our team, cast and fans this incredible opportunity."
Variety has praised the show for its "flirtatious banter, a spaceship run by a tartly intelligent AI, a politically active religious order, 'Orphan Black'-style meditations on extreme body modifications, simmering romances, a charismatic bartender, a mysterious order called 'Level Six' and explosions on alien worlds. … It's a light, well-made, zippy TV show that knows what it is and delivers solid action, adventure, and character development despite its limited budget." And fans already can't get enough. Fortunately, they already have a satisfying conclusion to look forward to.
This post was originally published on June 21, 2018. It was updated on Aug. 21, 2019.