Kris Jenner Is FINALLY Launching A Makeup Line With Kylie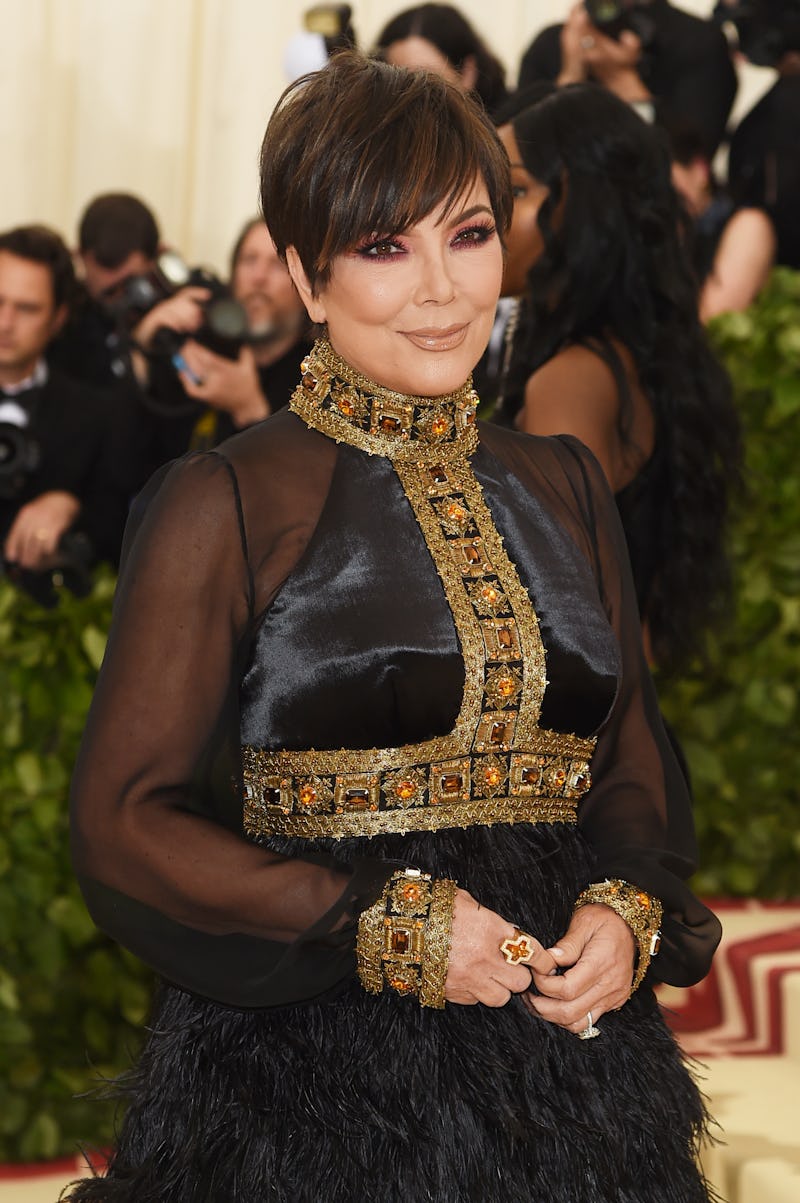 Jamie McCarthy/Getty Images Entertainment/Getty Images
Maybe you don't have a favorite sister of the Kar-Jenner clan, and that's perfectly fine. The one thing you can't deny, though, is that when it comes power, no one in that family has more than the world famous momager. Now, Kris Jenner x Kylie Cosmetics makeup is happening, and the collaboration shows just how much of a boss the matriarch of the family family truly is.
On Tuesday, Kylie Jenner posted an Instagram story that the Kylie Cosmetics account had been hacked. Once you headed to the brand's page, you saw that someone had, in fact, hacked it, but it was clear that the "hack" was definitely some sort of promo. Soon, the Kylie Cosmetics Instagram was no longer named for the youngest member of the family. The page had been transformed into Kris Cosmetics, and honestly, it's brilliant.
Kris Cosmetics posted their own promo, and from the looks of it, this collection is going to be all about being a boss. After all, it does feature Kris getting out or a Rolls Royce, entering a building, and taking her place on a golden throne. If that doesn't say queen of the Kar-Jenners, nothing else could.
So, it's official. Kylie Cosmetics has abdicated the cosmetic throne and given it back the Queen Mother, Kris Jenner.
How is this collaboration different? Well, the most obvious way is the fact that Kris has completely taken over the Kylie Cosmetics brand and made it her own. Despite, Kourtney, Khloe, and Kim all having products within the Kylie Cosmetics range, no one has ever coopted the brand as their own, until now.
As for what's coming from the newly named Kris Cosmetics, there's been no word as of press time. One thing that Kris is known for, however, are her signature glossy lips and black rimmed eyes. She's wearing both in the video. Could a gloss and Kyliner (or Krisliner) be coming? It looks like fans will have to wait a bit longer to find out as the collection is set to drop on Mother's Day.
Speaking of fans, to say that they're excited is an understatement to say the least. The video of Kris taking over Kylie's gig was posted less than an hour ago, and reactions are already pouring in on social media. The vast majority of them? Sheer ecstatic joy.
Fans are in shock and awe.
They could actually be having trouble breathing at this point.
How could you not applaud both Jenners for this utter stroke of genius.
Shook. People are shook.
No, really, Twitter is lit up with news of Kris Cosmetics. It honestly seems like it could be major for Kylie Cosmetics.
People are ready to call their doctors. No heart attacks, please. The world doesn't need someone to potentially cause this collection to be called off for a grieving period. No mercy, people!
Basically, hot off the steps of the Met Gala where she walked the red carpet with Kylie, Jenner decided that the Met just wasn't enough. She needed another major moment for the record books, and hello, she has it.
Kris Cosmetics is officially on its way, and it's so much more than fans could ever have hoped for from a collaboration. While some may have thought Kylie sister Kendall would be up next (given her previous work with her other sisters), they were wrong. Kris Jenner has taken her momager duties to the next level and crafted her own products for her daughter's brand.
Basically, it's one hell of a day to be a Kris Jenner fan.