Netflix's 'Carmen Sandiego' Reboot Finally Has A Premiere Date & It's SO Soon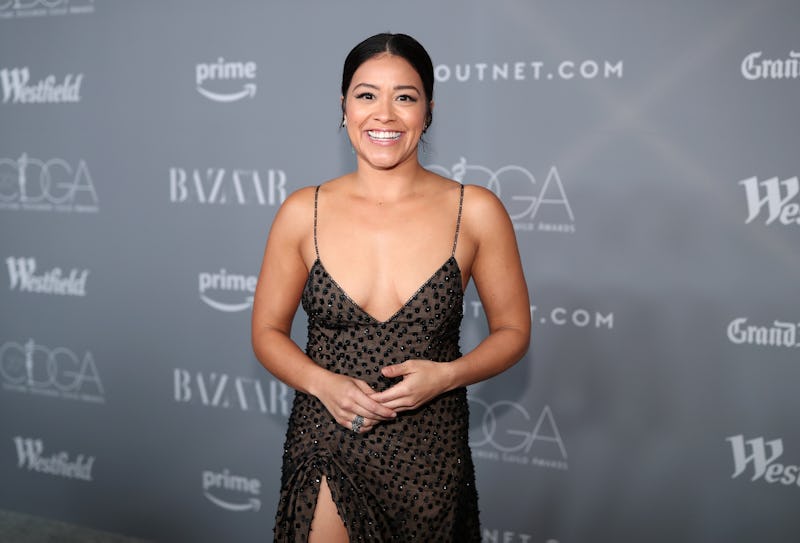 Christopher Polk/Getty Images Entertainment/Getty Images
When it was first announced that the beloved kids' series Where in the World Is Carmen Sandiego? was getting a reboot on Netflix, it felt like a welcome trip back to the '90s. And while some awesome casting news has been released since then, eager viewers are still desperate to know how soon to expect the show to hit the streaming platform. So when does Netflix's Carmen Sandiego reboot premiere exactly? Thankfully, the animated series will be coming our way shortly after the start of the new year.
On Monday, Dec. 10, Netflix revealed that the highly anticipated reboot will be dropping its first season — which consists of 20 22-minute episodes in total — on Friday, Jan. 18, 2019. As previously reported, Jane the Virgin star Gina Rodriguez will be voicing the titular character, while Stranger Things actor Finn Wolfhard will portray the voice of Player, Carmen's accomplice and confidant in crime. But while the original series may have focused more on where Carmen's location was in any given episode, the Netflix reboot will look to dive deeper into the criminal mastermind's backstory to help fans get a better sense of how she became the red-clad robber we've come to know and love.
As an added bonus to accompany the premiere date announcement, fans were also treated to an official poster for the series as well, which features Carmen, naturally, who looks just as shady (and super fashionable) as you would expect her to be. And while the tagline in the post only consists of two little words: "She's back," it's enough to definitely get you excited for all the sleuthing and searching that is to come when Season 1 debuts.
The official synopsis for Netflix's Carmen Sandiego reads as follows:
"Carmen is a modern day Robin Hood traveling the globe and stealing from V.I.L.E. and giving back to its victims. Carmen is publicly perceived as a criminal by most law enforcement agencies – correction, make that a master criminal due to the sheer scale and theatricality of her heists. We will follow her escapades and get to determine not only where but WHO in the world is Carmen Sandiego?"
The series will serve as a great taste of what Rodriguez is like as the iconic criminal before she also stars in a live-action Carmen Sandiego movie for Netflix at a later date. But given the actor's undeniable talents on Jane the Virgin, there's little doubt that Rodriguez will make this new iteration of Carmen an unforgettable character.
Along with upping its holiday movie game, Netflix is becoming known for housing some truly great reboots and revivals, such as Fuller House and Gilmore Girls: A Year In The Life. It's exciting to welcome the likes of Carmen Sandiego to that growing list, which is sure to leave a ton of '90s nostalgia in its wake. (Anyone else still have a difficult time getting that catchy theme song out of their head?) From what we know about the series so far, it won't be long before '90s kids are asking where in the world has this series been all of my life?