More 'Project Runway' Is Coming Your Way ASAP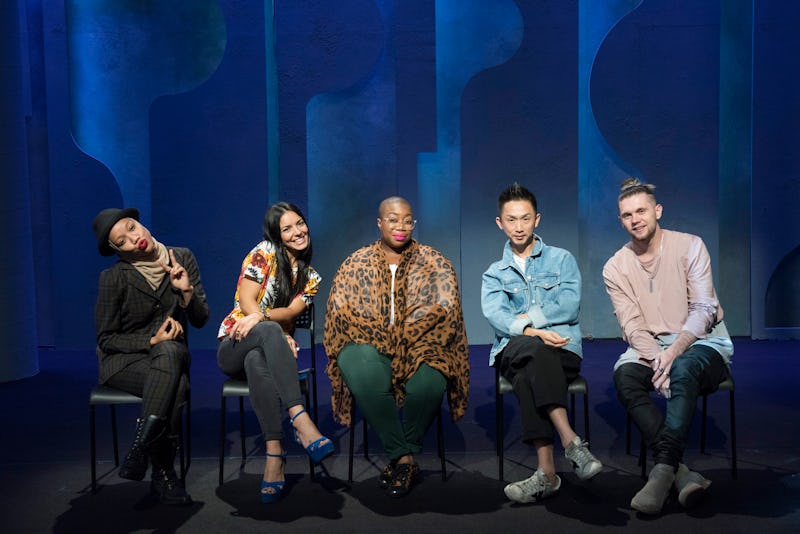 Barbara Nitke/Lifetime
Season 16 of Project Runway is coming to a dramatic end Nov. 16, when Part 2 of the season finale will finally reveal which of the four remaining designers will walk away with the grand prize. In the first part of the finale, fans said goodbye to designer Kenya after she created an entire collection. Now, with Kentaro, Brandon, Margarita, and Ayana will duel it out at New York Fashion Week and after such a drama-filled season, fans are likely already wondering: When is Season 17 of Project Runway?
Well, as of this moment, there is not any official announcement regarding an exact premiere date for Season 17 of Project Runway. Of course, since this season is only just now coming to a close, it makes sense that there isn't a confirmed air date for another entire season. Taking a look back at the previous 16 installments of the series doesn't exactly present any useful pattern either. Beginning in Season 1, there was a season every year until 2010, when there was a season in both January and July of that year. Again, in 2013 there were two seasons and then another stretch where it was one a year. Season 15 premiered in September of 2016, then this current season began August 2017. Obviously, there is not enough time for another season to arrive before the end of this year but there have previously been two other seasons that premiered in January, so it isn't out of the realm of possibility to see another season that soon. After all, this one finished filming months ago during Fall Fashion Week. It's only just airing now.
Lucky for fans, it turns out that more Project Runway will indeed be arriving in January 2018. But, it won't be a regular Season 17 of the original series. Instead, January will be serving up Season 6 of the spinoff, Project Runway All Stars. This is great for fans because there is now less lag between competitions, as All Stars tends to fill the void with fan-favorite designers and the same general concept. According to the series website, this season will be bringing back Alyssa Milano as the host, Zanna Roberts Rossi as the mentor á la Tim Gunn, and Georgina Chapman and Isaac Mizrahi as judges. This season will even feature the now infamous "anonymous runway" for the first time on All Stars and guest judges will be the likes of Ke$ha, Boy George, Debra Messing and even Project Runway's own Zac Posen and Nina Garcia.
Eager, purist fans of the original series also shouldn't fear because it would seem that another season of the original Project Runway will very likely be coming sometime in late 2018, as the series has yet to skip an entire year up to this point. Venturing a guess would place the premiere sometime in the fall, as there have been a few September premieres before. This will allow enough time to cast for the new season and to allowAll Stars to run its course without doubling up on seasons.
Although it is tempting to get ahead and look forward to the next season of Project Runway, Season 16 is still not completely wrapped up and a winner has yet to be crowned. This season ramps up the intensity with not three, but four designers showing at New York Fashion Week and with so much to sort through, the judges have their work completely cut out for them this time around. It is literally anyone's game at this point because the remaining designers have been impressively consistent throughout the entire competition. Tune in to Part 2 of the Season 16 Project Runway finale, Nov. 16 on Lifetime to see who will walk away with the victory.