Birkenstock Is Releasing A Line Of Shoes That Look NOTHING Like Birkenstocks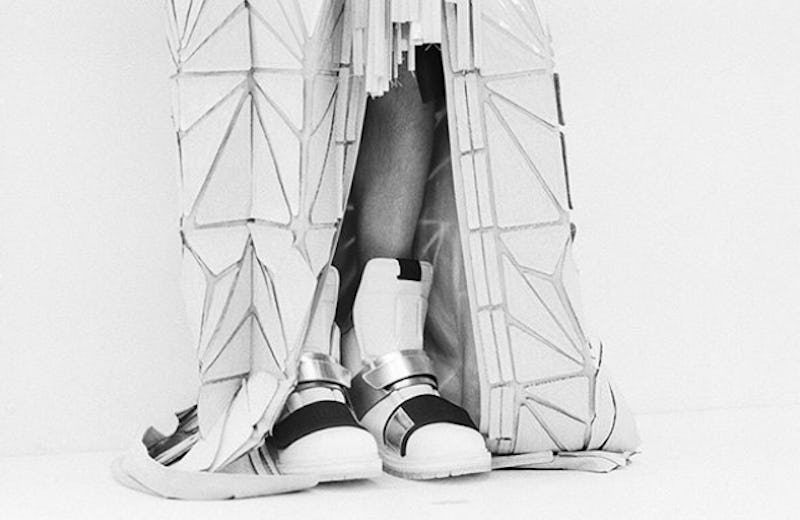 Birkenstock
Birkenstock has completely revamped its image the last couple of years by collaborating with top luxury designers to bring consumers innovative and out-of-the-box designs, and its latest Rick Owens x Birkenstock collaboration just might be the most exciting one yet. Known for his grunge-meets-luxury aesthetic, loose silhouettes, and slight dystopian tastes, the designer likes to push the boundaries of fashion and give luxe pieces a Brutalist vibe. His latest Spring 2019 menswear show, for example, had a riot-like feel to it and was inspired by Russian Constructivist designs where his grand finale pieces were geometric parkas that were meant to transform into livable tents. Pretty avant-garde, but as models walked through colored plumes of smoke and fumes in fashionably tattered shirts and emo-wide-leg pants, they were also wearing Birkenstock sandals, which the designer is entering into a second collab with.
And that odd contrast between chaos and granola was an intentional one. Owens told Vogue, "I'm talking about control and collapse and chaos and everything, but in my personal life I'm looking for a balance between responsibility, well-being — and extreme hedonism. And I think there is a way of balancing that out. Responsibility doesn't mean you're uptight, and hedonism doesn't mean you're evil. The Birkenstock adds this nice placid, serene feeling of well-being and liberalism. It's like taking muesli with your Ecstasy."
But his newest collection with the iconic shoe brand isn't going to be quite so placid. While his models were wearing the classic Arizona sandals with an elevated touch to them, some were also sporting sandal-sneaker hybrids. After the show Owens posted a close up of the sci-fi like shoe onto his Instgram, giving followers a peek at the exaggerated tongue that hits about mid-shin and the metallic Velcro straps. The look had definite Star Wars Stormtrooper vibes to it, which went well with his apocalypse-like runway show.
Fans on his Instagram loved the futuristic concept, where they left comments like "Those kicks my lawd where can I buy" and "Bring in the future bruhhhh."
While there is no official information on when these new sneaker hybrids will drop, the previous collection was both available at Birkenstock's and Rick Owen's online stores and retailed between $350 to $525, so chances are this collection will follow that same blueprint.
In the first one, Owens brought his spin to the brand's Arizona, Madrid, and Boston sandals, reworking them with suede, felt, and longhair cow fur, keeping them minimalist but slightly edgy. Take a peek at some of the past (still available) collection below.
As you can see, these new hybrid sneakers are completely different from the options offered in the first collection. Keep an eye out for the release date, because there is no telling how long these futuristic shoes will stay in stock!