The Trailer For 'Riviera' Season 2 Just Dropped & The Drama Is Off The Charts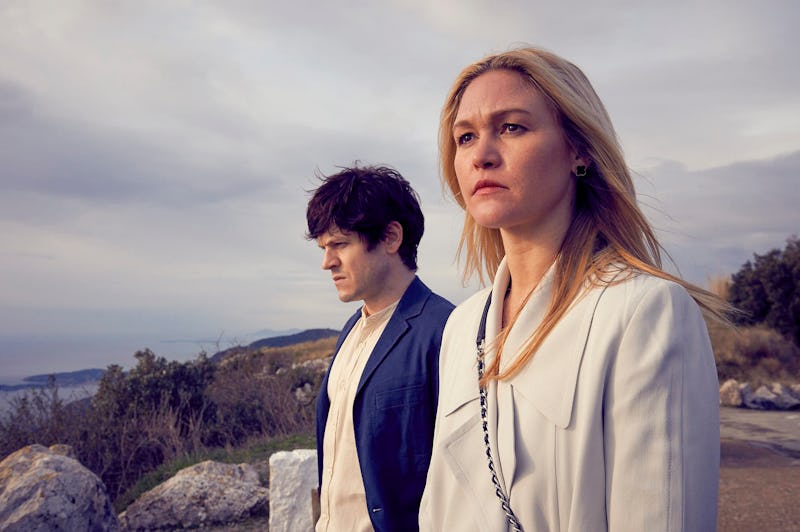 DESWILLIE ©Sky UK Limited
There is nothing like becoming absorbed in the secret lives of the painfully rich and hella shady to help you escape the damp and cold nights. Riviera does just that. Season 1 provided us with the high drama (and high fashion) of Gossip Girl, with the mystery, murder, and crime of Luther. It is truly addictive. With Season 1 ending with more secrets to still unfold, the trailer for Season 2 has dropped and got us all excited. So when does Riviera Season 2 start?
Update: On January 24, Sky revealed in a statement that the new series will begin airing on May 23 on Sky Atlantic and Now TV.
Earlier: The ten episode thriller grasped audiences as it opened with newlywed, super successful, and uber chic Georgina Cilos, played by Julia Stiles. Whilst she is away working (as a very glamorous art dealer) her billionaire, philanthropist husband Constantine (played by Anthony LaPaglia) is killed in a mysterious yacht explosion on the French Riviera. This was enough drama for me as it is. The mix of the Cote d'Azur landscape and their seemingly perfect life had me gripped. However, the explosion essentially threw Georgia's life down a rabbit hole of shady dealings, criminals, and murder.
Speaking to Digital Spy about the steamy thriller Stiles said, "I think 'a sunny place for shady people' is a great way to describe this show. While this world is seemingly very glamorous, opulent and beautiful, all is not what it seems and that is echoed in our main characters."
Whilst having to deal with Irina Atman (played by Lena Olin) Constantine's ex-wife and his two, very entitled, extremely difficult children, Georgina also faces questions from Interpol about who that mysterious woman who jumped off the yacht just moments before it blew up was and how her deceased husband managed to maintain their lavish lifestyle. Spoiler alert: It was essentially through violence, lies, and crime.
So, after the explosive series finale (if you'll pardon the pun) when will fans get to see more? I reached out to a representative for Riviera at Sky and they said that whilst they do not have a date as of yet we can expect Riviera to return to our screens in 2019.
Speaking about Season 2 to Digital Spy, Stiles said, "It's thrilling to return to the Riviera and to welcome such incredible new talent to the show. Georgina's past catches up to her in Season 2 and the drama only intensifies." Oh the suspense. At this point I don't know how the drama could intensify.
Whilst, Stiles, Olin, Roxane Duran, and Dimitri Leonidas have all reportedly signed up for Season 2 of Riviera, it is rumoured there will also be some new faces to throw into the mix. Digital Spy revealed that Will Arnett, Poppy Delevingne, Juliet Stevenson, and Jack Fox will also be heading to the French Riviera to throw in more drama and complications.
In the wake of the new Season, Sky's Head of Drama, Anne Mensah said, "Riviera is the ultimate in escapism, a cinematic journey into the extraordinary world of the rich and powerful seen through the eyes of our anti-heroine, Georgina… We are thrilled these characters will be brought to life by such incredible acting talent."
With the promise of exploring more of Georgia's own dark-back story through the introduction of new characters and her apparent willingness to go to any means necessary to uncover the lies that her dead husband hid so well, there is no doubt this season is going to be just as thrilling as the last. You better believe I will be keeping my eyes peeled for that launch date.