'RuPaul's Drag Race' Season 10 Is On Its Way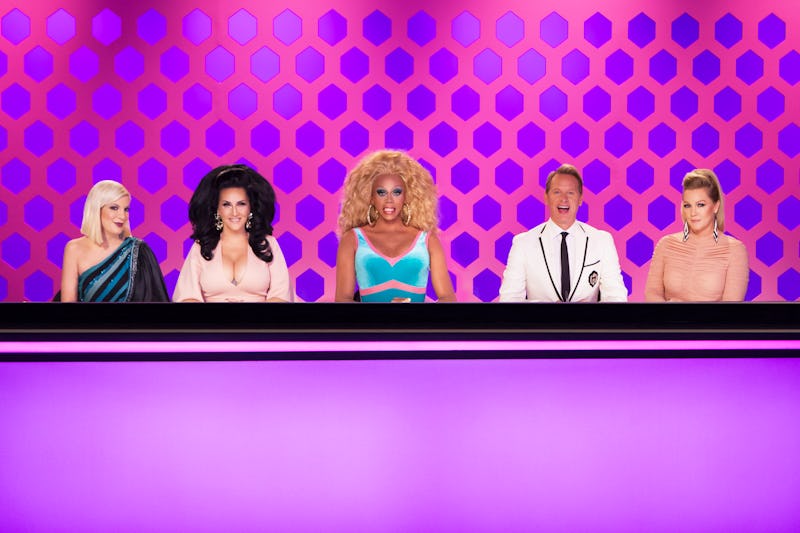 VH1
One pop culture figure who has done so much to keep love, light, and fierceness in this complicated, terrible world is RuPaul Charles, the Emmy-winning host of RuPaul's Drag Race. Sadly, the ninth season of Drag Race is almost complete, and on June 23, either Trinity, Shea, Sasha, or Peppermint will be crowned the ninth winner of the ultimate drag competition. When will RuPaul's Drag Race Season 10 premiere? Logo and VH1 must know just how special this series is, because RuPaul's Drag Race was renewed for Season 10 in mid-April, just after the ninth season premiered to series-high ratings. According to Logo, the 10th season will premiere in March 2018.
That may feel far away, since it puts a year between premiere dates, but if you're curious during the considerable off-season, the spoiler-loving fanbase can be found theorizing and spilling the T about future episodes on the show's Reddit page. However, a word of caution: patience can be rewarding, as some of the most shocking moments and ru-veals are best watched live, preferably in a room filled with people experiencing the shocking elimination or surprise villainous turn in real time. And the 10th season is casting now, so it's time to start supporting your favorite undiscovered queen, hoping that her audition tape is enough to get her a place on the show, and scrutinizing her social media absences all summer long in hopes of piecing together whether or not she's going make it to the final three or be eliminated after a single episode.
In addition to Season 10, there are unsubstantiated fan rumors that the series will be filming another All Stars season this year as well. All Stars 2, which aired in the fall of 2016, collected 10 fan favorite queens from Seasons 2, 4, 5, 6, and 7 to compete for a second time. All Stars 2 improved on the terrible team format and uninspiring challenges of the first All Stars, and its final rap/performance/podcast recording challenge was used to test the queens in Season 9. With only two new seasons since All Stars 2, there may not be enough stars to make a third cycle quite as overdue, but watching the Reddit fans determine which queens should be a part of the season is entertaining enough to be its own reality show.
Besides, there's a big milestone ahead: the show will have 10 seasons, cracking double digits. And this show loves to celebrate its her-story, so prepare for some self-referential moments and a look back at how far the series has come since RuPaul's Drag Race premiered. Expect everything from the show's many catchphrases to Gia Gunn's wonky eyelash to be rightfully venerated. Between watching Season 9's winner take her victory lap, speculation about the Season 10 cast, and conspiracy theories about All Stars 3, the offseason will fly by and soon it will be time for RuPaul's Drag Race Season 10.