Sephora's Biggest Sale Of The Year Lasts For Three Entire Weekends In November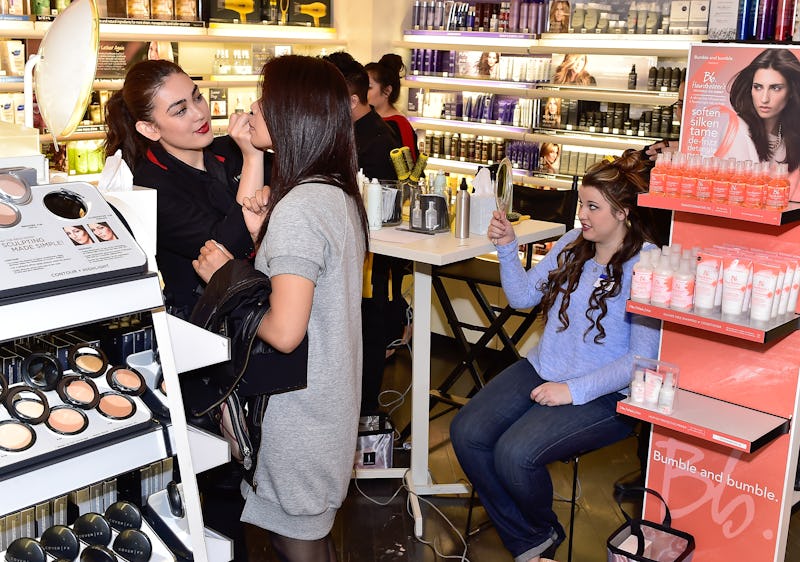 Steve Jennings/Getty Images Entertainment/Getty Images
A good beauty sale isn't really that hard to find. In fact, there are plenty of 'em happening every day. But few are as good as the Sephora Beauty Insider Holiday 2018 Sale. The retailer's annual, full-service sale, which applies to makeup, skin care, and hair products, takes place through mid-November — with some conditions.
The annual sale features wallet-friendly savings and "can't miss" discounts. According to this post by the TrendMood makeup news Instagram account, the sale is slated to run for three consecutive weekends (Friday through Monday) in November. The sale ultimately wraps on Monday, Nov. 19.
Access to the sale is available to members of Sephora's free-to-join Beauty Insider loyalty program. This sale is tiered and geared — basically, the amount you save is based on your membership level. Your member status in said program is based on the total amount you spend at Sephora in a calendar year. The more you spend, the better your status, and therefore the bigger your savings for these sorts of sales.
If you spend under $350 in a year, you earn Beauty Insider status. If you spend over $350, you attain VIB rank. Spend a thousand bucks and beyond to become a VIB Rouge member.
Those who have attained VIB Rouge status can enjoy 20 percent off in-store and online purchases this weekend — Friday, Nov. 2 through through Monday, Nov. 5. The "ROUGEBONUS" code can be used multiple times throughout the weekend.
A subsequent sale is slated for Friday, Nov. 9 and runs through Monday, Nov. 12. VIB members, which is the second-tier status, will be able to access the sale and can enjoy 20 percent off in-store and digital purchases. The multi-use "VIBBONUS" code applies during this weekend.
The final weekend runs from Friday, Nov. 16 through Monday, Nov. 19. It is opened up to those who have Beauty Insider status, which is the base level of membership. Insiders will get 15 percent off purchases with the reusable "BIBONUS" code.
This table displays the benefits at each level of membership. There are plenty of perks and privileges, like access to the Beauty Insider Holiday Sale. Stock up on your "go to" products or experiment with new ones you've been wanting to try but haven't. You can also get a head start on some holiday shopping for the makeup and beauty lover in your life and on your list.
As is the case with so many beauty sales, the more you spend, the more you save. If you grab multiple products because they are being offered on a deal, you may blow your planned budget. But with so many great products on deal, self-care is worth it.
As noted, the sale officially ends on Monday, Nov. 19. That's just a few days before Thanksgiving. You can bring home quite a haul from your local Sephora outpost. Or you can shop from the comforts of your couch. Whatever works for you. The fact that the discount codes are not "use once and destroy" and that they can be used throughout the weekend and as you wish is an added bonus.
Good luck trying to stay within your budget while shopping the Sephora 2018 Beauty Insider Holiday Sale.
Did you know that you can find Sephora coupons at the Bustle Coupons page? Bustle Coupons is a service provided by Groupon in collaboration with BDG Media, Inc. Each time you use a coupon or promo code from Bustle Coupons to make a purchase, Groupon and BDG Media, Inc. earn a small commission. This article was created independently from Bustle's sales department.