'Superstore' Is Coming Back To TV Again Before You Know It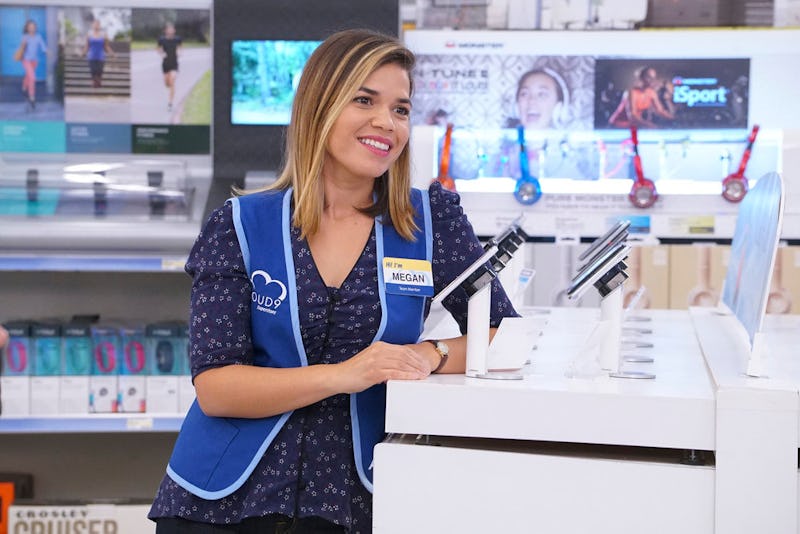 NBC
NBC's Superstore is a show that perfectly balances humor and heart, finding the humanity in thankless retail jobs and shining a light on minimum wage work. The hilarious workplace comedy centered around a group of employees at a Wal-Mart-like retail store in St. Louis has its fall finale on Nov. 2. When does Superstore Season 3 come back?
Fortunately, the wait won't be too long. According to IMDB, Superstore will be back for a holiday-themed episode called "Christmas Eve" that's set to air on Dec. 5. That new episode marks the beginning of another short hiatus, however, as Season 3 will then not resume until early 2018.
Fans can rest assured that there are plenty more episodes to come when the show picks back up next year. In February 2017, Variety reported that NBC had announced that the ensemble comedy series would return in the fall for Season 3. The initial order was for 22 episodes, and we're not even halfway to that yet. "We are extremely proud of Superstore, which is one of the smartest and funniest comedies on television today," NBC Entertainment president Jennifer Salke said to the publication. "Through the show's expertly drawn characters, our producers and cast do a remarkable job touching on many issues in which audiences can relate. To its credit, not only does Superstore make us laugh, but it makes us think as well."
Season 3 of the hit series picked up right where Season 2 left off. Two months after that dramatic, tornado-ridden finale, the employees returned back to Cloud 9 after what naive Glenn called a short vacation. Though Garrett quickly pointed out that it was actually "a two-month layoff without pay." Over the next few episodes fans have seen Amy and Jonah grapple with the aftermath of the kiss they shared, Amy's looming divorce, Dina's PTSD following the tornado, new hires, a robbery and a decaying corpse in the wall. Clearly this isn't your average fluff-and-fold retail job, though there are still plenty of relatable moments for anyone who's had this kind of gig.
In the Nov. 2 episode, the Cloud 9 employees will come together to help an ailing Mateo recover from a pesky ear infection. Amy and Jonah will try to figure out an alternative to Cloud 9's less-than-stellar health insurance plan. The two will decide to put together a collection jar for Mateo's medical costs, and a debate will ensue over which name sounds "more like a real charity": The Mateo Project or The Liwanag League, according to a sneak peek on Entertainment Tonight. Meanwhile, "Glenn (Mark McKinney) enlists Dina (Lauren Ash) to help him get medical attention for his own embarrassing condition," per ET.
Beyond the confirmation of more episodes for Season 3, Superstore might also be getting the green-light for Season 4 very soon. According to Deadline, the show's writers and executive producers Gabe Miller and Jonathan Green recently signed two-year deals with the studio behind the series. So while not a complete "yes" to Season 4, it's definite possibility. And this is also an indication that you may be seeing more comedies that share Superstore's empathetic humor on the TV schedule in the next couple of years.
You can also probably expect those projects to be just as diverse as Superstore. Its cast is one of its hallmarks, and a reason for its success. America Ferrera told NPR last year, "This diversity gives us the opportunity to approach topics like race from a place of experience."
When Superstore Season 3 comes back, that thoughtful and experience-based storytelling will be there too — along with the various indignities of working retail.
Editor's note: After publication, we discovered this article did not meet our editorial standards: There were portions that did not correctly attribute another source. It has been updated to meet our standards.