Fans Want A LOT Of Answers When 'Superstore' Returns For Season 4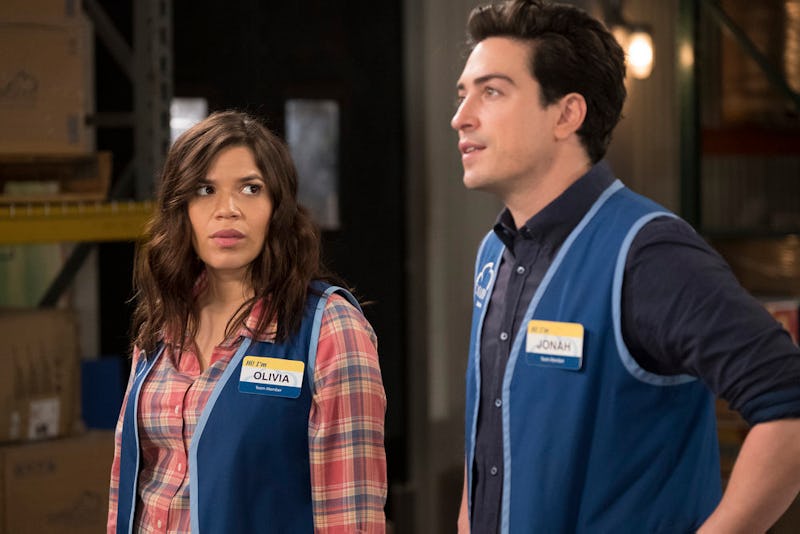 Colleen Hayes/NBC
Attention, Cloud 9 watchers! The Season 3 finale of Superstore drops May 3, which promises a town hall event. Season 3 has covered a lot of ground, between the tornado aftermath, Amy's (America Ferrera) divorce and subsequent foray into dating again, Jonah's (Ben Feldman) relationship with Kelly (Kelly Stables), and Dina's (Lauren Ash) surrogate pregnancy. But with so many potential hijinks left to ensue, fans may be wondering if their beloved Superstore will be returning for a fourth season.
UPDATE: Per Deadline, Superstore will return to NBC on Oct. 4.
EARLIER: As a refresher, in Season 3, Episode 20, audiences found out that Amy was pregnant with her ex-husband's child. Still in shock, she kisses Jonah, who seems (justifiably) frustrated that Amy keeps stringing him along. And with everything that's happened between them since the fateful tornado, viewers need answers.
Luckily, they will get them. The NBC comedy was renewed for Season Four back in February, per Variety. And although there is no word on when Season 4 will premiere, audiences can probably expect it back in September 2018, since its previous seasons were released at that time. "Superstore is one of our signature NBC comedies," said NBC Entertainment president Jennifer Salke in the same report, "and we're so pleased to be bringing it back for the 2018-19 season."
This renewal galvanized the proverbial troops, as well. "It's very nice to leave work and know you've got a job to come back to," actor Colton Dunn (Garret on Superstore) told The Main Edge, a local New England publication.
Superstore, which centers around a diverse group of blue-collar employees at a mega-store chain in St. Louis, Missouri, has performed well for NBC. According to Variety, the show is currently one of NBC's top-rated comedies, with Season 3 currently averaging 4.1 million viewers in Nielsen's Live+Same Day ratings.
However, the comedy hasn't always been a critical darling. When it first premiered in late-2015, it received middling reviews. "It's fun! It's fine!" The Atlantic's Megan Garner said. "It asks just enough of its audience, which is to say not very much at all." In a relatively positively review for Salon, TV critic Sonia Saraiya wrote, "The show could certainly stand to find some more rhythm to its comedy, as it hammers out the right tone for the tricky comedy of minimum-wage Middle America."
Fortunately, Superstore's two subsequent seasons have fared better. In fact, it's "TV's best workplace comedy," according to Todd VanDerWerff at Vox, and the Decider's Brett White labeled it the "millennial successor to Cheers."
What's more, the fans themselves are nothing if not diehard. Its subreddit boasts over 4,000 members, where they ask all manner of pressing questions. Questions like whether Kelly ever wears anything other than cold-shoulder tops ("This is just really important to me," user a-wilde-handful lamented) and if anyone else finds Jeff attractive. Along with the sillier posts, however, are questions about the finale and Season 4 predictions.
For instance, Reddit user losin2win09 thinks that Jonah is actually the father of Amy's baby, not her ex-husband, Adam. Medsciwasalltherage agrees, saying, "Amy doesn't tell Jonah, 'I'm pregnant with Adam's baby.' She just says, 'I'm pregnant.'" Many others in the subreddit concur, or think that Amy was never pregnant to begin with, like castlef766 theorizes.
There's also the matter of Jeff's "job" at Target and what he will end up doing for work. Perhaps he will come work with Mateo at Cloud 9, or maybe he'll make it past the reservoir and eventually hike the Appalachian Trail. Audiences also need to see Dina have the baby so she can focus her energies back on making everyone at Cloud 9 miserable.
"We're super excited for season four," Dunn said in the same The Main Edge interview, "and I think you'll see season three wrap up in a very fun way." Whatever "a very fun way" means, viewers can rest assured that their quirky, off-beat workplace comedy is safe for at least one more season.