'The Apprentice' Cast Has Been Revealed & Their IRL Jobs Aren't What You'd Think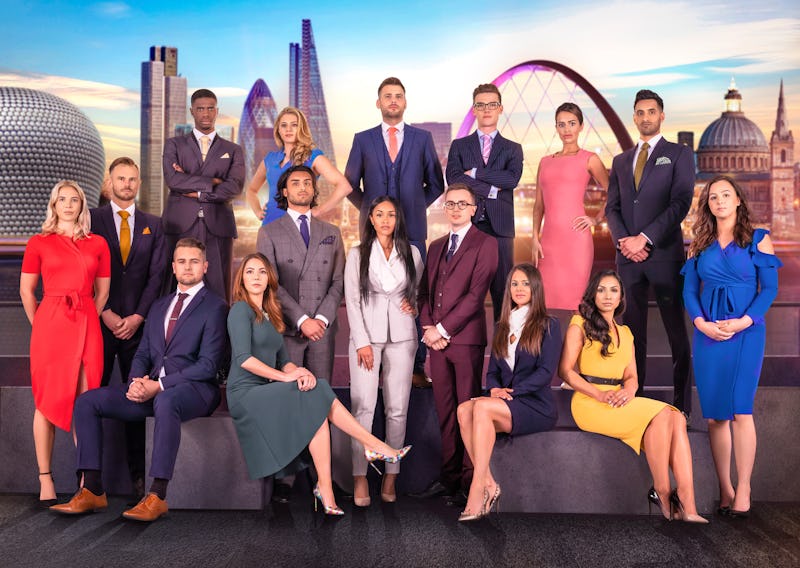 BBC
It's that time of year again: a new season of The Apprentice is arriving very soon. With the new line-up of contestants just revealed, the 2018 series looks like it's set to be more competitive than ever. But when does The Apprentice 2018 start?
Well, we don't have long to wait as the new series will hit TV screens on Oct. 3 at 9 p.m. on BBC One. Lord Sugar is of course back in the main seat, with Baroness Karren Brady and Claude Littner sitting on either side of the boss, acting as his "eyes and ears" on the ground during tasks. Meanwhile, the candidates will be battling it out to win a £250,000 investment for their business idea.
In this first episode, Lord Sugar tells the candidates to "expect the unexpected" before sending them abroad for their very first task, reminding them "this is not a holiday." The candidates are then seen jetting off to Malta to try and buy nine items at the cheapest price possible. According to the BBC, the new series will also feature episodes where the candidates are sent to Glasglow to sell art, Birmingham to nail down deals at the Body Building Expo, and London to launch a budget airline.
To drum up excitement ahead of the series premiere, Lord Sugar has announced his 16 new candidate. While I recommend watching Matt Edmondson's "alternative" candidate interviews to get to know the newbies a little better, here's what I can tell you so far about the new faces that will be gracing your TV screens in just a few days' time.
Alex Finn
Age: 21
Occupation: IT analyst
He says:"I know everything. Call me Google. It's my middle name."
Camilla Ainsworth
Age: 22
Occupation: Owner, nut milk brand
She says: "I'm a bundle of energy and creativity, and certainly a one off. Ain't no Vanilla Camilla."
Daniel Elahi
Age: 28
Occupation: Owner, lifestyle brand
He says:"I have the beauty and the brains, typically people only have one. I was blessed with both in abundance."
David Alden
Age: 32
Occupation: Tax advisor
He says: "My friends and family call me the Duracell bunny as I take on so much, and never stop. I just keep going."
Frank Brooks
Age: 27
Occupation: Senior marketing manager
He says: "There's no need to watch your back when I'm already two steps in front."
Jackie Fast
Age: 34
Occupation: Sponsorship consultant
She says:"I'm not intimidated by anybody, or anything."
Jasmine Kundra
Age: 34
Occupation: Learning and development manager
She says: "All is fair in love and war, and business is war."
Kayode Damali
Age: 26
Occupation: Professional speaker
He says:"I'm not here to razzle dazzle and hit you with buzzwords like ''Im so motivated, passionate.' Anyone can say those things and I'm not anyone. I'm Kayode Damali. If you're not your own biggest fan, who do you expect to be it for you?"
Khadija Kalifa
Age: 28
Occupation: Owner, eco cleaning company
She says:"Whatever I say I'm going to make happen happens. I'm a serious Mumpreneur, who doesn't have time for time-wasters and idiocy."
Kurran Pooni
Age: 22
Occupation: Law graduate
He says: "I'll be honest, I don't eat, sleep, breathe business but I do eat, sleep, and breathe success."
Rick Monk
Age: 33
Occupation: Quality controller
He says: "I won't pussyfoot and waste time, as time is of the essence in everything. People will have to like it or lump it."
Sabrina Stocker
Age: 22
Occupation: Owner, tennis events company
She says: "I am a mix of Willy Wonka drinking an espresso martini… classy and sophisticated on the outside; inside, a little bit crazy and wacky but full of brilliant ideas."
Sarah Byrne
Age: 29
Occupation: Owner, children's acting academy
She says: "I am me, I don't have a posh accent or pretend to be anyone else. My personality sells me, my passion to succeed and work ethic."
Sarah Ann Magson
Age: 37
Occupation: Solicitor
She says: "I am used to laying down the law in the courtroom, but now I'm going to lay down the law in the boardroom."
Sian Gabbidon
Age: 25
Occupation: Owner, swimwear brand
She says: "I bring both the passion and the fire. In the boardroom, I will be merciless."
Tom Bunday
Age: 28
Occupation: Owner, tree surgery firm
He says:"There are very few people that can genuinely say they're going to make it, but I know that I'm going to."