The Outlook Is Pretty Scary For 'The Exorcist' Season 3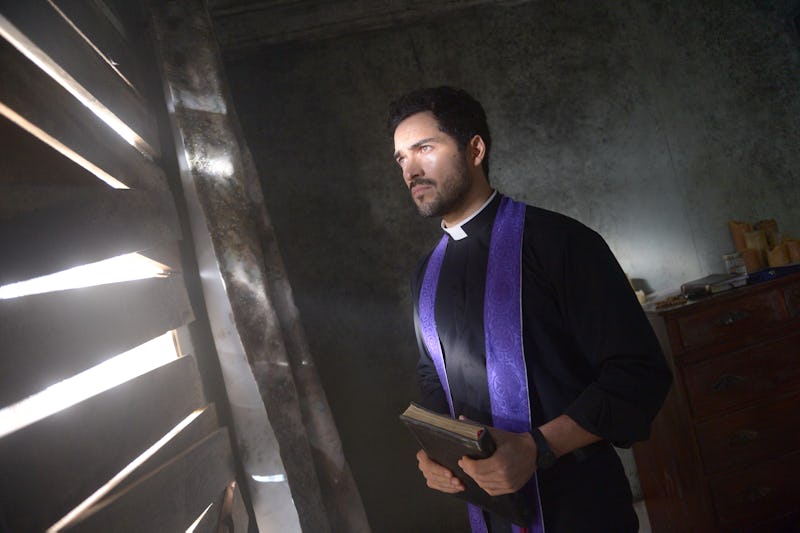 Sergei Bachlakov/FOX
Do you want to hear a scary story? On Friday, Dec. 15, Season 2 of Fox's possession thriller will come to an end, and fans still don't know how long they'll have to wait for more episodes… or even if there will be more episodes! When is The Exorcist Season 3? And is another season even in the cards for the underrated horror show?
UPDATE: Deadline reported in May that Fox had officially canceled The Exorcist.
EARLIER: The Exorcist truly is the definition of underrated; both in the sense that the show itself is far better than most people might assume, and in the sense that its ratings are under what they should be in order for fans to feel confident that the show will return for a third outing. Season 1 was a delightful surprise, weaving an effectively spooky story around the beleaguered Rance family only to reveal halfway through that (spoiler alert!) it had been a secret sequel to the original 1973 film all along. Season 2 abandoned any connection to the source material, crafting a wholly original tale of terror instead, and was even better for it.
Critics have raved about the new and improved Season 2… but, unfortunately, that wasn't enough to drive up the already anemic numbers. While Season 1 only drew an average rating of 0.67 across its 10 episodes, Season 2 has dropped about a third of that audience, currently averaging a 0.41 rating heading into Friday's season finale.
Season 1's ratings were already low enough that forecasting site TVByTheNumbers only gave The Exorcist a 33 percent chance of returning for a sophomore season; one of the lowest percentages of any show on FOX. Obviously, the show did return, surprising pretty much everyone. But with its even lower numbers in Season 2, the site once again has The Exorcist ranked as "likely to be cancelled." This news can be read one of two ways: either the show barely skated to a renewal last year and its even lower numbers have doomed its chances for Season 3… or, The Exorcist already cheated death once and there's no reason to believe it can't do it again.
If the horror series does get renewed for Season 3, when will viewers be able to expect it? Both of the first two seasons premiered in late September, just in time to get viewers in the mood for the Halloween season, so there's no reason to believe Season 3 wouldn't debut around the same time of year — if fans are so lucky as to get a third batch of episodes, of course.
Fortunately, one thing that could help The Exorcist reach that elusive third season is the fact that creator Jeremy Slater has a very clear vision for his series; always a good sign when a network is weighing the longevity of a program. In fact, Slater supposedly has a seven-year plan for The Exorcist, as he revealed to Digital Spy in an interview earlier this year.
"The idea is that every year we'll have a different case, a different possessed individual, a different family," the creator revealed. "But it's Marcus and Tomas and Bennett as our priests, our recurring characters, that you're going to follow and have that investment with." Among the procedural nature of each season's case would be the ongoing thread of corruption within the Vatican, the "connective tissue" that ties all seven seasons together, Slater said. "We've sort of plotted it out very generally, just in case, so we know that we have an end point in mind. We will answer every question at some point along the way."
If Slater has such a clear plan, then what's in store for the hypothetical Season 3? "If the show's lucky enough to move forward, Tomas has a long backstory that we've barely begun to dive into," he teased to Digital Spy. His showrunner, Sean Crouch, elaborated: "If we had our way, Season 3 would be in Los Angeles and then we'd play the other half of the story in Mexico, across the border, so we could really play with that culture, that very strong Catholic culture. I think that's a great sandbox for Season 3, so fingers crossed."