These Details About The 'GoT' Prequel Will Answer ALL Your Burning Questions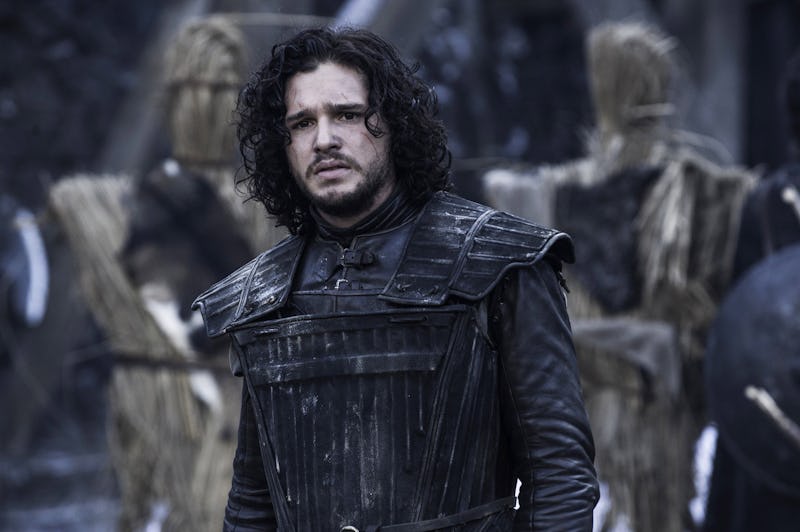 HBO/Kobal/Shutterstock
Game of Thrones fans are dreading the fact that the series is coming to an end next year. Wherever will our next fix of Westeros, Essos, and Sothoryos come from? Well, luckily, it's not all bad news. You see, there's a spin-off in the works, set thousands of years before the likes of Jon Snow and Daenerys Targaryen ever walked the Seven Kingdoms. But when does the Game of Thrones prequel come out?
Although there isn't an exact air date just yet, HBO programming president Casey Bloys has confirmed that filming will begin next year. Speaking at the Television Critics Association summer press tour, he told journalists: "We are doing a pilot that Jane Goldman wrote. We'd be lucky to get one that we're very, very excited about, and we did get that. We're just starting the search for a director... we have to cast it. We hope to be shooting sometime in the new year."
Given that Game of Thrones tends to take a year or so to make, I suspect the new series will grace our TV screens in either 2020 or 2021. I know, that sounds like ages away. But it's better than nothing.
So, what will the new prequel be about exactly, given that it's set long before the Mad King and his predecessors were ever born? HBO said in a statement that the show would focus on "the world's descent from the golden Age of Heroes into its darkest hour," as reported by the BBC. "From the horrifying secrets of Westeros' history to the true origin of the White Walkers, the mysteries of the East, to the Starks of legend… it's not the story we think we know."
Wow. I suppose that may make up for HBO taking away my favourite TV show. And by the sounds of things, telly bosses really will be going all out when it comes to the prequel. According to the Hollywood Reporter, HBO executives are planning to invest the same amount of money into the new series as they did the original. Francesca Orsi, HBO senior vp drama, said: "$50 million [per season] would never fly for what we are trying to do. We are going big."
But what exactly is the Golden Age Of Heroes? According to Mashable, it's a phase in Westeros' history in which a pact was formed between the First Men and The Children Of The Forest. Key events in the period include what's known as the Long Night — a winter which lasted an entire generation — as well as a bloody battle between the White Walkers and Children of the Forest, known as The War For The Dawn.
GWW has reported that filming could take place as early as Feb. 2019, and that it'll take place at Hall/Titanic Studios in Belfast. But especially with talented writer Goldman involved, the prequel won't just be a rehashed version of Game of Thrones. As HBO's chief programmer told Entertainment Weekly "By setting it when we did, there's a lot going on, a lot of dynamics that are related to Game of Thrones, but it's different enough with its time period and characters [so as to not be] duplicative."
With a cast and director yet to be announced, and all things concerning the prequel being kept a firm secret, what could go down is anyone's guess. But with all cards being closely kept to their chests, it's likely that you'll have to spend another long winter before getting your answers.