'The Good Place' Is Coming To UK TV & It's Happening So Soon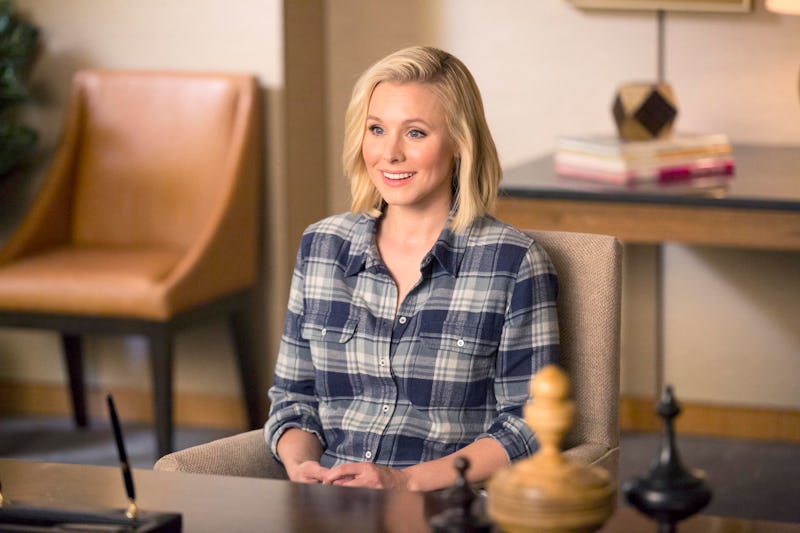 The Good Place / Channel 4
Holy fork, it's actually happening. The Good Place, one of my new favourite shows, is finally coming to a British broadcaster and it'll land just in time for the Christmas season. Since it came out, people have not been able to stop talking about it and especially its stellar cast which includes Kristen Bell, former T4 presenter Jameela Jamil, Ted Danson, and more familiar faces. It turns out that E4 has scooped up the show and you'll now be able to watch it, if you're one of the rare few that doesn't have a Netflix subscription. (Or, who isn't sponging off somebody else's Netflix subscription.) So, when does The Good Place air on E4? You won't have to wait very long.
The show will be arriving on the channel in a few weeks on Dec. 13, when they'll air the very first episode at 9 p.m. It's one of the cleverest comedies around at the moment and it focuses on a woman called Eleanor Shellstrop (Kristen Bell), who isn't altogether the best human around. When she passes away in a supermarket tequila mix-related accident (don't ask), she winds up being whisked off to the afterlife and more specifically: the Good Place.
Realising that there's been a massive mix up and that she's meant to be somewhere a little more fiery, she attempts to hide the truth and drags her 'soulmate' and ethics professor Chidi Anagonye (William Jackson Harper) into her scheme.
The Good Place is actually an ABC show and airs on that channel in the States, however Brits have been able to stream the series on Netflix for a little while now. The show is currently in its third series and rather than opting for Netflix's bulk season release models, they're currently rolling the new season out episode by excruciating episode on the platform. (I'm not bitter about it. Really, I'm not.)
It's going to be something of a homecoming for British actress Jameela Jamil, who used to be a presenter on Channel 4's show T4. After her stint on the show ended, she eventually moved to Hollywood where she hoped to become a screenwriter but took a major detour after her manager convinced her to audition for the show.
It's hard to believe that at one point, she said she asked the show's creator Michael Schur to recast her "because [she] didn't want to make an absolute t*t of [herself] in front of the entire world". And thank fork. She's gone on to become one of the show's most beloved characters as Tahani Al-Jamil, an earnest and sometimes aggravating socialite.
I've shouted about this show to literally everybody I've met, as it's absolutely hilarious and still manages to hit some pretty deep notes: blurring the lines between good and bad amid all the one-liners. And if you needed another reason to fall in love with The Good Place, the show's creator Michael Schur is one of the guys behind all your favourite US sitcoms: Parks and Recreation, Brooklyn Nine-Nine and — don't hold this against him — the American Office.
The Good Place will air on E4 on Dec. 13 at 9pm. In the meantime however, you can also stream the show in its entirety on Netflix. Happy viewing!