It Might Be A While Before Dax Shepard Debuts On 'The Ranch'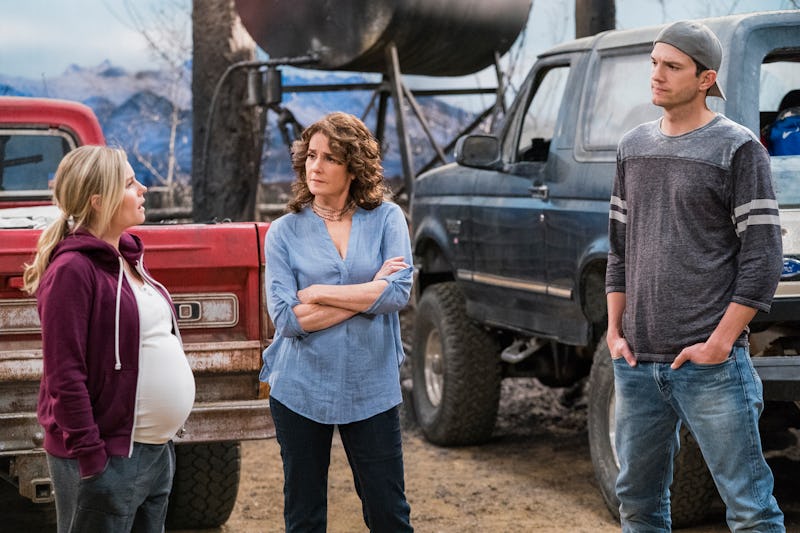 Greg Gayne / Netflix
Now that Rooster (Danny Masterson) has flown the coop, The Ranch is about to look pretty different in its fifth installment, which premieres Friday, June 15 on Netflix. Part 4 of the Ashton Kutcher-led comedy series covered a lot of ground, following Beau's (Sam Elliott) health problems, both a career change and change of address for Abby (Elisha Cuthbert), and Colt (Kutcher) and Rooster's ambitious plan to buy the Peterson Ranch. As Part 5 (otherwise known as the first part of Season 3) makes its debut, fans are already wondering when The Ranch will return for Part 6.
Update: On November 1, 2018, Deadline reported that The Ranch was renewed for a fourth season, with another 20 episode order. No premiere date has been set for the second half of the third season (Part 6) yet.
The Netflix drama made headlines when Masterson was fired from The Ranch in December 2017 amid rape allegations from multiple women, per the New York Times. Following Masterson's firing, Dax Shepard joined the series in a recurring role. According to Deadline, the Parenthood actor will debut in Part 6 as Luke Matthews, a former soldier who has some history with the Iron River Ranch. The Deadline report teases that Luke's past will eventually catch up to him — but how it does remains to be seen.
As for where The Ranch left off at the end of Part 4, Abby lost her teaching job after Garrison High closed. After getting a new job in Denver, she had her heart set on moving, which put a wrench in her and Colt's upcoming wedding plans. Colt, the former semi-professional football player and overall NFL enthusiast, had hoped to go to the NFL Hall of Fame for their honeymoon so he could put his jersey on the wall, as you do.
The Part 4 finale also followed Beau as he dealt with the aftermath of a heart attack and subsequent surgery. And while their father was under the knife, Rooster and Colt decided to buy the Peterson Ranch behind his back, which is sure to cause conflict in their already tense father-son dynamic.
Speaking of conflict, there was also some tension in Colt and Abby's relationship after she moved in with the Bennetts, so Part 5 promises to build on that already fraught dynamic. "Just 'cause I don't want Abby to move to Denver don't mean I'm not a supportive boyfriend!" Kutcher's character says in the Part 5 trailer, implying that he is not, in fact, a supportive boyfriend.
The kicker for the upcoming installment, however, is that Abby is pregnant. The Happy Endings actress appears in the trailer in a wedding dress, which is tight across her swollen belly. She declares that they should postpone their upcoming nuptials because she doesn't want to be a "white trash bride."
What's more, the trailer also hints at a destructive wildfire hitting the ranch, which will most likely effect the Bennetts financially. Not to mention that Rooster and Colt lost their money after the natural gas company decided not to put a pipeline through their land. This means Colt, sans Rooster, will probably have to face the wrath of Beau in the upcoming Netflix installment.
So when exactly will The Ranch return for Part 6 — or Season 3, Part 2? So far, there's no set release date, but Part 2 and Part 4 were released in October 2016 and December 2017, respectively, so fans can reasonably assume that Season 3 will wrap up later this year. And fans of the comedy series can rest assured that Part 6 is definitely on its way. In July 2017, The Ranch's official Twitter account announced that the show was renewed for Season 3, which is set to consist of a total of 20 episodes. So although it's not clear when the second installment is coming, those next 10 episodes are surely coming 'round the mountain.
For now, fans of The Ranch have time to look forward to seeing Dax Shepard try his hand at ranch work.