Here's When The Docs From 'The Resident' Come Back From Their Holiday Break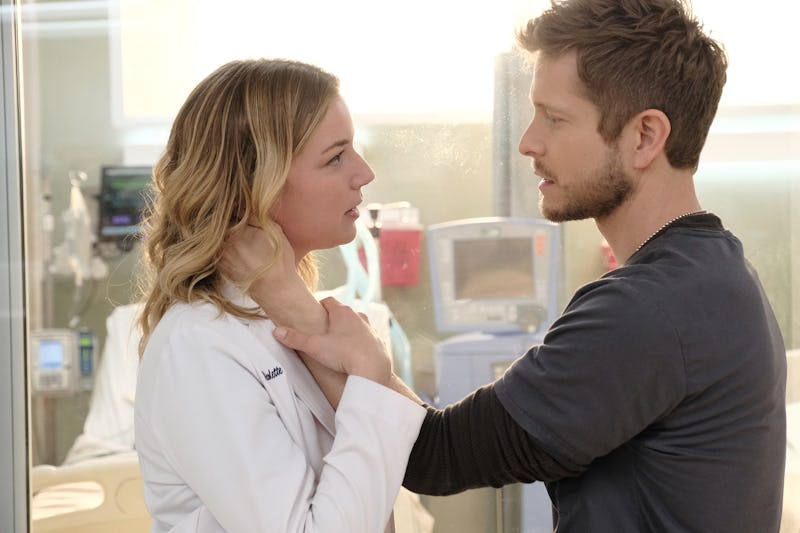 Fox
Last year, Fox's debuted a medical drama that found its way directly into fans' hearts. They loved it so much that it was renewed for a second season that premiered on September 24, 2018. After 13 more episodes, the midseason finale of The Resident airs Monday, November 26. And everyone knows the break between two halves of one season can sometimes feel longer than the break between two whole ones, which means many fans are going to be anxiously waiting for when The Resident Season 2 comes back.
According to Fox, The Resident is "averaging more than 10 million multi-platform viewers per episode, and improves its year-ago time period by +31 percent in the key adults 18-49 demographic." In other words, even though it's not as popular as say, Grey's Anatomy, people can't get enough of their med dramas — especially this one. According to Deadline, the second half of the season will air starting after the holidays on January 14. So, it's just a little under two months of a wait.
Then, viewers will get to continue following the doctors of Chastain Memorial Hospital through the unique perspectives The Resident creates. Viewers get to see doctors as professionals, but also as people — people who have feelings, who experience loss, love, and everything in between, all while they're doing their best to save the lives of others.
The show features a ton of talent from shows that fans already love and adore. Malcom Jamal-Warner, formerly best known for The Cosby Show, is one of the industry veterans in the ensemble cast. He told PeopleTV's Couch Surfing that he enjoys being someone on screen that he doesn't get to be in his own life. His character, Dr. AJ Austin, notoriously has no filter, saying pretty much whatever's on his mind.
"I get to play the guy I don't allow myself to be in real life," he said on the talk show. Although, he said, underneath, that type of person is "very much there."
Some newer talent featured on the show includes Patrick Walker, who lives in Atlanta where the show is filmed. He told the local morning news show, Good Day Atlanta, about his character and his time on set.
"It's a phenomenal experience, I've been working with, in my opinion, some of the best actors period," he said, speaking of Jamal-Warner as well as Matt Czuchry and Emily Van Camp who play Dr. Conrad Hawkins and Nicolette Nevin. "It's a learning experience," he said.
On the show, Walker's character, a teacher named Micah Stevens, undergoes a heart transplant and begins falling in love with one of the doctors, Mina Okafor played by Shaunette Renée Wilson, who is integral in saving his life. "The dichotomy of that moment of someone who is dying and the love of your life is doing the surgery... it's a challenging thing," Walker told Good Day Atlanta.
And the love story between Stevens and Dr. Okafor is only one of the show's heart-wrenching narratives that keeps viewers in front of their televisions with a box of tissues at the ready. Don't worry — the story will continue to unfold come January 14.