The Best News For 'Tin Star' Fans Is Officially Here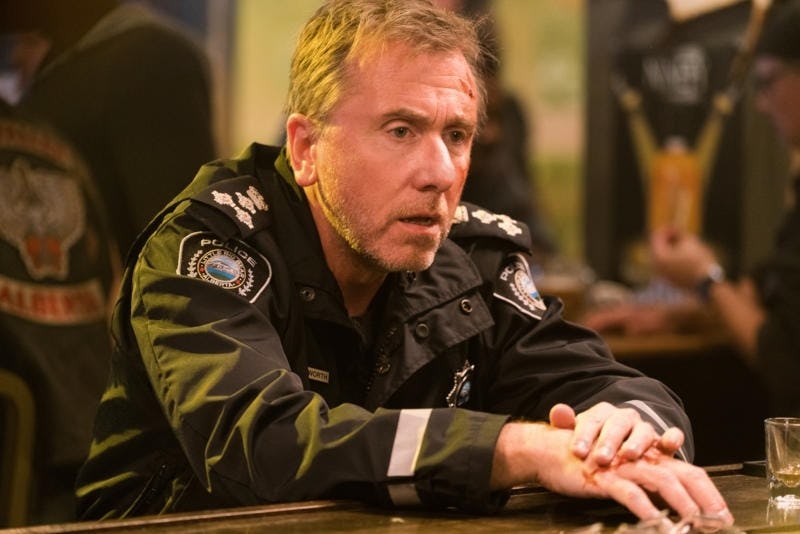 David Bukach/Kudos Film & TV
One of the best side effects of the streaming television boom is that access to international shows has never been easier. Without Amazon Prime, there's a chance American audiences may never have gotten the chance to watch Tin Star. The first season premieres on Amazon Prime on Sept. 29, 2017, but, since it drops in full, fans will likely be wanting to know if they can expect to see a Season 2 of Tin Star on Amazon.
Tin Star fans across the globe will be happy to hear that the hard-boiled crime drama was confirmed for a second season long before it's U.S. premiere according to Radio Times. The reception to Tin Star in the U.K. caused Sky, the U.K. Network which airs Tin Star, to order a second season before the premiere of the first season. Sky is putting a great deal of faith in Tin Star, but that doesn't mean that Amazon will follow suit. That being said — it would be incredibly surprising for Amazon to back out and stop carrying new seasons of the show. And, in keeping with Amazon and other streaming network timelines, a Season 2 would likely debut in around a year.
While Tin Star fans will be excited to hear that a second season is coming out, it was a lofty move for Sky to renew the show before Tin Star fans even existed. So what factors led to the show getting a pre-emptive renewal?
For starters, Tin Star seems to fit squarely into one of television's favorite genres to produce. The "gritty antihero committing and/or fighting crime" genre has been a mainstay of prestige television ever since Tony Soprano first made his way onto television screens across the nation and shows no signs of slowing down. Even in 2017, shows like Gypsy, Ozark, Sneaky Pete, and Patriot — all on streaming television — are proving that there is still an audience for these shows.
Tin Star fits firmly into that category, as police chief Jim Worth, played by Tim Roth, is trying to escape a dark, violent past. Worth's past catches up with him when a shocking act of violence rocks his world, and he begins to utilize the skills from his past to seek revenge. And, Tin Star may be the story of Jim Worth, but Tim Roth is likely one of the other reasons the show has already been renewed.
Tin Star doesn't have many A-list names, but the ones it has aren't slouches. Tim Roth has made quite a career out of playing criminals, from his breakout roles in Reservoir Dogs and Pulp Fiction to his role as a sleazy junk food-addicted assassin in Twin Peaks: The Return. Seeing Tim Roth don a police uniform may seem out of character — but the promise of seeing Roth in a career-revitalizing role may be worth the second season alone.
As if Roth as a nothing-to-lose crimefighter wasn't enough, he's joined by Mad Men actor Christina Hendricks. This is Hendrick's most prominent role since her breakout performance as Joan Harris on Mad Men, another popular antihero show. This time, instead of playing secretary, Hendricks will be stepping fully into the role of a femme fatale as an employee of North Stream Oil, the oil company that seems set on getting Jim Worth out of their way by any means necessary.
With two strong leads at the helm of a show that is one of 2017's most popular genres, it's no wonder that Sky went ahead and ordered a Season 2 of Tin Star before the first even premiered. While Tin Star may not revolutionize the antihero genre, it will fit in perfectly along Amazon's roster of shows about good men doing bad things, including the aforementioned Sneaky Pete and Patriot as well as Bosch, Golitah, Hand of God, and Mad Dogs. Amazon sure loves its antiheroes, which means that Tin Star will feel right at home for as many seasons as Sky will have.