The Shocking Trailer For Season 2 Of 'Tin Man' Will Majorly Give You The Creeps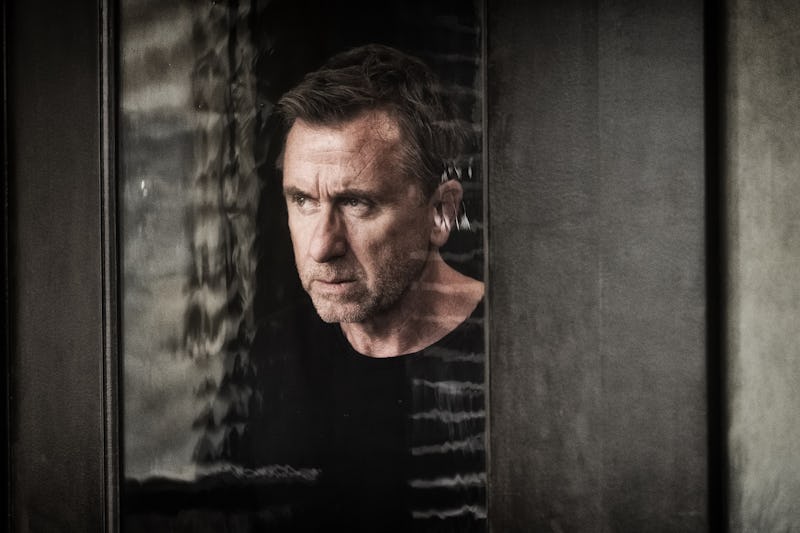 Michelle Faye Fraser/Sky UK LTD
Did you tune into the first series of Canadian Rockies crime drama Tin Star when it aired in 2017? If so, you'll recall that the Sky Atlantic series ended on a tantalising cliffhanger — and you'll be desperate to find out what happened to Little Big Bear police chief Jim Worth. So when does Tin Star Season 2 start? Sky Atlantic has just dropped a new trailer for the tense, violent drama, and it turns out fans don't have all that long to wait.
According to the trailer, the second season of Tin Star will hit Sky Atlantic in January 2019 — pretty appropriate, given the snowy setting. And that's not all the trailer reveals: Jim Worth, played by Tim Roth, appears to be very much alive, and more than a little angry. In a press release, Sky confirmed that multiple principal cast members will return, including Christina Hendricks as oil refinery company liaison Elizabeth Bradshaw, Genevieve O'Reilly as Worth's wife Angela, and Abigail Lawrie as the couple's daughter Anna.
New to the Tin Star cast? The Fall's John Lynch as Ammonite pastor Johan Nickel, The Missing's Anamaria Marinca as Nickel's wife Sarah, and The Handmaid's Tale's Jenessa Grant as their daughter Rosa.
Let's revisit the first series for a moment, which, according to Sky, drew 1.7 million viewers per episode and attracted over 16 million downloads and online views. The show began with the Worth family's move from Britain to small town Canada, in pursuit of a quieter life. But when powerful corporation North Stream Oil opened a nearby refinery, crime and chaos descended upon the town.
Confronting the refinery had brutal consequences for Jim Worth and his family, and the onslaught reawakened his violent alter-ego, Jack Devlin. In the final episode of Season 1, Jim stared down the barrel of a gun in the hands of his daughter Anna — and she pulled the trigger.
As the Season 2 trailer reveals, Jim miraculously survives, but finds his family in tatters. Daughter Anna, fleeing her parents, has sought refuge with the deeply religious Nickel family, part of the local Ammonite community, Sky says — but, the network teases, "the peaceful prairie family are harbouring secrets of their own."
Anna, therefore, turns to her father for help in the face of an as-yet unspecified "hellish threat". So what are the Nickel family hiding? Will Jim save his daughter, and hold his family together? And can he ever truly escape his alter-ego Jack?
Like Season 1, Tin Star Season 2 won't just be available to Sky subscribers. The show will also be available to stream on Now TV in the UK and Ireland (in the U.S., the drama was snapped up by Amazon). No need to fret if you missed the show altogether, either — according to Digital Spy, Tin Star will air on Channel 4 later this year, as part of a new partnership between Channel 4 and Sky. Just in time to catch up before the new season, then!