Here's How You Can Be A Part Of 'World Of Dance' Season 2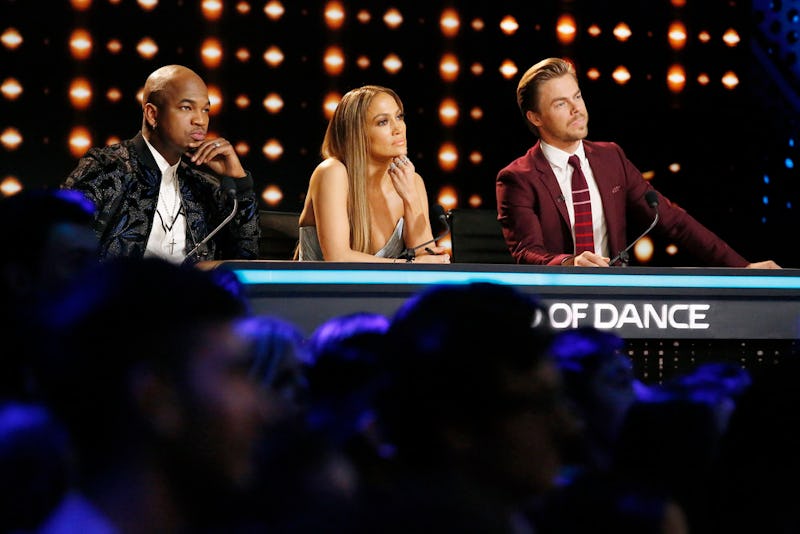 Trae Patton/NBC
The reality competition craze peaked a few years ago, but Jennifer Lopez must not have been satisfied with her temporary gig as a judge on American Idol, because she's added NBC's World of Dance to her resume. Even before its finale on Aug. 8, the summer series has become a success, and it's not even a question of if, but when World of Dance will return for Season 2. According to Deadline, NBC renewed the series back in late June, so World of Dance Season 2 will happen, presumably sometime in 2018. World of Dance's Season 1 ratings were impressive, right away reaching an audience of almost eight million total viewers and over one million in the key 18-49 demo, according to Variety, so it's no surprise that the network wasted absolutely no time in deciding to bring World of Dance back for Season 2.
Perhaps it's even possible that NBC will choose to bring back the show even sooner. Summer has more popular television shows now than ever before, in the age of Game of Thrones, but for normal network television shows, fall, winter, and spring are all popuar times to air new seasons. It's probably far too late for World of Dance Season 2 to premiere in fall 2017. But if NBC is motivated to move the series forward quickly, they could push the World of Dance Season 2 premiere forward to March or even January 2018.
World of Dance Season 2 is casting right now, so single and group dancers can apply for the chance to get a shot at the million-dollar prize for Season 2. If any dancers out there think they can compete with Swing Latino, Les Twins, or Eva Iago, they should submit themselves through the website and apply for an audition. With a prize this impressive on the line, anyone who believes they have the skill and the talent should give it a shot. Until those auditions go through, though, there's not much to know about the next season of World of Dance. When the renewal news broke back in June, Lopez said in a statement, "I am so proud to not only star, but produce a show that is so close to my heart. I am so happy that World Of Dance has resonated with audiences and we are able to put dancers on the pedestal they deserve," according to The Hollywood Reporter.
World of Dance was an immediate hit, so it makes perfect sense that NBC wanted to renew it right away. And while they haven't made any announcements about when Season 2 will premiere, the network is casting its second season already, so they're clearly hoping to have another crop of world-class dancing talent prepared for the next season right away. World of Dance can't arrive soon enough.