Your Dad's New Favorite Western Drama Will Be Back On TV Really Soon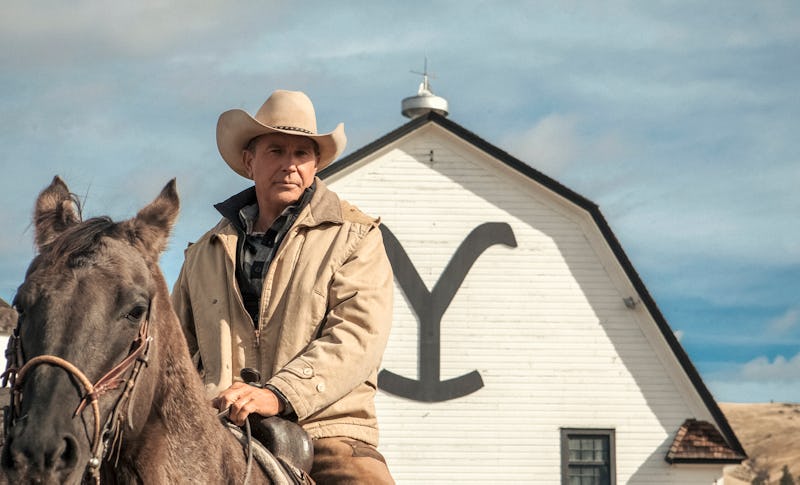 Paramount
Paramount's Yellowstone has just about everything — mysterious rifts between family members, a backdrop of beautiful wilderness, and Kevin Costner staring determinedly into the distance. And luckily for fans, they won't have to wait much longer past the Aug. 22 finale for more content from the Dutton family — Season 2 of Yellowstone is already in the works.
According to a press release from the Paramount network, Season 2 will begin production "shortly," and they probably won't want to waste much time given the number of viewers the show has been bringing in. In fact, creator Taylor Sheridan's wife, Nic, posted on Instagram earlier this week with an apparent announcement that filming for Season 2 had begun. According to The Hollywood Reporter, when Yellowstone debuted its first episode back in June, 5.3 million total viewers tuned in — a network high for Paramount. The same article also reports that as of late July, Yellowstone was "cable's most-watched series behind AMC juggernaut The Walking Dead."
That's a huge accomplishment for a rookie drama, especially one on a newer network like Paramount, so the renewal comes as no surprise. The fictional plot of Yellowstone could realistically yield as many seasons of content as the network wants it to, and holds its own in a TV environment saturated by family dramas. It follows John Dutton (Costner), owner of one of the largest ranches in the country, as he tries to wrangle his adult children, and keep his land safe from developers, a Native American reservation, and national parks who all threaten his ownership.
The same press release reports that the new season will be shot entirely in Montana and Utah. The land surrounding Yellowstone's story is just as much a character as anyone else, and authenticity is something the showrunner has striven toward since the beginning. Creator Taylor Sheridan told Variety that the ranch surrounding Dutton is his main motivator, and the story probably couldn't exist without it.
"It was the notion of a man who had inherited the seventh generation of this massive cattle ranch and reaching a place where he was aware of his own mortality, and who could he trust to shepherd this ranch into the next generation?" he told the outlet of Costner's character. "And when you have a piece of land as big as this is, it's almost a kingdom. And so does that make you a king? Kings, they don't employ morality when they're making decisions. Their job is to preserve the kingdom. So it lends itself to some really fascinating questions about us."
As if the viewership numbers weren't enough to convince you to give the show a try, fans on social media are already hyping up the season finale and saying they can't wait for where Yellowstone takes them next season. There's still more left to figure out until then, though. The finale could offer more twists and turns, including a cliffhanger ending to keep people on their toes until next year. Solid news regarding what characters will return next season is pretty scarce, and as anyone who watches the show will know, you can't count on anyone's complete safety.