'Hawaii Five-0' Is Definitely Coming Back, But It Remains To Be Seen Whether Its Stars Are Too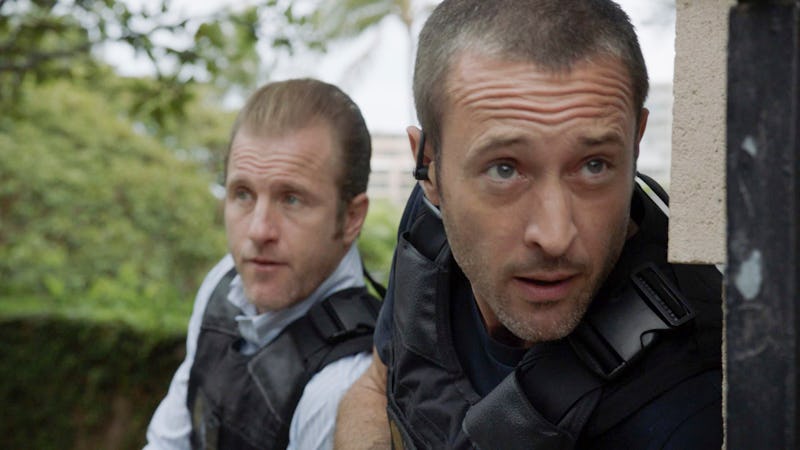 Screengrab/©2018 CBS Broadcasting, Inc
It's not often these days that a reboot of a decades-old classic becomes so popular, but as Hawaii Five-0 wraps up its eighth season on May 18, it's clear that it's proven its worth on CBS. But when will Hawaii Five-0 return for Season 9?
The tropical crime series will continue, according to TVLine — CBS renewed Hawaii Five-0 in April, along with other popular shows like Madam Secretary and Blue Bloods. The outlet reported that the renewal likely means that Five-0 stars Scott Caan and Alex O'Loughlin will return, even though their contracts were due to expire. This is likely a big relief for fans of the show, especially since O'Loughlin previously did not seem on board with the possibility of another season. Back in 2016, the actor told TVLine that he would exit after completing any potential Season 8.
"Absolutely. I'm just trying to make it through the end of [Season] 7! [Five-0] is really, really wonderful, but it is an action show, I'm the main guy, and I defy anybody to do what I've done for as long I've done it and hold out the way I have," he said. "Dude, I was a fit, strong, healthy guy when I started the show, and I still am, but you sustain what you sustain. It's part of the gig."
But since making those statements, OLoughlin seems to have changed his tune. Speaking with TVLine in March of this year, he said he's not as hell-bent on leaving the show now, after the deadline he previously set for himself. "To be honest with you, mate, if you had asked me [about re-signing] two years ago, my answer would have been, like, 'No f*cking way.' I want a quality of life, and I want to be with my family," O'Loughlin told the outlet.
But he said he's been thinking on it, and if the situation is right, he's ready to stick with Five-0 for a little while longer. "I am still very tired at the end of the season, and after almost 200 episodes of television," he continued. "But I can sort of quietly and sensibly sit back and go, 'There's a version where if CBS can make a deal and be reasonable, then I'm prepared to be reasonable, too.'"
It doesn't appear that there's been a formal announcement on a contract renewal for the actor, but CBS must be confident enough in the direction of the show that they'd want to keep it going even after eight seasons. O'Loughlin also recently made his directorial debut on Five-0, signalling that maybe he's found a reinvigoration for the show after taking on new roles. "I really loved it," he told Entertainment Weekly of the experience. "I didn't know how it was going to be with actors, I just thought I would try to be the way I enjoy directors to be with me, which is informed, and informative, and open, and full of questions, and collaborative, and have a passionate connection to a story. For the most part the actors really felt that, and I had a lot of positive feedback from the actors. So that was great."
So, for now it seems like Hawaii Five-0 fans are safe for another season of the show. As for when it'll actually debut, the show has traditionally come back in late September, so it'll be a long summer for those itching for more Hawaii Five-0 adventures. But when it does come back, the main character will still presumably be at the head of the pack, and there will be plenty more adventures with Steve McGarrett's task force.