Aimee Bender's Fantastical Stories Helped Me Figure Out What Kind Of Writer I Want To Be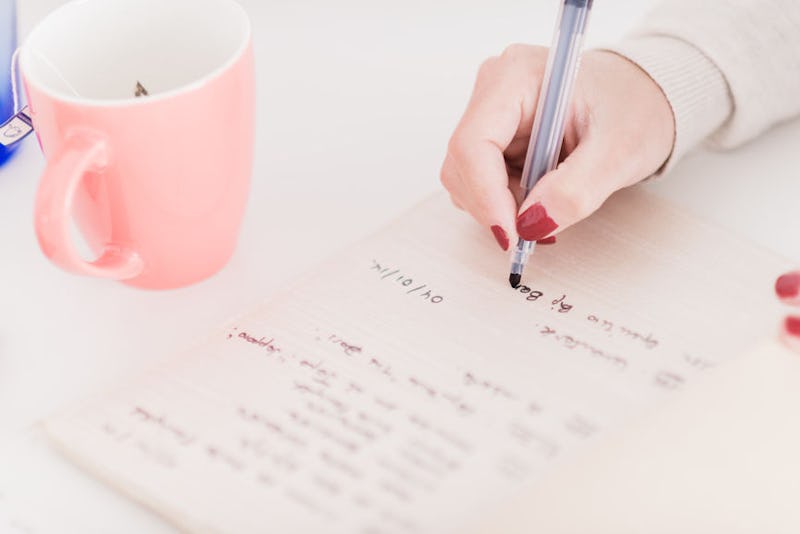 Guille Faingold/Stocksy
Many people say that in order to be a writer, you have to be a reader. The more you read, the more your eyes are opened to what you can do with your writing. Indeed, I think every person has a book or a writer that has changed the way they think about their own work forever. For me, that author is Aimee Bender.
Bender is a superstar in the world of short stories. Specializing in magical realism, Bender's work is fantastical and strange, and it depicts human (and particularly female) experiences with an unmatched rawness. Bender has a knack for going just beyond what your mind thought was possible. For example, in "The Rememberer" the speaker's lover experiences a "reverse evolution," and in "Quiet Please" a grieving librarian has a sex marathon with every male patron who comes into the library. If you have never read Bender's work, you can read "The Rememberer" and "The Meeting" online for free.
I remember the exact moment I read Bender's writing for the first time. I was 16 years old, and sitting on the floor of BookPeople bookstore in my hometown, Austin, Texas. Under the guidance of a Staff Recommendation sign, I had picked up a copy of Bender's classic short story collection The Girl in the Flammable Skirt. Inside, I discovered short stories that would completely electrify me. I felt like I had turned a corner and stumbled upon a chest of glittering treasure.
The Girl in the Flammable Skirt by Aimee Bender, $15.95, Amazon
But this sensation went beyond my experiences as a reader. Her work opened up new possibilities for me as a writer. At the time, I saw my writing as being able to fit into one of two boxes: I could write fantasy stories that took place in fantasy lands, or I could write realistic stories that took place in the real world. But in Bender's stories, she showed me that I didn't have to choose between one or the other. Bender's work exemplifies how, as a writer, you can truly play god, even (and perhaps especially) in the real universe. In Bender's hands, the world is malleable, and she manages to pull grand, shocking, and wondrous phenomena out of quotidian life. Her writing showed me there was sheer pleasure to be had in breaking the rules.
The Color Master by Aimee Bender, $12.33, Amazon
That year, I began writing my own stories that broke the rules. For instance, I wrote a story in which a woman crawled into her washing machine and it began to fly. It was one of the first pieces I ever wrote that I truly loved. My fiction felt, for the first time, like it belonged to me. I wasn't trying to imitate Bender, but her work had allowed me to stretch the bounds of my own imagination. She had given me permission to write from an entirely new part of myself.
So, if you've ever rolled your eyes when a teacher tells you that in order to write, you need to read, take a step back: One author, one book, might just turn your world upside down.