We Now Know When Amazon Prime Day Will Be, So Mark Your Calendars Accordingly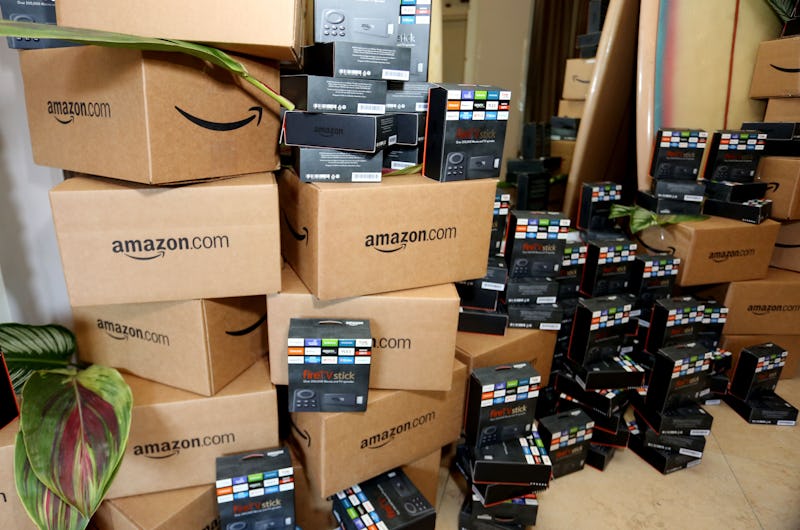 Rachel Murray/Getty Images Entertainment/Getty Images
Amazon fans, I have good news: The online retailer's most sale-packed day of the year is nearly here! Thanks to a just-released announcement, we finally have the answer to a very important question: When is Amazon Prime Day?
If you've been paying attention since Prime Day made its debut in 2015 as a way to celebrate the Amazon's 20-year anniversary, then you might've guessed the fourth annual festivities (aka Prime Day 2018) would commence on Monday, July 16 at 3 p.m ET.
Considering the official date was just revealed, Amazon Prime members — Prime Day is exclusive to members, by the way — can finally revel in mega savings excitement... even though the awesome deals to expect are still under wraps. However, pro tip: You can watch some of the upcoming sales via the Amazon App starting July 9.
Not a Prime Member? Sign up here for a free 30-day trial, plus you'll get access to all of today's deals.
Honestly, it's worth joining Amazon Prime for reasons beyond being able to shop Prime Day's sweet sales. Perks like free shipping and access to Amazon Video — where the company houses its Emmy-award-winning originals like Mozart in the Jungle — make the yearly $119 fee feel like an absolute steal.
Those who have been following Prime Day through the years are probably well aware of the initial hiccups (i.e. super fast sell-outs) that once plagued the daylong event, but rest assured, the company has worked out those kinks. Last year, Amazon Prime vice president Greg Greeley gave consumers a peek inside their preparation plans, and hint: It's a lot. He said in a statement,
Our teams have been working for months to source exciting and interesting deals. Our fulfillment centers are loaded with products, our operations associates are ready and our transportation partners around the world are excitedly waiting for the first Prime Day order.
To briefly recap last year's mega savings, Amazon shoppers saw everything from weird but genius products to incredible beauty sales and, of course, plenty of tech bargains, too. And this year's is going to be even more epic, because the savings apply to Whole Foods Market and brand new product launches, according to a Tuesday, July 3, press release.
Can't wait to shop Amazon's hottest sales? Keep reading to fill your cart with some of the best pre-Prime-Day deals they have going on right now, then mark your calendars for Monday, July 16, at 3 p.m. ET. The countdown is officially on.
Starting on Monday, July 16, Bustle will be keeping track of the best deals worth snagging on Prime Day 2018, so be sure to watch this space for the latest.