Why Carly Rae Jepsen's New Album Could Take A REALLY Long Time To Whittle Down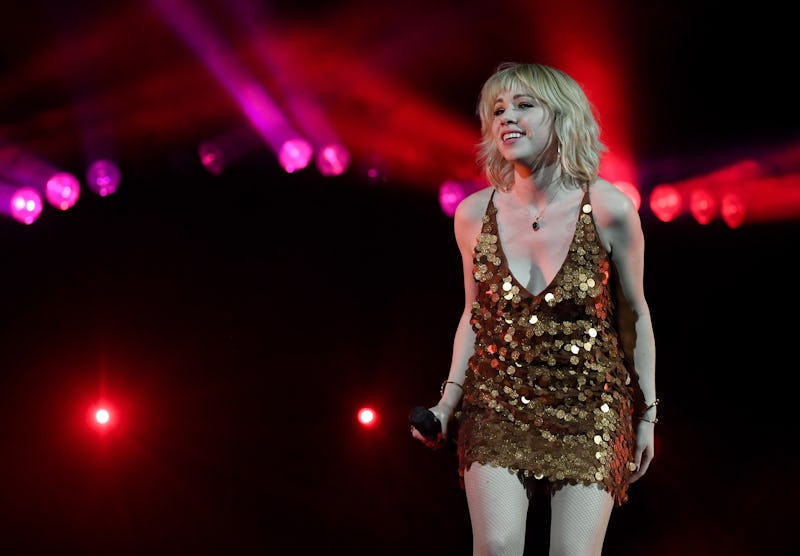 Ethan Miller/Getty Images Entertainment/Getty Images
On June 24, 2015, the world was shook. World peace wasn't quite achieved, but the planet got the next best thing — Carly Rae Jepsen's album Emotion. She'd been squawked at when her viral hit "Call Me Maybe" made the rounds a few years prior, but Emotion was a landmark album which caused critics to finally take both Carly Rae Jepsen and pop music seriously. The album, with hits like "I Really Like You," proved that pure joy was worth its critical mettle, too. It's been three years since Emotion's release, so when is Carly Rae Jepsen's next album out?
Things have gone back into Jepsen overload, ever since she released her *ahem* self-love anthem "Party For One," which premiered on Nov. 1, with an accompanying video featuring some *again, ahem* adult toys. It's a more grown up version of the Jepsen who'd been showcased before.
She's been mildly chastised in the past for not acting her age, like in this New Republic article (which, admittedly, I'm not really into) from June 12, 2017. "Adult women love Carly Rae Jepsen in part because of the teenageriness of her product, which persists despite the fact that she is 31 years old," the writer argues. But I don't buy that. Adult women love the Jeps because she sings for us, just like she does on her new single, and just like she's bound to on her upcoming album. Speaking of which, when's that out?
Well, right now we don't have a definite date, only clues. On Aug. 26, 2018, Jepsen posted an Instagram celebrating the two year anniversary of EMOTION SIDE B — a slew of songs which didn't quite make the initial cut. Alongside some heartfelt thanks to her fans, she also assured that there was a "New era on the horizon," asking fans to "Hold tight..." Reportedly, it's not like the material's not there, just that there's a heck of a lot of it. As Popbuzz reported on Feb. 28, Jepsen told writer Amanda Petrusich at the New Yorker Festival earlier that month that she'd already made "80" new tracks for the upcoming album. I reckon she should just drop it now. It could be pop's Infinite Jest.
But Jepsen's a perfectionist. "I have a baby plan for the album," she told a Japanese radio station back in Sept. 2017. "It would be great to get it here as soon as possible, but it's also more important to get it right. I'm in the cleaning up phases right now. Just making sure it's all polished." The album was originally anticipated to come out in 2018, Rolling Stone reported, but unless it happens to be a Christmas album (I'd still be so down for that), it's looking very unlikely that the album will arrive before 2019. Bustle reached out to her representative for comment and will update this post if we receive any further information.
Still, there have been enough releases from 2018 to chew over before Jepsen blows them all out of the water. 2019 is Carly Rae Jepsen territory, and it's time for everyone to make way for pop's true lovesick princess. Party for one? Make that a party for seven billion.