ITV's 'Emmerdale' Is Celebrating International Women's Day In The Best Way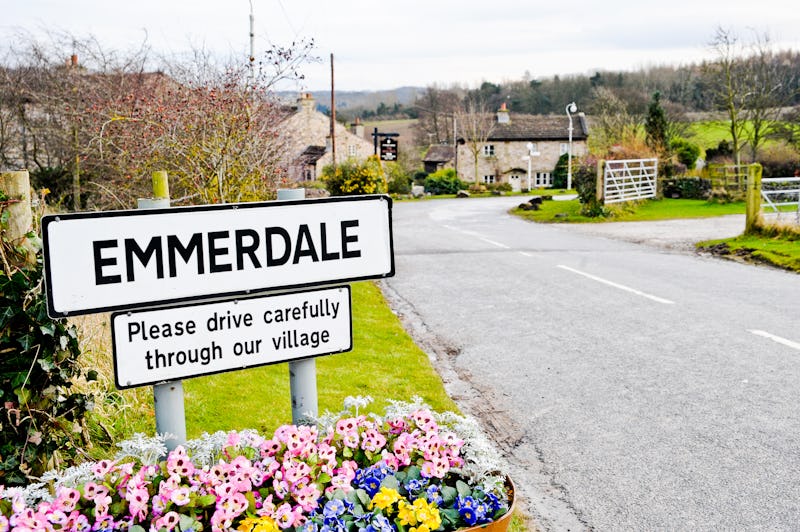 ITV
To mark International Women's Day, Emmerdale will be airing an all-female episode, comprised of an all-female cast and all-female creators. So, the men will be getting a day off, while the soap's women will get to rule the roost entirely by themselves. Now, this is a huge deal because it has never been done before, and surely more soaps will follow in its footsteps. But when is Emmerdale's all female episode going to be on TV?
As you may have guessed, the all-female episode will air in coordination with International Women's Day on March 8, 2019. News of the all-female Emmerdale, or Femme-rdale, was announced at a press event held by ITV on Oct. 3. The soap's executive producer Jane Hudson unveiled the show's plans to a room packed with excited journalists. She said: "It is International Women's Day, so what we want to do for that episode is to have it produced by a female, written by a female, directed by a female, and the entire cast will be female, including all the background artists."
So, are the men happy that they'll get a day off?
Apparently they're "loving it", Hudson reportedly joked at the press event, according to Sky. "What they don't realise is that we're going to give some of our males the traditional female roles for the day, so we'll all be bringing our kids in," she said. "We're really excited about this and really proud to be doing it, and to recognise International Women's Day."
But how exactly will the all-female plot work in the Emmerdale universe? Like, where exactly are they sending all the blokes off to?
"We will be sending Paddy and Marlon off on a little adventure next year around February time," Hudson vaguely explained. That'll surely set the gears in motion, but Hudson was tight-lipped when it came to elaborating any further.
Despite this being a pioneering move by ITV, not everyone is happy about it. In fact, some people on Twitter have been criticising the decision to make an all-female episode. I am not going to publish those tweets out of principle, but according to some, apparently, women's talents are already "very well showcased."
However, on a more positive note, others felt more positively about Femme-rdale, and one Twitter user wanted other shows to follow suit, as they commented: "On international women's day, Emmerdale are doing an episode containing only the women cast, with an almost all-female crew. Suits should do the same."
Of course, IMHO, an all-female anything is bound to bring out the best and the worst of the Internet, but it seems as though these naysayers are outnumbered by those looking forward to March. 8, when Emmerdale will make soap TV history.
Let's just hope there's not any tragedy, but instead a full episode of the ladies of Emmerdale joining forces at the Woolpack. It's International Women's Day after all, so Emmerdale producers and everyone involved — please, no deaths, just wine on tap for the female cast.