Jade & Tanner's Baby Will Be Born At The Perfect Time For This 'BiP' Couple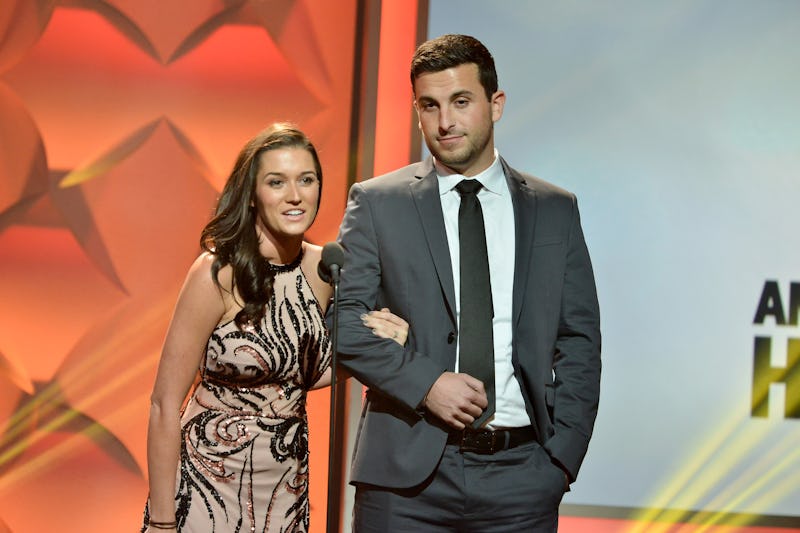 Araya Diaz/Getty Images Entertainment/Getty Images
Two years ago, Jade Roper and Tanner Tolbert fell in love in Mexico on Bachelor in Paradise Season 2. Since then, the duo has become a fan favorite couple as Bachelor Nation watched them get married in 2016 and announce that they're expecting a baby. And Jade and Tanner's baby is due super soon: the due date is Sept. 2, according to an Instagram post from Jade. "It seems like everyone keeps asking about my due date, I say baby will come when baby wants!" she wrote in the post caption, adding: "Although, please stay in there until at least 39 weeks, baby. Right now I'm due September 12th, althoughhhh I've heard first time mamas tend to go past their due date. What's your guess on when she'll be here??"
That means Jade entered her ninth month of pregnancy around the time of the Bachelor in Paradise Season 4 premiere date on Aug. 14 — how perfect, right? And the couple will be in attendance at Evan Bass and Carly Waddell's wedding, which will air on the Tuesday, Aug. 15 episode (but was taped in advance). Jade and Tanner are no stranger to Bachelor weddings: their Valentine's Day 2016 wedding aired live on ABC as part of the network's series retrospective The Bachelor at 20: A Celebration of Love. They then went on to appear together on the TV show Marriage Boot Camp: Reality Stars after their wedding in 2016.
Earlier this year in March, the couple announced on social media that they were expecting their first child together. "We're crazy grateful to finally announce a little secret we've been keeping! We're absolutely head over heels in love already!" Jade tweeted on March 8, which included a photo of her eating two ice cream cones and Tanner reading a book for new dads. In May, Jade and Tanner revealed to People that their baby is a girl. Jade also posted a sonogram pic of their little one on Twitter. "Look at her teeny little nose and lips and chin!" she wrote.
Last month, Jade posted Instagram photos from their their romantic "babymoon" in Hawaii. "I've been soaking in spending all this quality time together before our little addition arrives," Jade wrote on Instagram about the trip with her husband.
In June, Evan and Carly's wedding photos show Jade is visibly pregnant and glowing as one of Carly's bridesmaids. Of course, Tanner was also in attendance, among other Bachelor franchise alums, such as Groomsman Wells Adams, Kaitlyn Bristowe, Shawn Booth, Nick Viall, and Vanessa Grimaldi, according to People. Jade and Tanner seemed glad to support a fellow Bachelor in Paradise couple on their big day. "Passing the Paradise wedding torch to these two," Tanner wrote in an Instagram post. "Congrats Carly and Evan!"
And, now that Carly is pregnant herself, hers and Jade's kids can grow up being best friends just like their mamas — even if Jade's daughter will be a tad older.