When Exactly Jessica Lange Is Makes Her Triumphant Return To 'American Horror Story'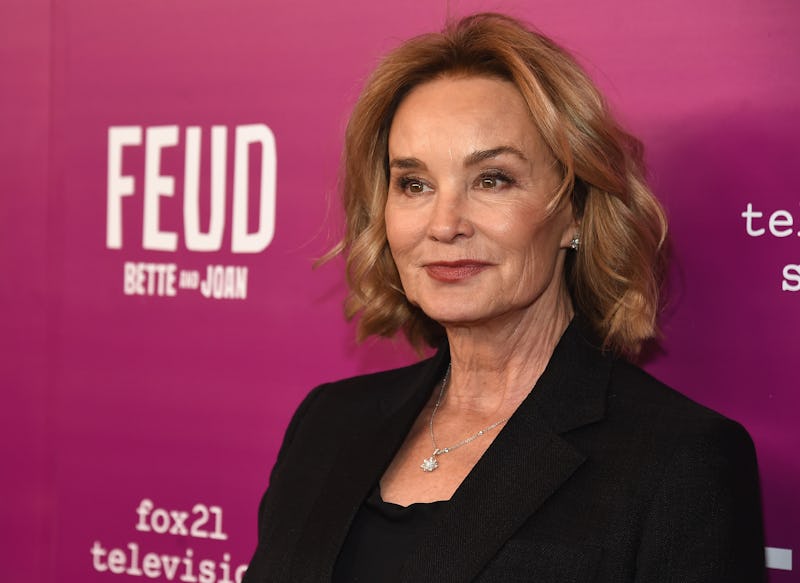 Jamie McCarthy/Getty Images Entertainment/Getty Images
Fans have waited four long years to see it come to fruition, but at long last Jessica Lange is returning to American Horror Story for its upcoming eighth season, according to Entertainment Weekly. The next installment of the anthology will serve as a crossover of Murder House and Coven, the show's first and third seasons (and maybe even more). Fittingly, Lange will be reprising her role as Constance Langdon, her first ever AHS role, which helped to introduce her longstanding talents on a new generation. Her return to the series has been hoped for ever since her departure after Season 4, but when exactly can we expect her to pop up Season 8? When is Jessica Lange on AHS: Apocalypse? Unfortunately, you're going to have to wait a little longer for her appearance than you may like.
Lange served as a star player in Ryan Murphy's anthology series for the first four seasons, playing everything from a nosey next door neighbor and formidable nun at an asylum to a Supreme witch and leader of a freak show. So when she announced that Freak Show would be her last, the news was pretty devastating, which makes her upcoming return all the more special, especially by portraying the very character that initially made us fall in love with her in the first place. But even though the prospect is exciting, don't expect her to show up right away.
Sarah Paulson originally broke the news of Lange's return at the Television Critics Association summer press tour back in August, and with it, spilled a few details regarding Lange's role in the overall story arc of the season. According to TVLine, Paulson revealed that Lange would appear as Constance in the sixth episode of the season, which will be directed by Paulson herself, per TV Line. Yes, you heard that correctly. Lange will only be involved in one episode this season, which doesn't feel like nearly enough. But, on the other hand, it's certainly better than no Lange at all, so we should just be grateful she agreed to come back at all.
Back in 2015, Lange opened up about her decision to leave the AHS world with Deadline, explaining:
"When I originally agreed to do this, it was for one season. (I thought) 'this will be interesting to try this. I've never done this kind of television before.' Then I had such a great time doing it the first year, when they approached me to do it again I thought, 'well okay, maybe we can do it season to season.' Instead, I agreed to do three more seasons. And that was fine because I've had just such a great time doing it. I have no regrets or second thoughts about that decision. But there's always an end to everything."
Yet Murphy always knew there was a chance he could convince her to change her tune. "It always starts with a character for Jessica, so I think I'd have to present her with something she was very interested in," Murphy explained to reporters back in 2014, as reported by TVLine. "Before, I was met with a really quick 'No.' Now, I'm hearing, 'Well, let's keep talking.' So I thought that was a very good sign. … I think if I presented her with the right character, and it could work with her schedule, she might be interested. … That's my hope."
Obviously, that hope has now become a reality. And considering that Constance's demonic grandson, Michael Langdon, now played by Cody Fern, will be wreaking havoc on the world, it'll be interesting to see where she'll fit into it all. Will she stand by her grandson's side or try to save him from his violent tendencies. Fans will just have to tune in for Episode 6 to find out one way or the other.
AHS: Apocalypse premieres on Wednesday, Sept. 12 at 10 p.m. ET on FX.