Here's When Kim Kardashian's Third Child Will Reportedly Be Here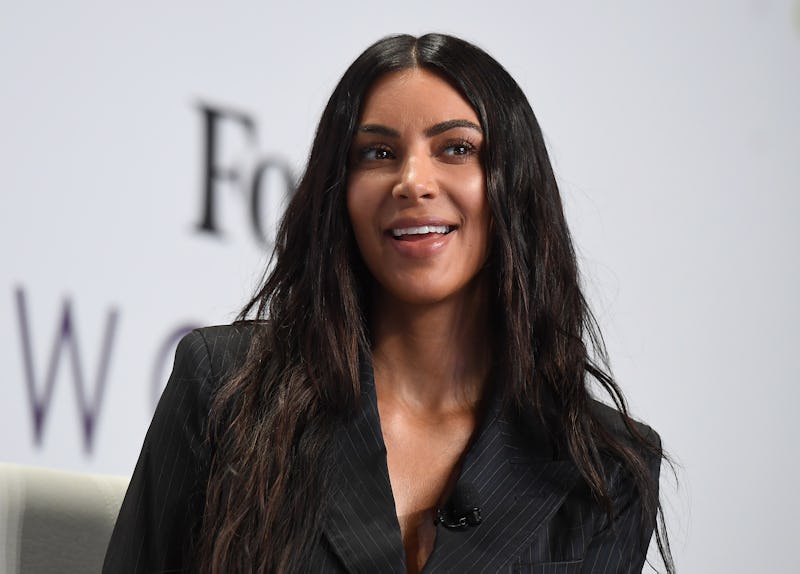 ANGELA WEISS/AFP/Getty Images
While Kim Kardashian and Kanye West have still not yet confirmed whether they are expecting a third child, new reports were published on Sept. 6 that claim to have details about the couple expecting via surrogate. According to TMZ, West and Kardashian's third baby is due in late January. Bustle has reached out to reps for Kardashian and West for comment, but did not receive a response at the time of publication.
Reports that a surrogate for Kardashian and West was pregnant first came out toward the end of July. At that time, Us Weekly reported that the surrogate was three months along, which would line up with the due date now being reported by TMZ. Us Weekly had reported that the couple hired the surrogate in June.
A report from People was also published on Wednesday that says the pregnancy news was confirmed by sources. One source gave a lengthy statement to the magazine in which they make it seem that everything is going smoothly.
"The entire family is over the moon. Kim had been looking for a surrogate for months until recently when she found the perfect candidate," the source said. "Given her health scares in the past, Kim felt the need to hire a surrogacy agency that helped serve as the liaison in finding a healthy woman who would be a great surrogate option for her and Kanye. Both of them have been super involved in the process. They want everything to be perfect and for the baby to be extremely healthy. They don't want any complications and Kim is providing an ideal eating regimen and diet so everyone knows what the baby is consuming before it's born."
Kardashian has been very open about her fertility struggles ever since she welcomed her first child, North, who is now four years old, and throughout her pregnancy with her second child, Saint, who is now almost two. On the most recent season of Keeping Up With the Kardashians, the reality star documented her experience receiving a surgical procedure that was a final shot at being able to carry a third child herself. After hearing from her doctor that the surgery didn't have the results Kardashian hoped, she talked about looking into other options, such as surrogacy.
Kardashian and West have not confirmed any pregnancy news and it's possible they won't until the baby is born. (If the news is true, of course.) As Kourtney Kardashian told her sister on a 2016 episode of KUWTK, "If you use a surrogate, nobody has to know the whole time. You could have a baby for a year and nobody would even know."
As for Kardashian, she told The Hollywood Reporter about the possibility of using a surrogate in an interview published in August, "I hope so. There have been a lot of things said and Kanye and I have not confirmed anything. We're definitely trying. We are hoping so."