Patrick Starr Is Collaborating With One Of The Biggest Makeup Brands & Fans Are Thrilled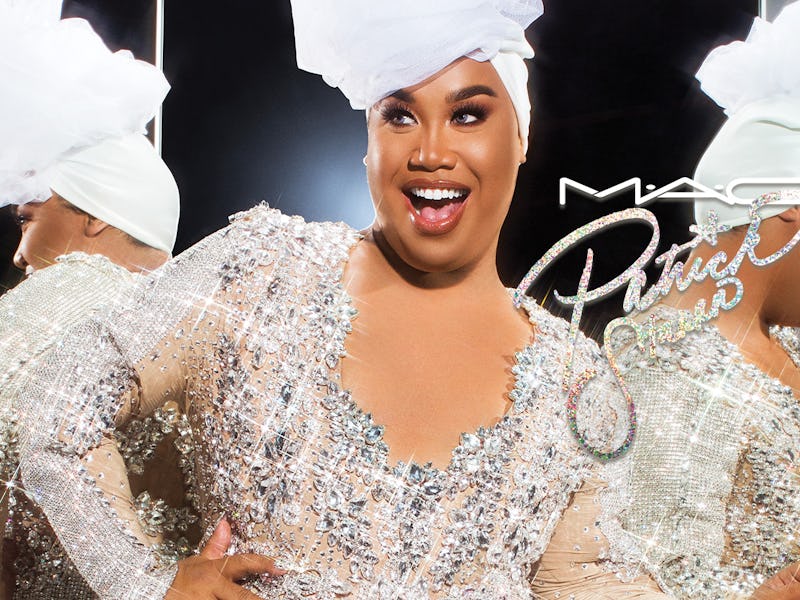 Courtesy of MAC Cosmetics
There's never a shortage of beauty influencer and brand collaborations. With Morphe's Jaclyn Hill palette becoming a permanent item for the brand and Kandee Johnson's Too Faced collab making waves, there seems to be a sea of influencer mashups. However, the newly announced MAC x Patrick Starrr collaboration seems to be unlike any other partnership you've seen between a guru and a major brand.
Typically with brand and influencer collaborations, the pairs work together to create a specially curated product or limited edition collection (i.e Jaclyn Hill x Becca's Champagne Glow Collection). While these types of partnerships are exciting for fans of both the influencer and the brand, they are pretty predictable. But Patrick Starrr is now upping the ante.
According to Refinery29, Starrr's MAC collaboration will last for an entire year and include five separate collections. If you're worried about having to wait to get your hands on it, don't be. The first release from MAC x Patrick Starr comes out Dec. 14, which is just in time for holiday shopping. But, let's be real, no one will blame if you keep products from this collab for yourself.
You'll be able to shop the collab both in-store and online. But it gets better in terms of availability. Starrr's work with MAC will feature an international launch, according to the interview with Refinery29.
The first collection will include a 14-piece essentials collection curated specifically by Starr from existing MAC products. He explained the products to Refinery29 saying, "I didn't want to go too artsy or avant garde with my collection. I literally wanted someone's grandma to be able to walk into a MAC store anywhere in the world and be able to use these products. I made sure it was universal so that anyone who loves makeup, glamour, and sparkle will find something in it."
Starrr's first original release with the brand with come out alongside the 14-piece collection. He explained to Refinery29 that a loose powder was a must for his collaboration, and that's exactly what he crafted.
"Powder was the one product I needed," he said. "We went through so many revisions. I wanted to nail the color so that any skin tone could use it to bake and dust off. I was so particular about it."
The news of the collaboration has been spreading like wildfire, and Starrr's fans are having a major moment on social media. From celebrating how far the guru has come — he originally worked at MAC in his hometown of Orlando, Florida — to making plans to pick up the collection, fans are thrilled that MAC x Patrick Starrr is on its way.
With Starrr at the helm, fans know that every part of the year long collaboration will be incredible.
The entire announcement is a reason to rejoice. Fans are getting both incredible products and the ability to celebrate alongside Starrr.
Virtual screaming is a thing, and fans are doing it.
Go ahead and get ready to hand over your money now.
While the initial announcement is causing mass makeup hysteria (as it should), there's actually ample time for Starrr's fans to celebrate. After all, the collaboration between Starrr and MAC will last for a year, and the pair will be launching collections for each season ending in a 2018 holiday collection to bring things full circle.
Spring, Summer, Fall, and Winter 2018 will all feature Patrick Starrr crafted MAC products, and it's officially time to fan girl.
Starrr has always been an individual and has always been a great representative of MAC's creed: All ages, all races, all genders. His collection is a win for every single one of us, especially those who aren't usually included in the beauty industry. Get ready!