Here's When Pippa Middleton's Baby Is Due & Wow, It's Sooner Than You Think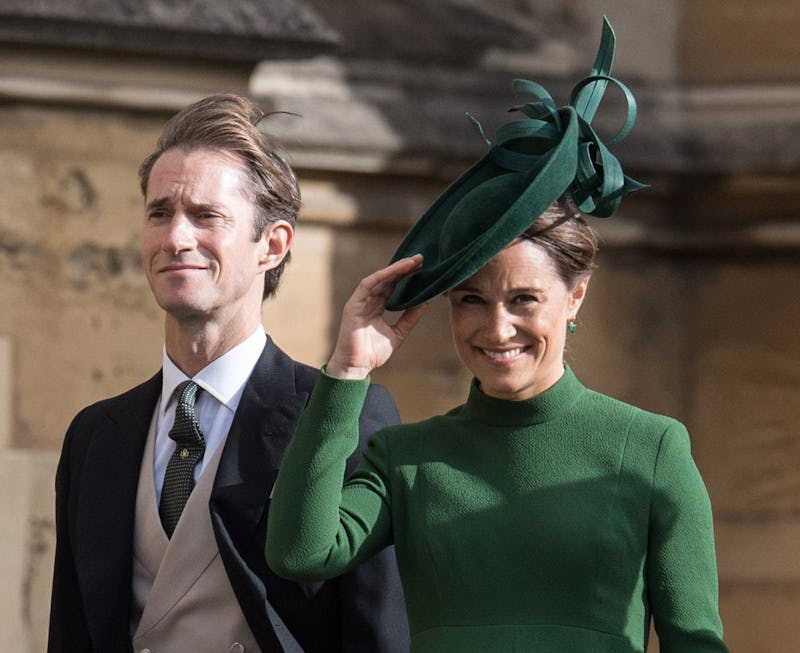 James Gourley/Shutterstock
Among all the glamorous guests and falling hats, another visual jumped out at Princess Eugenie and Jack Brooksbank's wedding on Friday; Pippa Middleton's baby bump. It was a reminder of all the royal weddings and iconic moments to come. Like, how in several years from now, I might be writing about Princess Charlotte's wedding, and what her cousin, Pippa Middleton's kid, is wearing. So, with that in mind, when is Pippa Middleton's baby due?
Well, according to People magazine, Middleton's baby is actually due any day now. As she is so heavily pregnant, there was some speculation that she and husband James Matthews would not be able to make the big day. There were also rumours that her sister Kate Middleton may miss Eugenie's wedding too so that she could be there for the birth of her first niece or nephew. However, it would appear that all that worrying was over nothing as Middleton's baby is yet to arrive.
Although some suspected it may be too uncomfortable for Middleton to attend the wedding what with it being so close to her due date, she defied expectations and stepped out with a huge smile on her face. In monthly column for Waitrose Kitchen magazine, she credited meditation for helping her during the late stages of pregnancy. She wrote: "I was skeptical at first, but after practicing this discipline for the past month I have noticed a huge difference in my mental wellbeing and sense of clarity. It's a good idea to take some wellbeing time for mummy-to-be now and, most importantly, for the future."
Like her big sister Kate, Middleton is due to give birth in the Lido Wing of St. Mary's Hospital. According to the Express, this will set her back £7,500 as it is a private ward.
Middleton's appearance at Princess Eugenie's wedding will probably be her last public one before she enters the wing. And she looked predictably gorgeous. Wearing a sleek green dress, she stepped out alongside her husband and dad to be, James Matthews. The two got hitched back in May 2017, and announced their pregnancy just over a year later, when on June 8, 2018, Middleton addressed it for the first time in her Waitrose Kitchen column.
The new baby will be only six months younger than Kate and Prince William's third child, Prince Louis, who Kate gave birth to on April 23, 2018. So, once the wedding's over, the countdown will really be on. Who knows — the new royal tie may even be a Halloween baby. Still, it seems as though Middleton' is mentally prepared. Opening up about the later stages of pregnancy and her feelings about giving birth, she wrote in her final Waitrose Kitchen column: "Reality is kicking in. As the final month nears and the bump grows prouder each day, movement is certainly getting more awkward."
According to Page Six, the name and sex for the baby has still yet to be confirmed, but one thing is for sure — that's going to be one pretty looking baby.