Here's How Long You'll Have To Wait For More 'Vanderpump Rules'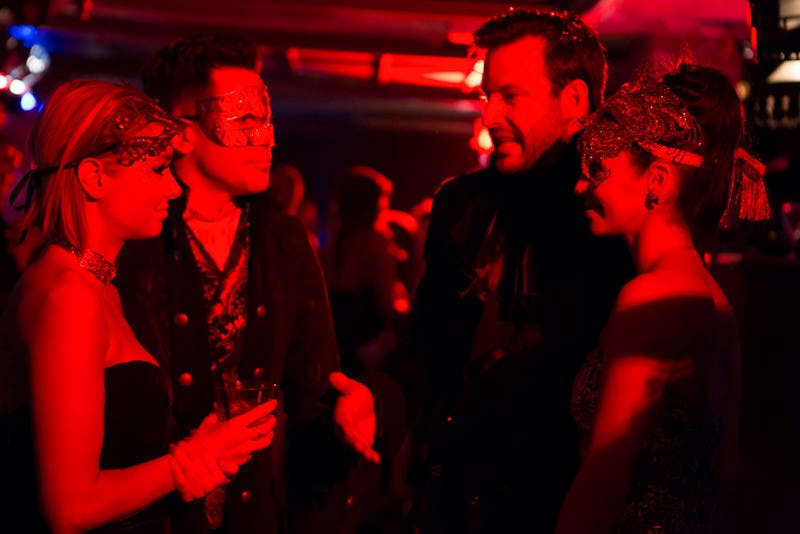 Isabella Vosmikova/Bravo
Another season of Vanderpump Rules has come and gone — Season 6 featured some of the most dramatic storylines in the show's history, and the dust surrounding them hasn't settled quite yet. But inquiring minds might already want to know when Season 7 of Vanderpump Rules will air. Unfortunately, Bravo fans will need to take a bit of a breather when it comes to when they can get their next SUR fix.
The drama of Season 6 of Vanderpump Rules began filming last May, because it was Scheana's masquerade birthday party and Scheana was born on May 7, 1985. It went through L.A. Pride (which usually takes place mid-June), Stassi and Ariana's birthdays (also both in June), and through the rest of the summer. Scheana and Rob, according to Us Weekly, split in October 2017, and on the first episode of the Vanderpump Rules reunion for this season, Scheana said that he waited to dump her until the show was done filming. So that means that filming of Vanderpump Rules more or less runs from May to September, probably so they get all of that hot summer drama. Season 6 premiered in early December 2017 and just ended in May 2018, so after all the drama is filmed, the producers edit it for about two months. If the same trajectory is followed for Vanderpump Rules Season 7 (the show has already been renewed), the show may have already started filming again, though viewers won't see the fruits of these labors until the snow is falling (well, not on SUR, but you get the idea).
It's a bummer to wait so long, but the producers need that time to flesh out the crazy storylines that Vanderpump Rules fans love. Here are a few things I'm looking forward to seeing in Season 7.
Single Scheana
Scheana has been single for all of seven minutes for the time she's been on Vanderpump Rules. She went from Shay to Rob really fast, and I'm really interested in seeing what kind of single gal she is. Does she go out with the girls and party it up? Does she hit the gym a lot? Does she stay home and watch movies (also with her girlfriends)? Scheana is always with a guy, so it will be interesting to see how she operates solo.
Jax And Brittany: Part 2
Jax may have dumped Brittany at the end of Season 6, but as we know now, they're back together and very happy. Brittany was really there for Jax when his father died, and Jax, as he said at the reunion, realized that he needed her in his life. Jax has vowed to be a better man now, for Brittany, but, frankly, I don't really believe it — Jax has always been a liar and a cheater, and while I think people can change, I'm not sure Jax can. He's going to have to really work on himself, and it will certainly be interesting to see if he can do it.
James Back At SUR
Lisa fired James Kennedy from SUR because his drinking had gotten in the way of him being a decent human being, but he, unlike Jax, has worked on himself and gotten back on the straight-and-narrow. Sure, he gets drunk, but he knows not to do it at SUR. He's grateful for his See You Next Tuesday and Thirsty SURsday DJing parties that Lisa lets him throw, and he's not going to let that go to waste. In the Season 6 finale, Lisa gave him an official job at SUR, and let's hope he does well with it.
Stassi And Her New Man
Let's put this plainly — Patrick, Stassi's on-and-off boyfriend, acted like an ass. He spoke plainly about Lisa's, as a matter of fact, to the point where I had to mute the television so I couldn't hear what he was saying. It was so embarrassing. Now, Patrick is out of the picture, and Stassi is apparently dating someone named Beau, and, from the looks of her Instagram, she's much happier. Let's see it on television!
With so long to wait for Season 7 of Vanderpump Rules, here's hoping we see at least a few of these storylines.