Why There's A Very Good Chance Stassi's New BF Will Be On 'Vanderpump Rules' Next Season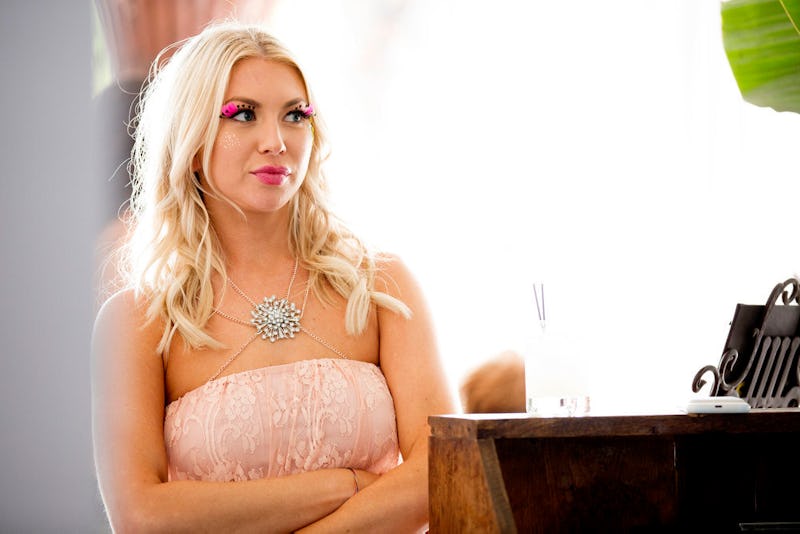 Vosmikova/USA Network
After Stassi Schroeder's now-ex-boyfriend Patrick Meagher's cringe-worthy appearance during the Season 6 finale of Vanderpump Rules, fans should be relieved to know that Stassi now has a new man in her life. But, will Stassi's new boyfriend be on Vanderpump Rules during Season 7? There's a far better chance he'll show up right away than there was with Patrick.
As of right now, Season 6 is still airing, but Stassi's boyfriend, Beau Clark, appearing on the next season will most likely happen if they're still together — or at least it makes sense that Beau would end up on the show in some capacity since Stassi's Vanderpump Rules costars Kristen Doute and Katie Maloney are the ones who hooked up the new couple. He is already a part of the notoriously close-knit friend group.
During the February 24 episode of the Straight Up With Stassi podcast, Stassi had Beau on as a guest to discuss the origins of their relationship. On the episode Stassi said, "So, Kristen and Katie had tried to hook us up for a while." It wasn't an immediate match, though. Stassi explained, "Kristen showed Beau my Instagram and he said, 'Hard no.'" She added that he "judged a book by it's cover." Beau started to add, "I work in casting and see…"
"Millions of me a day?" Stassi chimed in. Beau confirmed, "Yeah." Kristen didn't give up on the possible relationship, though. She invited them both to her house, then they all went out a few days later. Beau shared, "I don't think I've laughed as hard ever with anybody. Having a great conversation with someone for the first time hanging out was fantastic."
Katie and Kristen aren't the only Vanderpump Rules cast members who Beau hangs out with. Weekend two of Coachella tuned into a triple date when Stassi and Beau joined newlyweds Katie Maloney and Tom Schwartz and Kristen Doute and her boyfriend, Brian Carter. That sounds like a Vanderpump Rules cast trip in the making. Unfortunately, that was probably not actually filmed for Season 7 since Season 6 is still airing, but clearly Beau is already integrated into the cast.
And get ready for this one. During the March 19 episode of Watch What Happens Live, host Andy Cohen asked Stassi, "Which cast members does [Beau] get along with the best?" At the 4:29 mark of the episode, Stassi answered, "Everyone. It's so nice." That is great, but the really interesting part was when Brittany Cartwright interjected with, "Even Jax." Stassi even added, "Yeah. Jax hits him up all the time. It's nice."
Yes, Beau gets along with Brittany's boyfriend and Stassi's most infamous ex Jax Taylor, which is yet another reason he should appear on the show next season. The dynamics between the cast members on this show are always unconventional, to put it mildly. Maybe Stassi and Beau will hang out with Jax and Brittany next season. Maybe Beau and Jax will form a bromance of their own. Stranger things have happened on this show, so anything is possible. It sounds like Beau would be a solid addition to Season 7.
Aside from Beau's connections to other cast members, it would just make sense for him to be on the show. After all, Stassi's personal life and professional life are essentially one in the same. During the Season 5 Vanderpump Rules reunion, Stassi confronted Lala Kent about keeping her love life a secret.
Stassi said, "We've all had to bleed out for this show and if you want to come in, be friends with us, and expect the same respect, then you need to do that too." Lisa Vanderpump told Stassi, "But you didn't share your relationship with the show."
Stassi responded, "I tried to as much as I can. I can't control another person. I talked about him." She also said, "I didn't want to [not share my relationship]. I begged Patrick." Patrick did end up finally appearing on Season 6 after years of staying away from the Vanderpump Rules cameras, which did not go so well.
Unfortunately (or fortunately?), Stassi's relationship with Patrick did not work out, but it makes sense to assume that Patrick's longtime refusal to take part in the show could have played a role in Stassi's criteria for her subsequent relationship. After dating someone who did not want to be on the show for years, Stassi might want to find someone that is a good match for her and someone who would be willing to film with her instead of solely settling for the former.
Plus, things seem to be getting pretty serious between the two of them. Stassi is using the word "love" in her social media captions and the couple went on vacation to Italy in early May.
Will Beau appear on Vanderpump Rules? There is no official answer right now. Considering Stassi's dedication to Vanderpump Rules and her insistence on giving all of herself to it, it would make sense for her to date someone who would be willing to appear on the show, too. Plus, come on, he gets along with Jax!