Say Goodbye To Your Fave Paladin, 'Voltron' Will End Its Epic Saga This Year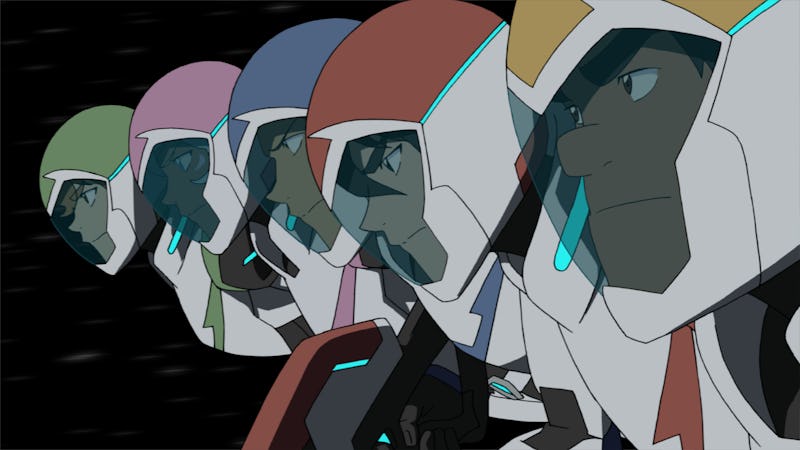 Netflix
The intergalactic animated story about five pilots, known as Paladins, who combine their lion-shaped space crafts to defend the universe is back for more action. Voltron: Legendary Defender, an '80s reboot of Voltron: Defender of the Universe, hit Netflix in 2016 and Season 7 premieres on August 10. Obviously, the seasons have been dropping really fast so when is Season 8 of Voltron?
There hasn't been any confirmation of a release date, but fans can be reassured that another season is definitely on the way. The Voltron crew hit Comic-Con 2018 to talk about Season 7 and revealed that this season would go back to the 13-episode format from Seasons 1 & 2, per Polygon. Seasons 3-6 were noticeably shorter with only 6-7 episodes, but they each packed in a lot of action and character development.
The same report also confirmed that there are only 26 episodes left in the series. This is good news because it means there will be a Season 8 at some point. This is also bad news because this means that Season 8 will be the last season. According to Den of Geek, Voltron had a 78-episode commitment with Netflix, so the end of Season 8 brings them to that exact total.
Digital Spy also reports that Season 8 will debut before the end of the year. The creative team has already pumped out three season this year so they probably want to wrap up this saga before 2019. And, as any fan knows, there's a lot more to explore in the final two seasons. During Season 6, Keith (Steven Yeun), Lance (Jeremy Shada), Pidge (Bex Taylor-Klaus), Hunk (Tyler Labine), and Shiro (Josh Keaton) were not-so-shockingly betrayed by Lotor (A.J. LoCascio) after forming a truce with the broken (and evil) Galra Empire successor.
Lotor has been an interesting antagonist because he was not blatantly villainous like his father Emperor Zarkon. Like the team and Allura (Kimberly Brooks), he was displeased with how his father ran the Galra Empire and wanted to work with organizations instead of taking their resources. Lotor was able to snake his way into earning Allura's trust, which led to her giving up the information needed to access the Quintessence field.
He wanted to use this unlimited energy to bring peace across the universe and seemed to be an actual ally. But, his dark secret was eventually uncovered by Keith and his mother Krolia (Ana Gasteyer), a female Galran. He was taking displaced Alteans to a hidden facility to harvest their life force aka Quintessence. This angers the Voltron team and hurts Allura because he used her trust for his unethical experiments. They banded together to defeat Lotor, but they paid a major price with the destruction of their operational base known as the Castle of Lions.
The team also went through some personal developments, including Keith taking his rightful place as the Black Lion. Shiro is revealed to be a clone created by Haggar after he actually died in a Season 3 battle with Zarkon. But, his consciousness was saved in the Black Lion and placed in the clone's body to bring him back. Hunk and Pidge don't play as big of a role, but they still get opportunities to show off their brilliance. And, Pidge's father will be a great help going into Season 7 because he has plans to construct a new castle on Earth for the team.
The Voltron: Legendary Defender Season 7 trailer shows their perilous journey back to Earth with little resources. Voltron refuses to form and the Galra are bringing new weapons to the continued fight. The clip ends with Shiro saying he will do whatever it takes to get the team back to Earth safely.
He just officially came back, but it looks like Shiro might be hinting at sacrificing himself for good this time. It would be sad to see him go because he is getting a romantic arc. Showrunner Lauren Montgomery confirmed that Shiro is gay and his boyfriend Adam will be introduced in Season 7, according to Comicbook.com. There's a lot of overall suspense and action in the trailer, so Voltron fans better prepare their hearts for an emotional ride.
Voltron: Legendary Defender is winding down its epic story and fans will get a final resolution when Season 8 drops sometime this year. It has been an intense, fast-paced, and sometimes confusing road for the pilots, but hopefully everyone will come out on the other side of this ongoing war with some semblance of happiness and peace.