There's Good News & Bad News About The Second Half Of 'Shameless' This Season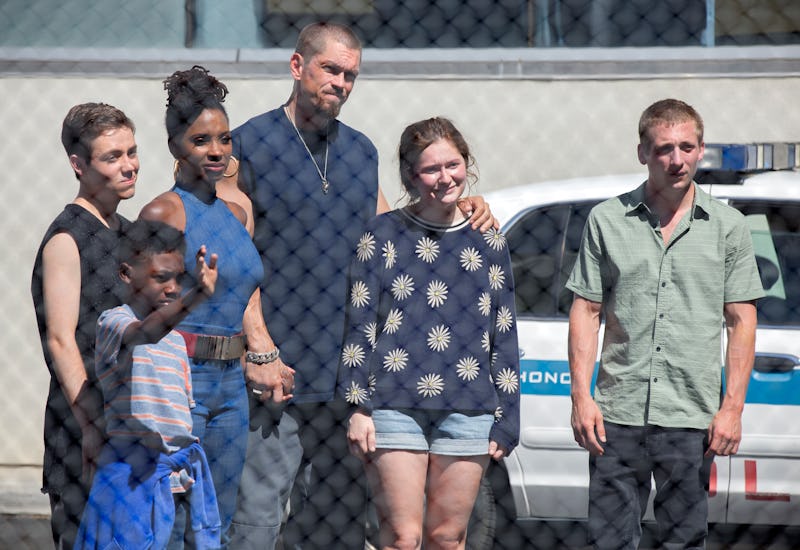 Showtime
For its ninth season, Showtime is pulling a The Walking Dead and is airing one of its longest running series, Shameless, in two seven-episode installments. The fall block premiered on September 9 — seven episodes saw Debbie fall in love with a girl, Carl train to enter West Point, Frank try his shot at campaign management (which didn't serve him much better than the hardware store), and Fiona take a pricey gamble. But just like that, fans are about to be left Gallagher-less once again. That means they're wondering when Shameless Season 9 is coming back, or in other words, when the doors to the messy Southside Chicago household will be opened once again.
The network announced in August of last year that Season 9 of Shameless would consist of two more episodes than its standard 12 of seasons past, per Deadline. It's unclear exactly why that is — ever since Emmy Rossum announced she's leaving the show following this season, the entire production's fate seems up in the air. But its possible that Fiona's goodbye will require those two extra hours of screen time. Not to mention, Cameron Monaghan, who plays Ian Gallagher, announced on October 8 that the October 13 episode would be his last, so, sadly, he won't be making any appearances in the second half of Season 9.
"I have been a series regular on this show for roughly ten years. I was the tender age of fifteen when we shot the pilot, and I came of age in so many ways," the actor wrote on Instagram. "All good things come to an end. An old cliche, but one that rings true with a sincerity and clarity especially in moments like these ... I have known since last year, but I didn't want to give it away too early as I wanted this season to be a surprise for the audience, allowing them to experience Ian's unsure journey with his character."
The cast celebrated the airing of its 100th episode, titled "Do Right, Vote White!" on September 30. Episode 104, the first of the winter block, will air on Showtime on January 20 at 9 p.m., according to The Hollywood Reporter. The good news is, it keeps it's Sunday night slot, as always. So your Sundays will eventually return to normal — or as normal as Shameless allows. The bad news is, technically, fans have to wait until next year for more episodes, which will be missing the face of Ian Gallagher.
Last year, the show was renewed for Season 9 in November, shortly after the Season 8 premiere, according to Deadline. For now, it's unclear whether another renewal will come at the same time, given the series will be on hiatus. And given that it's losing two of its main characters, it's hard to picture ongoing seasons without them. Still, though, even without two of its crew, the Gallaghers are sure to have plenty of trouble to get into. So it's really a toss-up for now. The only thing that's 100 percent concrete is that it's going to be a long couple of months without the Gallagher fam.