These Top Best-Selling Styles Under $60 For Lilly Pulitzer's After Party Sale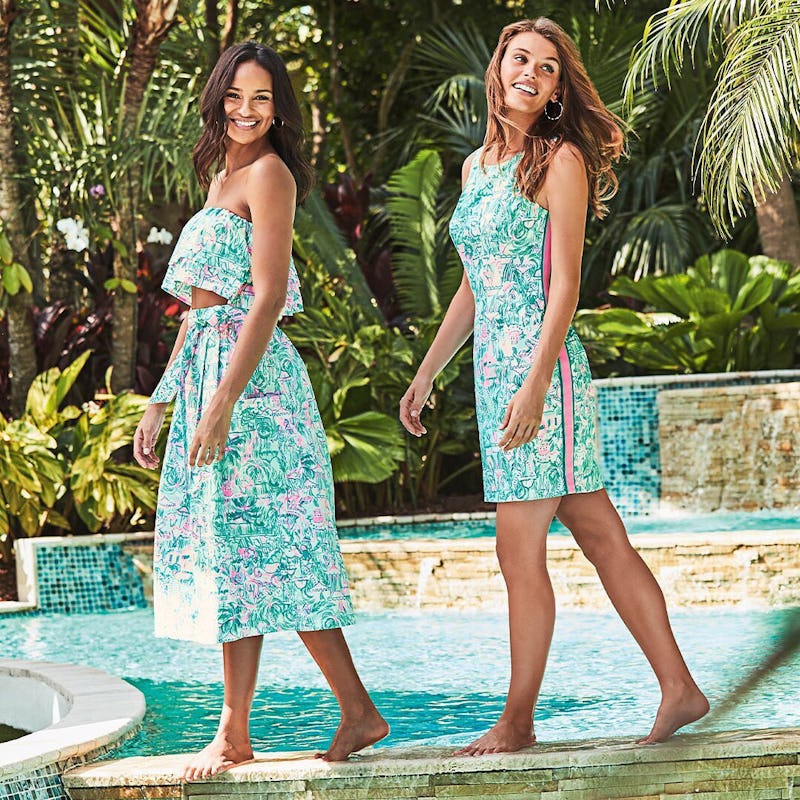 Lilly Pulitzer/Instagram
Just because summer is coming to an end doesn't mean you can't indulge in some warm weather fashion. The 2019 Lilly Pulitzer After Party Sale is coming, and it's the perfect opportunity to snag some resort-ready pieces at prices that won't break the bank.
Lilly Pulitzer has been hosting its After Party Sale for years now, and there's a reason its so popular. Pieces from the brand rarely go on sale, and when they do, you have to scoop them up fast. This year, the After Party Sale begins on Sept. 9 at at 8 a.m. ET and will continue until Sept. 11 at midnight ET. If you can't wait and have a Lilly Pulitzer near you, retail stores will be starting the event early on Sept. 7.
For those without a retail shop nearby, you may just want to request a day off for the event. When the sale begins on Sept. 9, shoppers will be entered into a virtual shopping line which will grant customers access to items over time. With this sale, the early bird gets the worm (or the dress), so mark your calendar and set your alarm now.
As usual, the Lilly Pulitzer After Party Sale falls at the end of summer, just as resort wear season is winding down. The history of the brand lends to an explanation as to why resort season is so special to the retailer. Founder Lilly Pulitzer began her eponymous brand in the hot summer weather of Palm Beach, Florida. Initially, Pulitzer and her family moved to the beachside town to escape New York winters, but eventually, they stayed.
Pulitzer soon began a juice business powered by her husband's family orange trees, but things got a little messy — literally. Colors from the juices would stain Pulitzer's dresses. To combat this, she began making bold and vibrant prints and patterns that were both stain-proof and colorful enough for those juices not to matter. Soon, though, friends and family wanted Pulitzer's bold style, and the brand was born.
While summer may be ending, Lilly Pulitzer's After Party Sale is just beginning. Given the brand's roots in winter escapism and resort vibes, the sale allows fans to snag pieces for their own cold weather retreats — or for next summer's weather.
Lilly Pulitzer doesn't reveal what's being offered in the sale until the event begins, but thanks to a press release from the brand, fans can get a sneak peek at what's coming. And that includes sales on some of Lilly's top ten styles.
1. Araza One-Piece Swimsuit
The After Party Sale has a little bit of something no matter what you're looking for, and if you need a swimsuit for a winter vacation, this gorgeous blue paisley print is just subtle enough to be great during any season.
2. Donna Romper
Nothing says resort like palm leaves. This tropical pattern utilizes cool-toned blues and pops of pink to give customers a resort-like feel. Plus, during the sale, this romper is marked down by over $100.
3. UPF 50+ Skipper Popover
While different iterations of this popover are up for grabs on the Lilly Pulitzer website, this specific pineapple print is not. With its bold colors and graphic print, it's quintessential Lilly (even down to the fruit).
4. UPF 50+ Weekender Cropped Legging
Bold, vibrant, and perfect for lounging or working out, these athletic cropped pants are a great choice for fans of the brand who maybe just aren't dress people. The cropped leggings keep the colorways and patterns of brand but give it a more laid-back feel.
5. Maya Shift Dress
Shift dresses are a Lilly Pulitzer staple and are often among the brand's bestsellers. This eyelet lace top and soft blue skirt scream warm weather romance. Plus, at $164 off, it's too good to miss.
If you love resort wear or just can't have too many Lilly Pulitzer pieces, mark your calendar and get ready to start shopping.