Here's When You Can Tune Into James Comey's Much-Anticipated CNN Town Hall
by Priscilla Totiyapungprasert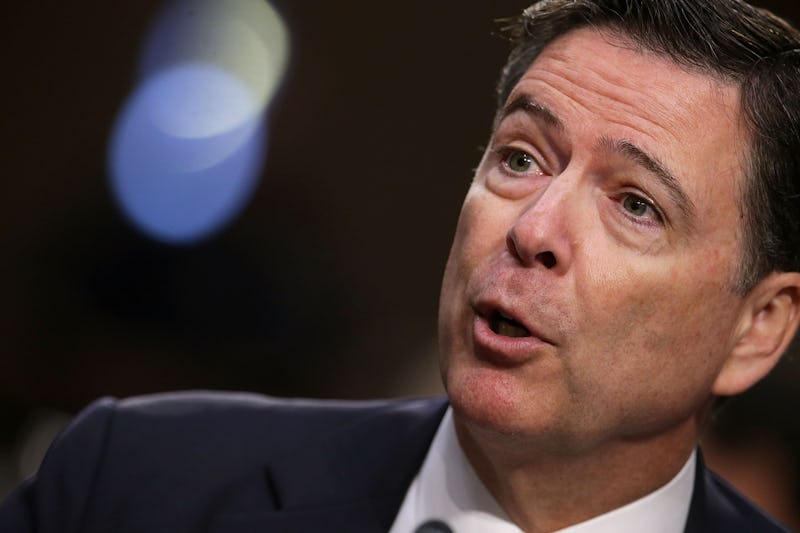 Chip Somodevilla/Getty Images News/Getty Images
President Trump has fired many officials, but not all of them have gone out quietly. Especially not his ex-FBI director. Scheduled to appear at a CNN Town Hall interview, he will talk to broadcast journalist Anderson Cooper about the whirlwind events that happened during and after his tenure with the bureau. This interview could get interesting considering Trump's ongoing beef with the ex-director, as well as the prickly attitude both Republicans and Democrats have toward him. If you don't want to miss it, read below to find out when James Comey's CNN Town Hall interview will air and how to watch it.
CNN announced the hour-long Town Hall event will air live on Wednesday, April 25 at 8 p.m. ET. As town halls normally go, Comey and Cooper won't be alone. The two will talk in front of a live audience at Comey's alma mater, the College of William and Mary, in Williamsburg, Virginia.
If you don't have cable, you can watch the Comey interview online through various channels. One is via CNN.com/go. Another way is through the CNNgo app on your smartphone or tablet. If you don't have access to any of those resources but still want to keep up with the ride, you can follow viewer responses on Twitter where users will likely post video snippets and commentary.
Comey has been making frequent media appearances recently because of his best-selling memoir, A Higher Loyalty: Truth, Lies, and Leadership, as well as the controversial memos Comey released to Congress last week.
After his book came out on April 17, some reviewers seemed disappointed that Comey's story wasn't more salacious — the author focused much of his narrative on what ethical leadership means. Other readers found Comey's retelling frustrating. While still serving as FBI director, Comey drew ire for sending Congress a letter about reopening the Hillary Clinton email investigation. This is a topic that Cooper will likely bring up when he interviews Comey at the CNN Town Hall.
Jennifer Palmieri, the communications director of Hillary Clinton's 2016 presidential campaign, said she believes Comey's decision regarding the Clinton email scandal was the final straw in many factors that cost Clinton the presidency. She wrote for Politico:
What Comey's actions and book reveal is a tendency toward a corrupting belief that his "higher loyalty" — which lifted him above partisan politics — somehow bestowed upon him the right to take actions that were well beyond his role as FBI director.
Comey's CNN Town Hall interview comes just a week after CNN's Jake Tapper interviewed Comey. Tapper asked Comey if the nation would be better off if Hillary Clinton had won the election. Comey didn't answer, calling the question hypothetical. He did comment on how he thinks Trump is doing his job:
I think we have the current president who was, in my view, legitimately elected, is serving as president. The question is: Is he adhering to our values? He's clearly not. So what do we do about it? I think the first thing we do is not get numb for it. When he calls for the jailing of private citizens in his tweets, don't shrug. But realize that is not okay, that's not normal.
Prior to sitting down with Tapper, Comey also appeared on ABC's 20/20 where he was interviewed by the network's chief news anchor George Stephanopoulos. In the interview, Comey compared Trump to a "mob boss," a "forest fire," and a "stain." ABC News published the complete transcript of the Comey interview online.
Come Wednesday Comey might give the juicy tell-all some are hoping for, or he might play it safe. We'll have to wait and see.