The Kim Gordon x & Other Stories Collab Mixes Pretty With Punk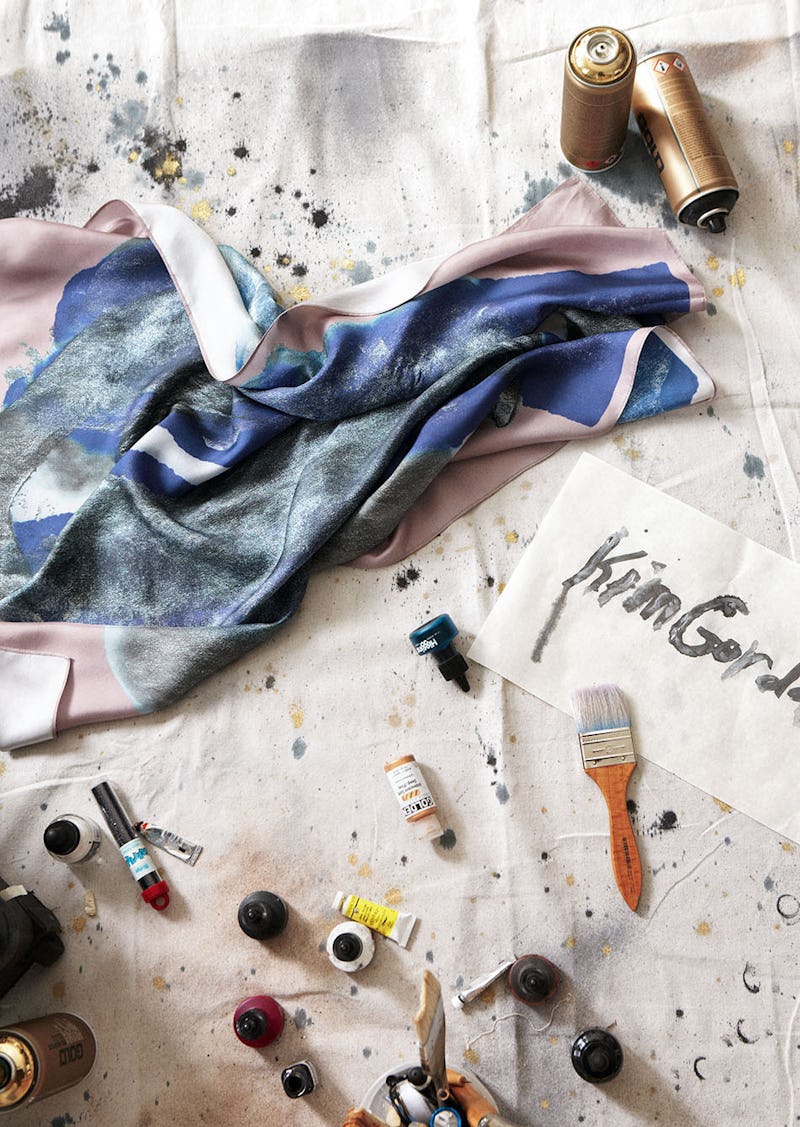 Courtesy of & Other Stories
In case you didn't know, apparel brand & Other Stories lives under the H&M fashion umbrella. The ampersand connects the brand to its parent, though & Other Stories is a more curated and highly edited unlike H&M's fast fashion. Now, the sophisticated sister of H&M is coming out with a new line that truly showcases what sets them apart.
& Other Stories is "co-labing" with rocker Kim Gordon — the brand does "co-labs," rather than the standard "collabs," suggesting a true creative alliance when it comes to partnerships— is comprised of pretty and punk rock pieces. The line arrives on Thursday, Aug. 31 and features handwritten artworks that are performative and strong, yet also vulnerable.
It's a true exercise in contrasts — think soft yet tough.
Gordon cut her teeth as a member of alt rock band Sonic Youth. While her name isn't as recognizable as, say, Courtney Love, she is equally as iconic and important to the alternative music zeitgeist of the '90s. She is also a quiet style icon.
But the singer, bassist, visual artist, and feminist isn't merely slapping her name on this collection. She was intimately involved, using hand-painted techniques like metallic ink on rice paper to design the line. Through the art, she contrasted delicate garment shapes with a punk performative feel.
The collection, which features cropped sweatshirts, hoodies, tees, scarves, and necklaces, was designed to reflect her original artwork and its integrity.
As a result, the attire looks and feels so authentic and dictates true street style. Even Gordon's dog approves of this millennial pink, cropped shirt.
You can really feel Gordon's passion — and powerful history — through the line.
The Kim Gordon x & Other Stories pieces have trendy street vibe, thanks to the graffiti-inspired aesthetic.
Don't you love how the metallic scrawl of "Her" adds a punk edge to this softly-hued shirt?
This view of the artist's materials makes the designs feel even more immediate.
These pieces will tell a story once you live in them. They also have a feminist skew that you can play up or down.
Those scarves, though. The KG pieces are up for preview on the &OS site, but prices are not yet posted.
That's OK, though. You can still ogle them and start thinking about which pieces will go best with items already in your wardrobe.
Gordon's punk rock style is infinitely amazing. Now you can enjoy a piece of it with her &OS co-lab.