Marks & Spencer's Bargain Advent Calendar Is Back With 25 Of Your Fave Beauty Buys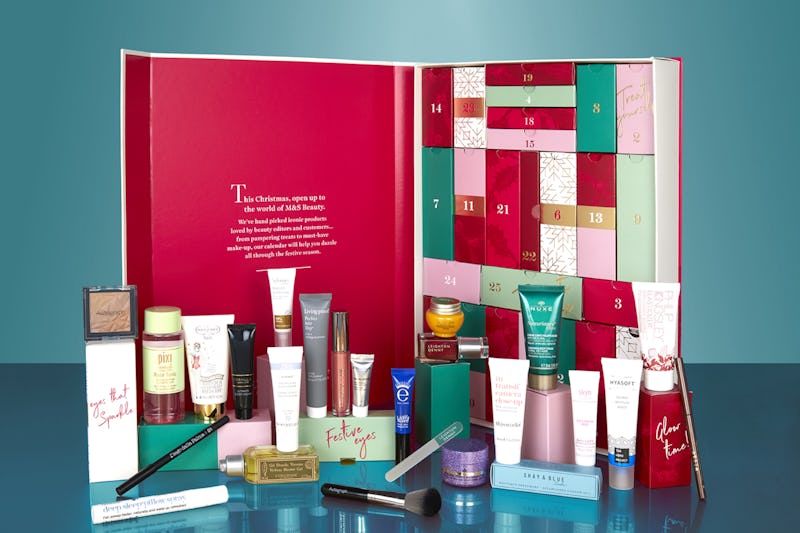 Marks & Spencer
Forget Halloween, I'm thinking all things Christmas already. Shops like Waitrose, Topshop and Tesco have started rolling out jolly old bits and bobs in anticipation of the holiday season and well, Marks & Spencer is thankfully no different. In fact, I'm pretty gassed because it turns out that the latter has just given us a sneak peek of the 2018 Marks & Spencer beauty advent calendar.
If you weren't in the holiday spirit before, one look at this £35 calendar and you definitely will be, as it's packed full of amazing festive treats. With brands such as Stila, Nuxe, M&S and Pixi involved, I'm officially over chocolate advent calendars. Bring on this beauty masterpiece.
The calendar will drop online and in stores on November 1, so you've got just over a week to get ready. I'm predicting these will go pretty quick, so set those alarms and stand by beauty addicts. You're going to want to snap this one up asap.
It's made up of 25 carefully-curated windows, which have been beautifully packaged in a holiday-appropriate case. Every day will bring a brand new product set to upgrade your beauty bag and #FOTD, with products from M&S and the brand's seriously underrated Autograph line. It goes beyond just M&S goodies though as it also includes other delights spanning skincare, hair care and make-up.
The M&S beauty advent calendar is priced at £35, however there's a slight catch. You'll have to buy £35 worth of goods from M&S — whether that's in their home, clothing, food or beauty section — in order to purchase the calendar. It's totally worth it though as you're getting a serious amount of beauty bang for your buck. Or, if you'd rather just buy the calendar outright, it'll cost you £70.
There's a number of great beauty buys in there that I would honestly buy on their own, advent calendar aside. For example, the calendar includes the Nuxe Luxurious Body Cream which is utterly decadent, but exactly what you need when the weather gets colder to solve your dry skin woes. Ever since I came across Living Proof, I swear by the hair care brand and there's a 5-in-1 Styling Treatment in there I'm keen to get my hands on.
The Stila waterproof eyeliner that comes with it is is a major piece of kit as well and if you've never tried an Eyeko mascara, the brand's Lash Alert mascara is another treat that will make your peepers pop.
I've also got my eye on the Pixi Rose Tonic, a cult toner which is perfect for minimising any skin redness, and the Phillip Kingsley Elasticizer which I've heard people raving about. (It's supposed to make your hair look super shiny and bouncy, which I'm always here for.)
Want a little sneak peak of what's in the calendar? Here's the full breakdown of products below…
Roll on November 1 — I'm going to be first in the queue ready to snag one of these beauties.