Get Ready To Pounce, Because MAC Is About To Drop Its First Ever Advent Calendar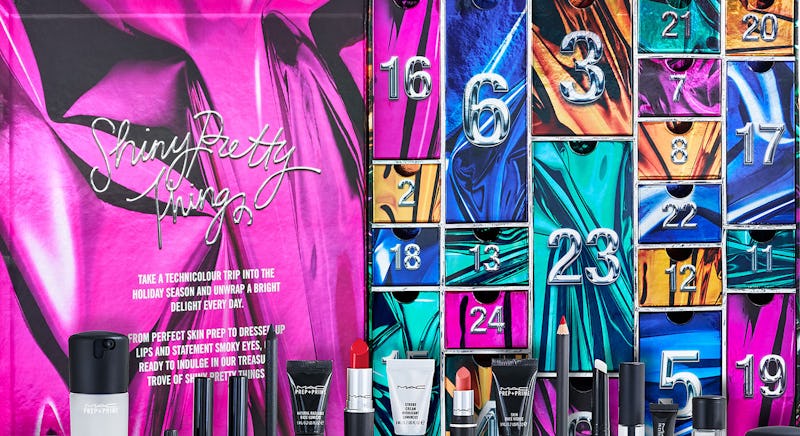 Mac Cosmetics
If you're already in love with MAC's Shiny Pretty Things range, you may need to prepare yourself for what I'm about to tell you. MAC is *finally* releasing its first advent calendar of the year, centred around its 2018 Christmas collection. I don't know about you, but I am certainly shook. You don't have to wait long to get your hands on this gem of a calendar, but unfortunately they are limited, so you'll probably want to know where to buy the MAC advent calendar ASAP.
Well, the calendar will officially be available this Thursday (Oct. 18) online and in stores as detailed in a press release sent to Bustle UK, coinciding with the release of the Shiny Pretty Things range itself. So at least you have the comfort in knowing that if the calendar sells out fast, the products inside are available individually.
This advent calendar will last for the whole 25 days as opposed to just 12 as was seen with some beauty calendars last year. That's 24 days of MAC products — how perfect can this December get? But I know what you're probably wondering now; what products exactly are included in this calendar, and how much does it cost?
While the products in the calendar are a mixture of samples, and full-size products and parts of the Little MAC range, retailing at £125, this calendar is marginally cheaper than buying the products included individually. Plus, it gives you the chance to test out the range and decide what products you want to actually buy on their own.
Described as a "treasure trove" and a "technicolour trip into the holiday season," you'll be able to "unwrap a bright delight every day, from perfect skin prep to dressed-up lips and statement smoky eyes." There are way too many products to list in detail, but some stand-out items include Ruby Woo and Velvet Teddy Lipsticks, Feline Eye Pencil, In Extreme Dimension 3D Lash sample, and Prime + Prep Natural Radiance.
If you're anxious about whether or not you'll be able to grab this calendar, have no fear because Debenhams is also debuting its own beauty calendar. While it may only include one MAC product — the Prep + Prime Natural Radiance Primer in Radiant Yellow — it does include a multitude of popular cosmetic brands.
Priced at £70, this 24-day calendar is worth over "£150 by the brands you know and love, and a host of new brands that are just waiting to be discovered," as described on its site. If you're also a fan of Kat Von D, NYX, Paco Rabanne, Lancôme, and Benefit, then this is totally something to keep in mind.
The same goes with beauty retailer Lookfantastic's calendar, which is worth over a whopping £300, and is selling for £79. According to the MAC press release, this site with also be stocking the Shiny Pretty Things calendar as well. So at least you'll have a choice of two here if one outsells the other. The lookfantastic calendar will also feature a variety of cosmetic brands, alongside exclusive products.
Who knew 2018 would be the year for beauty advent calendars, huh? Your makeup game is going to slay this Christmas, that's for sure.
Did you know that you can find Health & Beauty coupons at the Bustle Coupons page? Bustle Coupons is a service provided by Groupon in collaboration with BDG Media, Inc. Each time you use a coupon or promo code from Bustle Coupons to make a purchase, Groupon and BDG Media, Inc. earn a small commission. This article was created independently from Bustle's sales department.