A Moschino x SpongeBob Squarepants Charity Collab Is Happening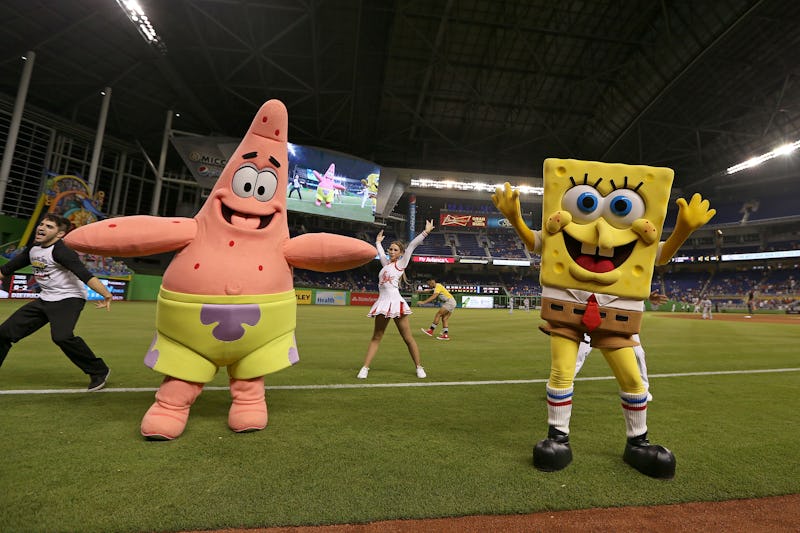 Rob Foldy/Getty Images Sport/Getty Images
SpongeBob is going high fashion. Moschino and RED are partnering for a SpongeBob x RED fashion capsule collection, according to Women's Wear Daily. Kids of the '00s can rejoice. This is hardly a shocking collab, though. Moschino is known for its playful fashions and has previously incorporated SpongeBob and the PowerPuff Girls into its runway collections and fashion shows. This is RED's first partnership with the Nickelodeon Network and with an animated icon. So here's everything we know about the SpongeBob x Moschino range, which will debut at a show tomorrow, Jun. 8 in California.
The collection drops in November, so it will land in time for holiday shopping for those who want to invest in the luxe and high fashion pieces. Luxury retailers will sell the collection, in addition to Moschino boutiques. All of Nickelodeon's proceeds from all Moschino items will be donated to the Global Fund to Fight AIDs, tuberculosis, and malaria.
There are 16 items, from apparel to accessories, for men, women, and children. That includes swimwear and handbags, all festooned with Spongebob x RED designs. The pieces are pricy, starting at $250 and running through $480. The collab will last into 2018, so it certainly has legs.
Clearly, Moschino remains a frisky and fun brand, as evidenced by the brand's swimsuit above. Incorporating the lovable marine life known as SpongeBob into the designs isn't a huge aesthetic leap for designer Jeremy Scott.
Scott only offered a tease of what to expect. "I wanted to play with the idea of [SpongeBob] and the flames from the Hot Rods — as well as turning him into a body builder muscle man archetype for some other styles," Scott told WWD about the aesthetic. "Another has him flexing as he's popping out of a cutout with the Moschino logo above him."
Scott is also stoked about the collab because "I love SpongeBob and when I was working on the ideas around the collection, he fit in perfectly."
WWD also reports that Scott is also thrilled "to be able to contribute my designs to helping the RED charity to continue to do their wonderful work in raising money to combat the AIDS epidemic."
All parties hope that that the collab will bring further attention to the AIDS epidemic, since SpongeBob fans are not confined to one age group or demo. SpongeBob fans are ageless.
Moschino x RED x SpongeBob is the true intersection of fashion and function for good.