Here's When You Can Expect The Next Total Lunar Eclipse After The One Happening This Month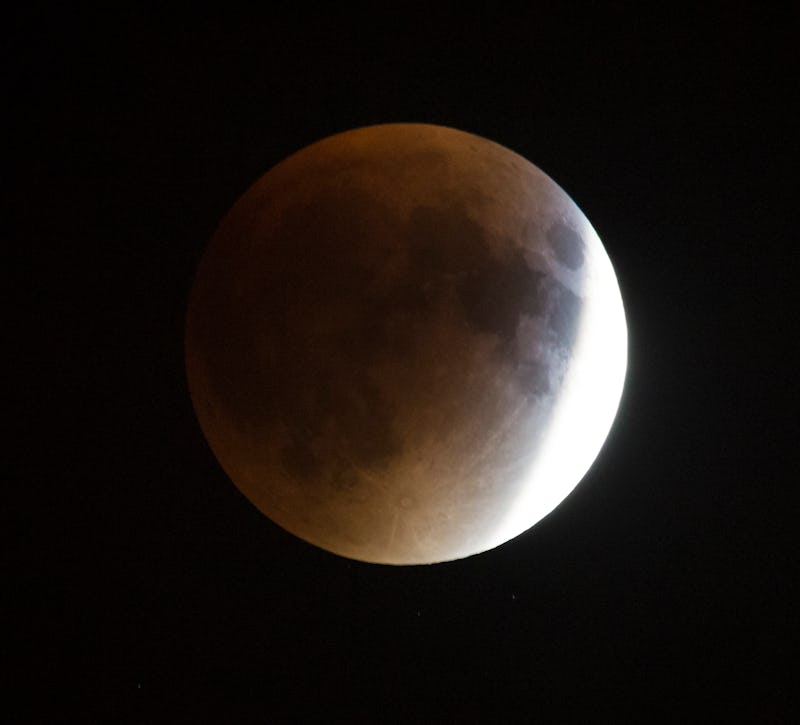 NASA/Getty Images News/Getty Images
If you're an astronomical enthusiast and even if you aren't, set an alert on your iCal, there's an event you're not going to want to sleep through. The key word here is "sleep," so it'll do you some good to know when the next 2018 total lunar eclipse is in order to stay awake for this extra special lunar phenomenon.
First of all, this is the second full moon in one month which makes this moon considered blue. But alas, the glowing orb in the sky will not be the color of the ocean. It will shine a shaded hue, however, so it will be worth seeking flat and expansive ground for. If you're in the city, climb the stairs to your rooftop. If you reside in the countryside, head to your favorite meadow for a VIP like pass to this galactic exhibition. Not only will this moon be a blue moon, it's also considered to be a Supermoon. And, to further blow our minds, a total lunar eclipse. Needless to say, there's a lot to take in.
Consider January bookended by fascinating lunar events. With the first full moon of the year appearing on Jan. 1, the month will conclude with the total lunar eclipse on Jan. 31. But when you can catch the best glimpse of the moon in all its glory is completely up to wherever in the world you're located.
In case you were out sick on the day your science class explained it, a lunar eclipse is what happens when the earth is perfectly sandwiched between the moon and the sun. According to NASA, "during a lunar eclipse, we can see Earth's shadow on the moon. When Earth completely blocks the sunlight, the moon looks red or orange." Sadly however seeing Earth's shadow on the moon will not determine how many more weeks of winter we have. Us Earthlings will have to wait a few more days for a Groundhog to decide.
This winter lunar eclipse is worth bundling up in all your jackets and scarves to head outside and gawk at. It's the first time an event like this has happened in 150 years, reports Space.com. You guys, a blue moon total lunar eclipse hasn't happened before in our lifetime. It's worth the wake up. If you're in North America and the Hawaiian Islands, the eclipse will be visible just before sunrise on Jan. 31, 2018, according to EarthSky.org. So you'll want to set your alarms a little ~earlier~ than usual and, pro tip, have your coffee machine ready to brew. If you're in the Middle East, Asia, or Australia, the total lunar eclipse will be ready for its close up after sunset on Jan. 31.
If you're a city dweller in New York, the total lunar eclipse will begin at 5:51 a.m. ET, and will reach its maximum at 7:01 a.m. You can totally make it to your bodega before catching a partial glimpse at the eclipsed moon for a coffee and Bacon, Egg and Cheese sandwich. If you're located on the other side of the country in Los Angeles, the total lunar eclipse will begin at 2:51 a.m. PT, and reach its maximum at 5:29 a.m. You'll have a pretty perfect view of the moon that's sure to steal the spotlight from the Hollywood sign. Timeanddate.com reports that Chicago will see the total lunar eclipse begin at 4:51 a.m CT. It's early, but, it's also a phenomenon you don't want to sleep through.
The next total lunar eclipse to be visible in North America won't be until Jan. 19, 2019. So get those iCal alerts set now before you forget to wake up to gawk at this event. I know it's early, but, there's always coffee.