'Reign' Has A Lot To Get Through Before Its End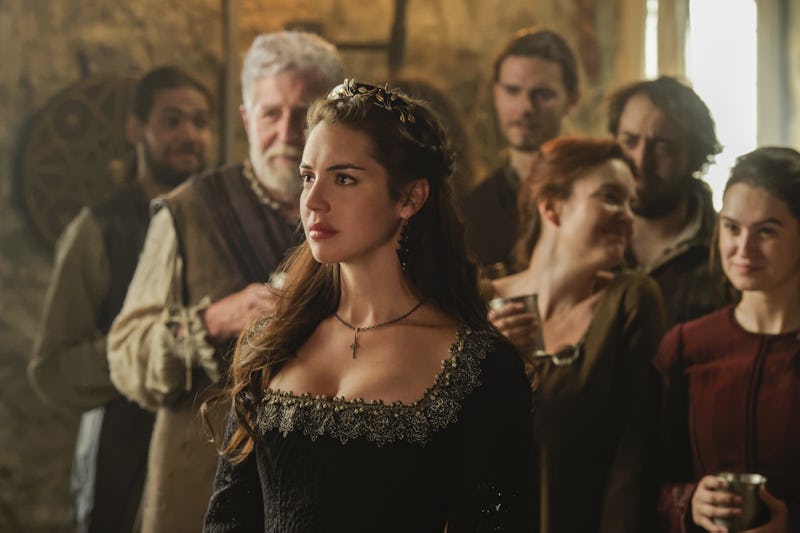 Ben Mark Holzberg/The CW
It's always disappointing when a quality TV show isn't able to break out of its niche. For example, though it had a lot of potential, The CW's historical drama Reign was cancelled after four seasons, disappointing its core group of passionate fans. Luckily, there's still some time left before the Reign series finale airs, since Season 4 was held for midseason and according to Variety, will consist of 16 episodes. If you do the math from the Feb. 10 Season 4 premiere, that puts the series finale at the end of May or beginning of June, depending on if it takes any weeks off.
Fans should take some solace in the fact that the Reign producers and writers were aware of the show's cancellation before beginning to write Season 4. There's no need to worry about big questions going unanswered or leaving major characters with their storylines unresolved. The Reign team went into the fourth season knowing that it would be the last, so they were completely prepared to deliver something totally satisfying. And while promoting the season, the people behind Reign had some interesting things to say about what we can expect from the series' remaining episodes, as glimpsed in the trailer below.
In an interview with the French news site Melty, Adelaide Kane dropped a ton of hints about where things are going for Mary in Season 4. "We meet [my] second husband, and also my future third husband, he becomes a friend and confidant and helps me through a difficult period," she said. So the fourth season will be filled with new characters, including that future husband Lord Darnley, and Bothwell, who will be competing for Mary's heart. Kane also teased another major development for her character. "Mary gets pregnant and gives birth [t]o a little boy, the future King James," she said.
Oh, and that's not all she revealed. "Someone gets sick. Someone, in the new season, falls ill and goes mad, just like King Henry II," Kane told Melty. Though she wasn't able to reveal who it is that falls into madness, showrunner Laurie McCarthy did tell Yahoo! that Lord Darnley and Mary's marriage could pose a problem this season. As she explained, Mary will have to "manage her husband, who was very much someone grasping for power."
Of course, there's always the history underpinning the show. The real Mary Stuart was killed after decades of imprisonment in England under the watchful eye of Queen Elizabeth. After her third marriage, Mary was forced to flee to England because Scottish nobles forced her off of the throne. So when Reign ends in late Spring 2017, it could be with Mary's execution, with her leaving Scotland, or, with her happily enjoying life with her new husband and son. Because as McCarthy promised Yahoo!, there will be "joy amongst the tragedy."