Season 2 of Netflix's Creepy Drama 'The Sinner' Is FINALLY Coming To The UK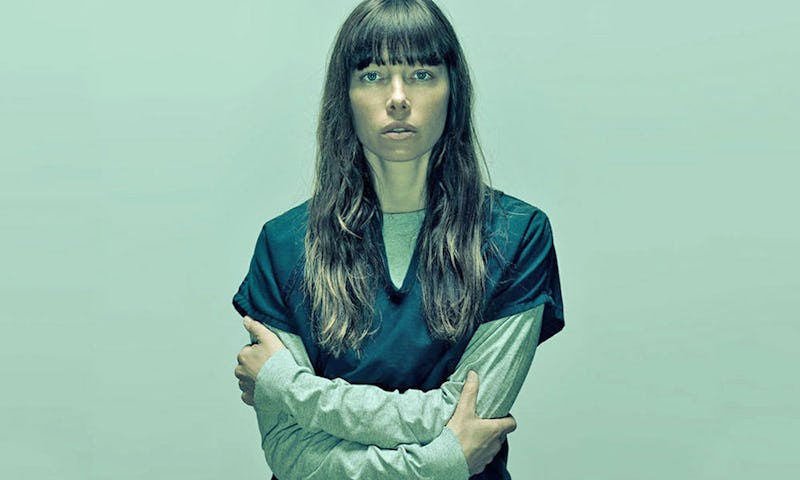 Netflix
Last year, a psychosexual whodunnit came to Netflix and got under everyone's skin. The Sinner, which debuted on UK Netflix last September, has added a winning ingredient to Season 2 which will make everything creepier — a violent child with no apparent motive. It's the kind of show that sinks its claws in, and will have you pressing that "continue watching" button even when it's well past bedtime. Like, in a good way. After last year's chilling finale, I wanna know — when is The Sinner Season 2 coming to Netflix UK?
Good news, everyone; you will be able to digest the whole new season in one terrifying gulp, as all eight episodes will be released on Nov. 9 at 8 a.m. And, as you might have already expected, the child murderer won't even be the grizzliest part. "As Ambrose realises there's nothing ordinary about the boy or where he came from, the investigation pulls him into the hidden darkness of his hometown. He's pitted against those who'll stop at nothing to protect its secrets — including the mysterious Vera, a complicated, enigmatic piece to this haunting puzzle," Netflix revealed.
Unfortunately for everyone here in the UK, season two of The Sinner began back on Aug. 1 over in the States, and avoiding spoilers online has been a bit like walking through a field of landmines. But with rave reviews, including from Vanity Fair, which has said that it's even better than the first season, the wait should be worth it.
The first series had Jessica Biel as its leading lady, but now that her horrible story's been wrapped up, where will Season 2 go? According to Refinery.29, it'll follow detective Harry Ambrose, as it dives into his mysterious past, while he uncovers the creepiest investigation he can get his hands on. And this one's much, much creepier than Season 1, FYI. This time around, Ambrose takes a deep dive into the murder of two parents who were killed in a hotel room by their own son. The synopsis alone is enough to cause a shudder. "Once again, we know WHO did it... but we don't know WHY," Jessica Biel posted on Instagram back in June.
Season 2 will be joined by cast newcomer Carrie Coon, who you might recognise from Fargo and Gone Girl. But sadly, Biel won't be reprising her role, and will be instead taking control of things behind the camera, and continuing her role as the show's executive producer. It's the first time she's worked behind the scenes in such capacity for a TV show, but, as Biel told AP News, she feels a particular affinity to the show: "I think I was exorcising a lot of my own demons. My own baggage and history and trauma that I've had in my past."
I'm not sure about you, but I can't wait for Series 2 to drop. And now that a release date for UK Netflix has finally been revealed, you can start to count down the days. The company tweeted: "detective Harry Ambrose just can't get a simple case. The Sinner, Season 2, coming 9 November."
So, cancel all plans and start accumulating all of the snacks immediately.