It'll Be A Long Winter For 'Wynonna Earp' Fans Waiting On The Season 4 Premiere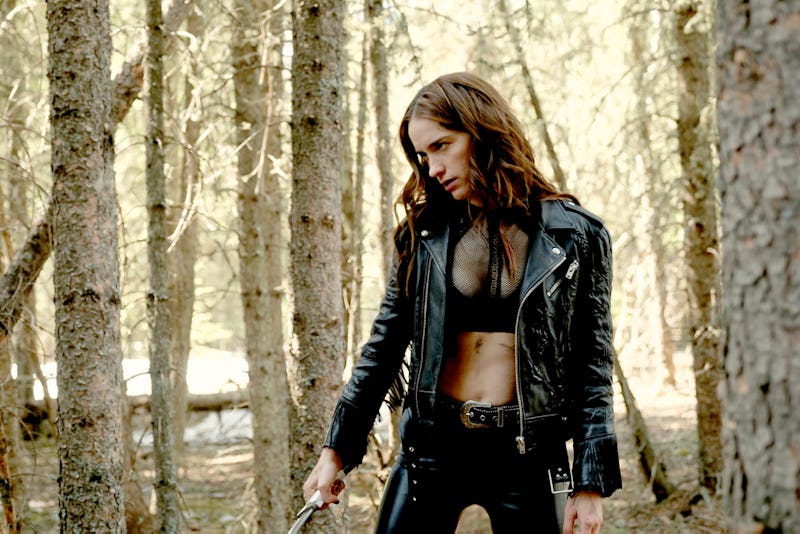 Michelle Faye/Syfy
It's almost time to leave Purgatory for another year, as Wynonna Earp Season 3 winds to a close. But before saying goodbye to Wynonna and Doc and getting ready to shiver through a WayHaught-less winter, Season 3 will make its peace with the finale episode "War Paint," which airs on Sep. 28 at 9 p.m. E.T. on Syfy. Savor it, Earpers, because after that, it's going to be a long time before we get another glimpse at the Earp heir or her band of loyal followers. When exactly does Wynonna Earp Season 4 premiere? Good question.
Season 4 got an enthusiastic confirmation back at San Diego Comic Con on Jul. 22, reported Entertainment Weekly, just after the premiere of Season 3. In the tweet below, you can see an exuberant Shamier Anderson running through the crowd and chanting "When I say 'season' you say 'four.'" (Sidenote: Am I the only one that got choked up watching that??? RIP Doc.)
While Wynonna Earp Season 4 is definitely a sure thing, Syfy hasn't officially released a date for the season premiere yet. However, you can feel pretty confidant that it'll come sometime next summer. Both Season 2 and Season 3 had summer premieres, coming out on June 9 and July 16 respectively. Even Season 1 debuted in April, so it seems like there's little chance of Wynonna Earp suddenly getting added to Syfy's fall or winter lineup.
According to Melanie Scrofano's Twitter, (she told Vulture that she takes a self-imposed Twitter hiatus during shooting, which she actually stuck to for the most part) Season 3 was in filming from January 15 until May 8, before hitting the air in July. Therefore, it's probable that Season 4 will also shoot sometime around those months, and premiere in summer 2019.
In an interview with The New York Times from the beginning of Season 3, lead actor Melanie Scrofano, who plays Wynonna, explained that she wasn't always so confidant that Wynonna Earp would make it this far.
"I wasn't sure that we'd get past Season 1, so the fact that we've done three seasons, I'm incredibly grateful for it. I can't imagine not playing Wynonna, because I get to play so many different things. In any given episode I get drama and comedy and horror and all the notes of life, and very few shows or movies give you that opportunity."
Now that things have come so far, Scrofano says she's aware of the responsibility of being the face of such a devoted fandom, and its a job she takes just as seriously as, well, Wynonna. In an interview with Bustle, she explained that the role is so important to her "[b]ecause it does affect people's lives. It either makes them laugh in really dark times, or it makes them think about people in their lives differently, or it makes them see themselves in a way they never saw themselves and it gives them strength."
She added, "I think that inspires me to really work harder than I would if I didn't think it was reaching anybody." Well, Earpers, I hope that sentiment can tide you over until the next season's premiere.