How 'Legends' Can Keep The Momentum Going In Season 3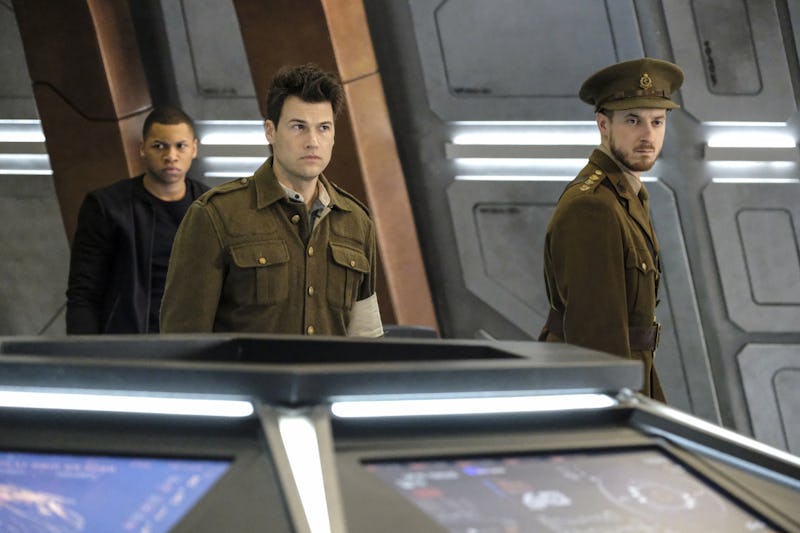 Bettina Strauss/The CW
Reality has been in flux over at DC's Legends Of Tomorrow. All season, the Waverider crew have been attempting to keep the Spear Of Destiny — an artifact with the power to mess with the way things are — out of the hands of unsavory types, like the Legion Of Doom. That story will probably be wrapped up by the end of the April 4 Legends Of Tomorrow season finale, but this won't be the last mission for these time travelers. In January, the CW announced via press release that Legends Of Tomorrow was already renewed for Season 3, a vote of confidence that accompanied good news for several other series. So the Arrowverse show is set to return for certain. But when will Legends Of Tomorrow Season 3 begin?
The CW hasn't posted a fall premiere schedule yet, nor has the network announced plans to push Legends Of Tomorrow to a midseason start, like it had in its debut year. It's very likely that the DC ensemble series will have a fall premiere date, just as it did in Season 2. The current season of Legends Of Tomorrow premiered on Oct. 13, 2016. In fact, the network's entire superhero canon returned for new episodes all within the same few weeks, starting with The Flash on Oct. 4. With all that in mind, I'd plan for an early to mid-October start date for the next chapter of Legends.
I'm more excited going into Season 3 than I was when the show was transitioning into Season 2, and that's because of some positive changes in direction made during the hiatus. Here are the qualities I hope that Legends Of Tomorrow retains as the series continues (probably) later this year.
A Sense Of Humor
My favorite course-correct made by Legends has been the demonstrated understanding that the concept of the show is patently ridiculous. This change has allowed the actors to go big with their portrayals of their characters' most prominent traits (Ray's dorkiness, Mick's gruffness, etc.) and the writers to pepper the scripts with gags. It's just time travel. It should be fun!
Playing With Twistory
Another genius move was for Legends to incorporate more real historical figures into their adventures, though they're not always the ones you'd expect. Take, for example, "Raiders Of The Lost Art," in which an amnesiac film student version of Rip is friendly with some guy named George Lucas. Every Star Wars reference in that episode is gold, including the trash compactor joke in the gif above.
A Light Touch With Villains
Vandal Savage was a dour misfire in Season 1, and the Time Masters weren't that threatening either. Legends smartly brought fan-favorite baddies Malcolm Merlyn, Damien Darhk, Eobard Thawne, and eventually, a pre-Legends Leonard Snart into the narrative. It's never boring when those guys show up.
Singing Martin Stein
I don't believe I've ever loved this show more than in the NASA episode when Broadway veteran Victor Garber belted out some bars of Harry Belafonte's "The Banana Boat Song (Day-O)" as Martin attempting to distract Mission Control. With this and The Flash's musical episode, the CW is finally starting to take full advantage of the professional singing voices in their various casts. What I'm saying is that Martin Stein should get to sing every other episode, if not more often.
Overall, Legends Of Tomorrow has just been way more entertaining in its second season. I hope that the show keeps it up when it returns for Season 3.