Why 'Scandal' Fans Should Brace For An Emotional Goodbye To Olivia Pope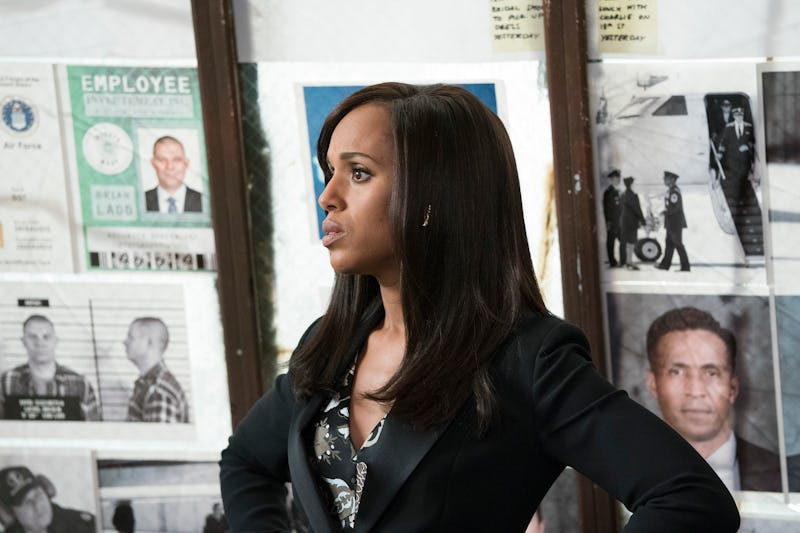 ABC/Mitch Haaseth
Watching Olivia Pope take care of business on Scandal, glass of red wine in hand, is a weekly ritual for thousands of viewers, often following the sobbing that accompanies a Grey's Anatomy episode and preceding the courtroom drama gasps spurred from How to Get Away With Murder — ahh, the emotional turmoil of TGIT. Unfortunately, it's time to hang up that white pant suit (uh, everyone else watches the show in their true Olivia Pope garb, too, right?) because winter finale season is upon us. Audiences are going to be yearning for their Shondaland fix, so when does Scandal Season 7 return to ABC?
As announced after the Grey's Anatomy fall finale, Scandal and the entire TGIT line-up as a whole will return next year on Jan. 18 2018. Devoted fans of the show will be even more eager for its return than they usually are, given that, sadly, this season of Scandal will be its last and there's a lot that still needs to be wrapped up. Or, maybe fans will be wishing there was a longer break, because the sooner the winter premiere comes, the closer the series finale is.
Even Shonda Rhimes, showrunner extraordinaire who held much — if not all — of the decision to end the show in her own hands, is having a lot of feelings. "Deciding how to end a show is easy. Deciding when to finish is quite simple when the end date is years away. But actually going through with it? Actually standing up to say: 'This is it?' Not so much," Rhimes said in a statement earlier this year, according to The Hollywood Reporter. "So, next year we are going all out. Leaving nothing on the table. Creating this world in celebration. We are going to handle the end the way we like to handle the important things in our Scandal family: all together, white hats on, Gladiators running full speed over a cliff."
Though Shondaland shows tend to have a long shelf life — Grey's Anatomy just celebrated its 300th episode — it doesn't seem like Rhimes ever had that same plan for Scandal. "I think there's only so much Scandal you can tell satisfactorily," the creator told The Hollywood Reporter in 2014. "The Fitz-Liv thing can only be told so long and in such a way. It's not a 10-season or eight-season show."
Star Kerry Washington told Good Morning America last month that even the cast was "guessing" how things were going to end as the show wraps up for good, saying that original series finale plans they may have had a whiff of were thrown to the wind in recent years. "There used to be an ending that Shonda had in mind and then the real world of politics turned upside down," Washington said. "Who knows what it's going to be now."
Viewers may not know exactly what's coming down the road for the Gladiators, but that's part of the fun. One thing is for sure, though — the winter return and then final goodbye is going to be bittersweet. Washington herself is bracing herself for the pain that's sure to accompany saying goodbye to Olivia. "I feel like it's sort of like people asking me what it's like to break up with a boyfriend that I'm still in love with," she said in the same GMA interview. "I don't know what that's going to be like."
After all the storylines, twists and tragedies viewers have trusted Rhimes to walk them through over all these years, no matter what happens, the end of Scandal is in good hands.
Editor's Note: This post has been updated with the premiere date.