Here's When Selena Gomez Probably Had Her Kidney Transplant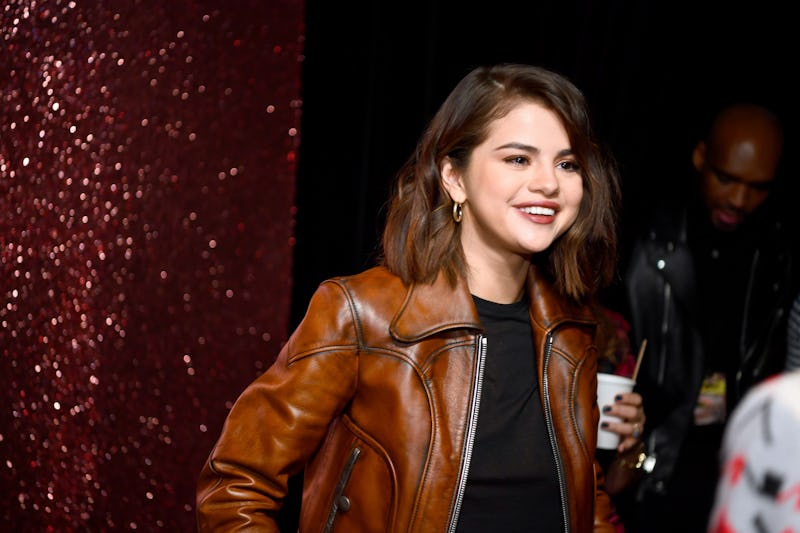 Dave Kotinsky/Getty Images Entertainment/Getty Images
Early on Thursday, Selena Gomez posted an Instagram that surprised fans. She announced that she'd undergone a kidney transplant and hadn't been promoting her new music as a result. Exactly when Selena Gomez's kidney transplant happened, however, was not revealed by her Instagram post, but there is an understandable timeline.
Though the summer of 2017 featured plenty of Gomez on the radio, it became evident to fans that she hadn't been doing new press. Most pop stars complete a crazy promotion gauntlet to support their new work. But, despite the release of music videos for hits like "Fetish" and "Bad Liar," and evidence of her modeling campaign for fashion house Coach, where were Gomez's interviews? Cute Instagrams? Anything? As fans understand now, she was in recovery from her kidney transplant. And it's likely that the surgery happened at the beginning of the summer.
As most know by now, the singer suffers from an autoimmune disease known as Lupus. As defined by the Mayo clinic, the inflammatory disease occurs when the body's immune system attacks both its tissue and its organs. Symptoms can be managed, even improved, but it's a chronic illness; there is no cure. After a previous absence from the press, Gomez first spoke about her struggle with Lupus in the October 2015 issue of Billboard. "I've been through chemotherapy," she revealed to the magazine, "That's what my 'break' was really about. I could've had a stroke."
She also mentioned that it hurt that her time away from the spotlight was the source of unpleasant rumors about her personal life. "It's so disappointing that I've become a tabloid story," Gomez told Billboard, adding "'I wanted so badly to say, You guys have no idea. I'm in chemotherapy." As a result, she "locked herself away" from the spotlight until she "felt comfortable" returning to life as a public figure.
Part of that healing process included deciding to share this intensely personal information about her health with her fans. "I honestly look forward to sharing with you, soon my journey through these past several months as I have always wanted to do," Gomez wrote on Instagram on Thursday. Until she is able to do so, she says, "I want to publicly thank my family and incredible team of doctors for everything they have done for me prior to and post-surgery."
A kidney transplant is a fairly common surgery. It's also a brief one; the procedure itself takes a maximum of three hours. The healing window is mercifully short as well, as most patients can be up and returning to their normal lives in anywhere from three to eight weeks.
It's mid-September now, and Gomez has recently been spotted attending New York Fashion Week events with boyfriend The Weeknd. Given her Instagram history and the lack of promotional tour, it makes the most sense that she would have undergone the transplant somewhere in mid-June. The minimum recovery time from the surgery is two months, and Gomez hesitated to share her journey with fans until she was healthy enough to be out and about.
One of the last non-promotional stills or videos posted to her Instagram is a photo of the singer with artist Petra Collins. "What's to come is never what they expect," captioned Gomez on June 7, "Thank you for inspiring me to be me." This could reference the music video they had worked on together, but it may also be a thank you for encouragement prior to her surgery.
What matters the most, though, is that Gomez is healing, and she's happy.