Here's What Time Experts Say You Should Get To The Airport For Thanksgiving Travel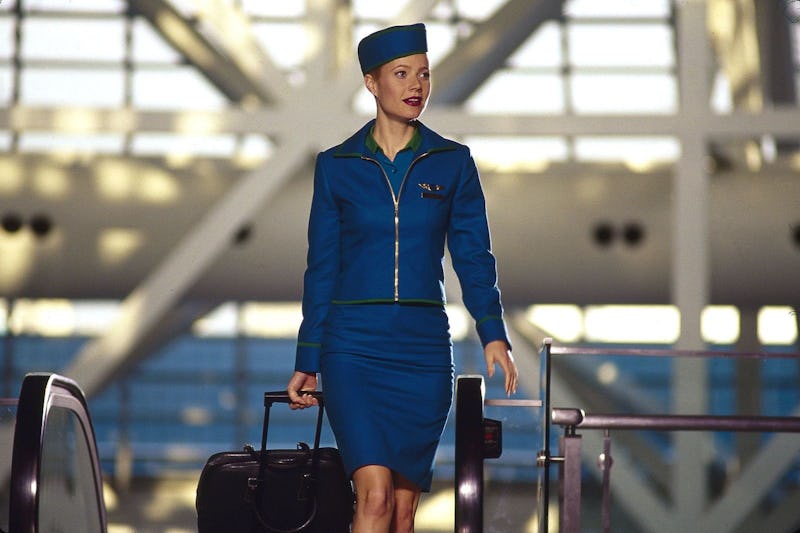 Miramax Films
Traveling for the holidays is exciting. There's the embrace of loved ones to look forward to at arrivals. And there's also mom's gravy waiting. But the whole logistics of ~getting there~ can be as stressful as figuring out an advanced level Sudoku game. So, let's hash this out together. If you're wondering, and frantically googling, "When should I get to the airport for Thanksgiving 2018 travel?" I got answers for you. Sit back, sink into the plush seat of your ride share and daydream about that glorious, glossy gravy as you make your way to the airport. This year, you're an efficient and prompt traveler.
Get ready to play bumper luggage at departures. According to the AAA news room, an estimated "54.3 million Americans will journey 50 miles or more away from home this Thanksgiving, a 4.8 percent increase over last year." Maybe not all 54.3 million people are bee-lining for their gate at the airport, but the business of Thanksgiving week will factor into timing. Which, as we know, is everything.
Don't stress the heavily trafficked road ways and security lines. Soothe any travel anxiety with calming, buttery, mashed potato-y thoughts. And, of course, with the confidence that you know ~when~ to get to the airport to avoid any missed flights. Nobody wants to be delayed from their helping of collard greens.
When it comes to arriving at the airport for a non-holiday travel trip, the TSA encourages travelers to contact their carrier before departure as airport sizes and level of business may vary. This typically results in arriving 60 minutes before a domestic flight and 90 minutes to 120 minutes before an international flight. And while those time frames may allot you a few extra minutes to browse the magazine racks and stock up on wintergreen gum, these are not the recommended times in the case of Thanksgiving travel.
Airplane travel for Thanksgiving 2018 will see a 5.4% growth according to AAA. With that in mind, it would be not such a terrible idea to leave wiggle room in your itinerary. Because you probably won't have much physical wiggle room once you're making your way from checking luggage to getting through security.
According to Alaska Airlines, "You should arrive at least two hours before departure – three hours before international flights. Airports are busier than usual, and they're filled with less-experienced travelers around the holidays. That means lines are longer and slower, traffic is more congested, and parking is at a premium." Everyone, really, everyone is making their way home — or to someone's home — in time for turkey. Two to three hours before departure might seem a little dramatic, but, I assure you, especially if you want your pre-flight Starbucks, it is necessary.
Traveling can be a major stressor. An airport full of less-than-experienced travelers, a lot of overstuffed luggage, and security lines that seemingly snake around the entirety of the airport could derail your holiday break bliss. Don't let it by being prepared. All it takes is knowing when to leave for the airport. Setting an alarm to leave ~on time~. Checking in online and if possible, downloading your boarding pass to your phone. That might help you to skip the hoopla at those not so reliable kiosks.
Remember, Mercury will be in retrograde for Thanksgiving travel. So the planets may be adding some extra, technological curve balls. Be ready by arriving early. And to make all this planes-trains-automobile travel more comfortable, make sure you're in your coziest jet-setting apparel. It doesn't hurt to be on the early side for a departing flight. At least for the peace of mind. And for the sake of this peace of mind, keep in mind, that you're flying into the custardy embrace of pumpkin pie.